Third runway at HK airport nears opening
Share - WeChat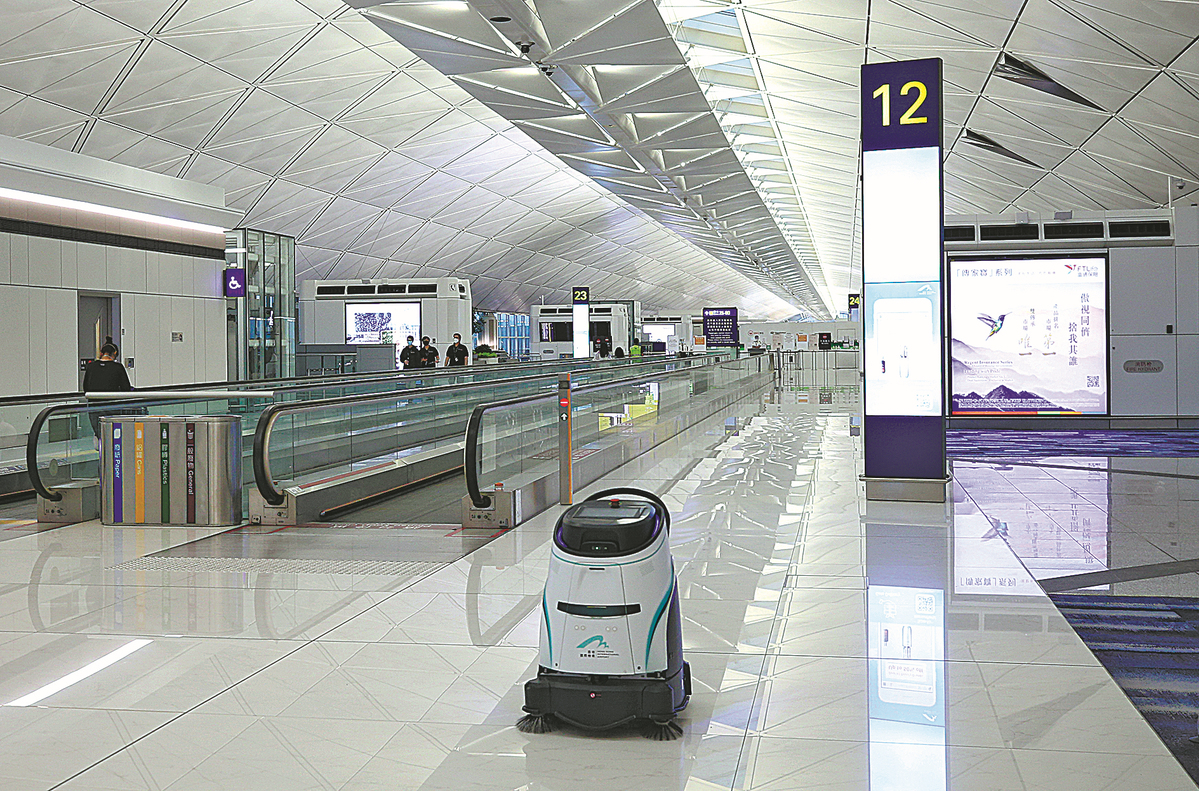 Latest expansion to consolidate SAR's position as global aviation hub
The CEO of Airport Authority Hong Kong has said that with all the construction and testing work basically finished, he is very confident that the third runway at Hong Kong International Airport can start operation in the next two to three months.
Fred Lam Tin-fuk, CEO of Airport Authority Hong Kong, said it will take two to three years to complete construction of complementary infrastructure for the Three-runway System project, further consolidating and enhancing Hong Kong's position as an international aviation hub.
HKIA is expected to handle over 120 million passengers and around 10 million metric tons of cargo by 2035, Lam said in a recent interview ahead of the 25th anniversary on July 1 of Hong Kong's return to the motherland.
In a trip to attend celebrations marking the 20th anniversary of Hong Kong's return to the motherland in 2017, President Xi Jinping inspected the construction of the third runway at HKIA, saying that the central government supports the building of the runway to help Hong Kong consolidate its status as a global aviation hub and improve its overall competitiveness.
Xi said that efforts must be made to ensure safe and efficient construction of the project, and to maximize its benefits after completion.
The construction of the 3.8-kilometer long and 60-meter wide third runway began in 2016, with the formation of 650 hectares of land by reclamation.
"The new runway is an integral part of the vision to transform from a 'city airport' into an 'Airport City', comprising retail, dining and entertainment facilities, office towers, a logistics center and a mega performance venue," he said.
Lam said although the COVID-19 pandemic has dealt a heavy blow to airports around the world, the cargo volume of HKIA remained No 1 globally.
"After the pandemic is over and all travel restrictions are lifted, we are very confident that passengers will return very soon. In the medium to long term, we are very confident about the development of our airport and Hong Kong," he said.
"The pandemic has not slowed down the airport's development and infrastructure building because we believe it is most fitting to invest during difficult times."
Replacing the functions of the Kai Tak Airport, the Hong Kong International Airport in Chek Lap Kok started operation in 1998, just one year after the city returned to the motherland.
In its first year, the airport had a passenger capacity of 28 million and just a small amount of cargo volume, and after 20-plus years, the passenger volume has reached 75 million a year and cargo volume has reached 5 million tons a year, Lam said.
"As an international airport, our development has been in lockstep with the development of Hong Kong and the nation, and their development has driven the airport's development," he said.
Lam believes HKIA has many unique advantages that will continue to drive its future success.
The airport provides connectivity to half of the world's population within five hours of flying time and the principle of "one country, two systems" allows Hong Kong to discuss air traffic rights with foreign countries and regions directly, he said.
As a free port and one of the world's freest economies, 168 countries and territories have granted visa-free access or visa-on-arrival to HKSAR passport holders, he said.
Moreover, the airport constantly enhances its operational efficiency by making effective and innovative use of technology, such as facial recognition, automation and robotics, he said.
Lam said the airport aims to become an important transport hub in the Guangdong-Hong Kong-Macao Greater Bay Area, bringing convenient services to people living in the GBA.
AAHK has allowed passengers going to and from nine ports in the GBA to complete airline check-in, baggage check and mainland immigration and customs clearance at the ports concerned. Such service will be extended to passengers from Macao and Guangdong traveling to Hong Kong via the Hong Kong-Zhuhai-Macao Bridge, he said.