Coca-Cola rolls on herbal tea wave
Share - WeChat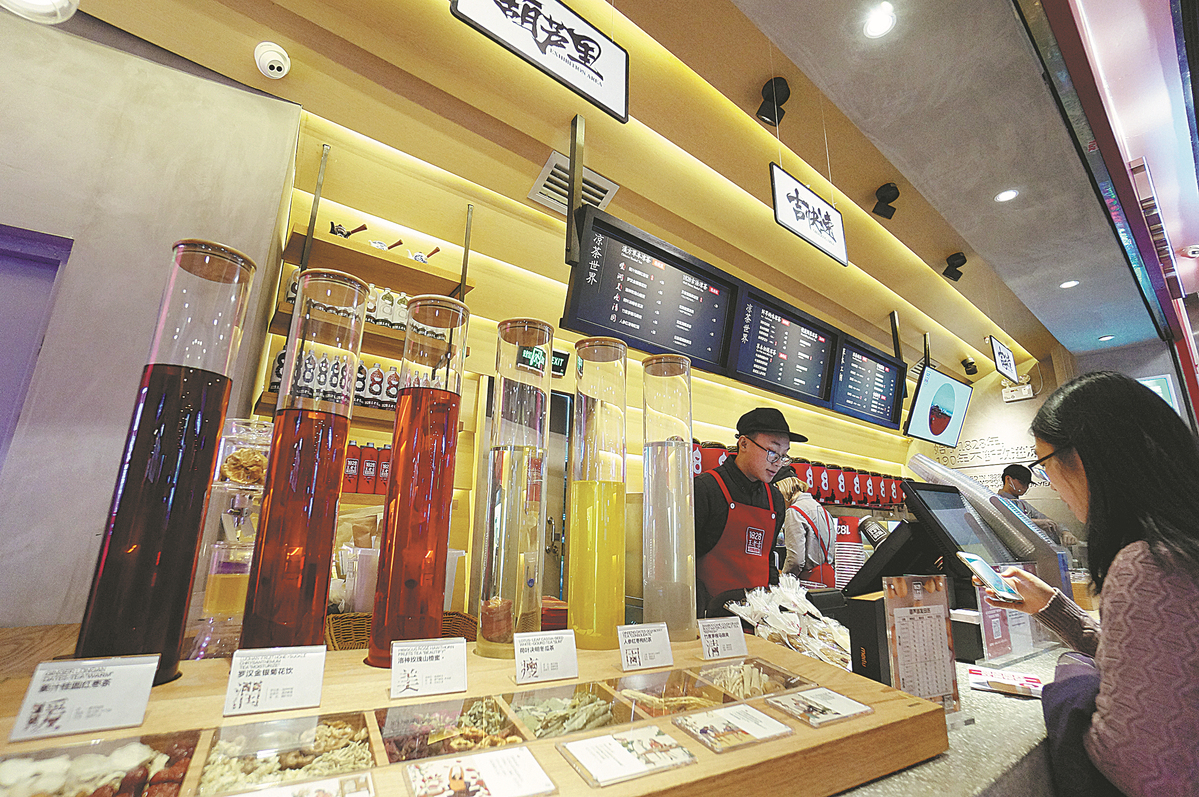 Drink brands diversify products to target consumers' rising health awareness
Coca-Cola, the world's leading beverage maker, has recently rolled out its first ready-to-drink (RTD) herbal tea product on the Chinese mainland as part of its attempts to better adapt to the local market.
The new herbal tea beverage, made with self-heal plant-a low-growing plant with analgesic, cooling and antibacterial effects-is a product by HealthWorks, a Coca-Cola unit located in Hong Kong since 2005.
Coca-Cola's first herbal tea product on the Chinese mainland is priced at 12 yuan ($1.8) per 500-milliliter bottle on Tmall to bring more diversified drinks to local consumers, said the company.
The drink targets white-collar consumers who prioritize healthy and positive lifestyles, said the company.
Zhu Danpeng, a food and drink analyst, said the entrance of Coca-Cola into the RTD herbal tea sector is going to push the competition to become more intensified.
Bolstered by its strong supply chain, branding power and diversified portfolio, it is quite likely that HealthWorks will grab more attention from Gen Z-those born between mid-1990s and early 2010s-and rank higher in the herbal tea market.
The move stands for Coca-Cola's continued pursuit of its long-term vision while reinforcing the market status of iconic brands and innovation of products in the Chinese market, according to the company. Coca-Cola has this year increased local investments and broadened its supply chain to meet growing demand in the country.
Coca-Cola launched its first limited-edition product, Coca-Cola Starlight, in the Chinese market in March. Sprite, another established brand of Coca-Cola, has also been updated with a new image. In terms of product innovation, Sprite is actively expanding its product portfolio of sugar-free products to increase the number of products from one to three. Costa Coffee, a member of the Coca-Cola family, also launched its low-sugar and low-fat light milk tea in March this year.
The RTD herbal tea sector has seen fluctuations in recent years. According to a report from the Qianzhan Industry Institute, the sector's market has seen a growth rate of 16.7 percent in 2012 but dropped to 9.1 percent in 2017. In 2018, the scale of the herbal tea market downsized to 47 billion yuan, decreasing by 18 percent year-on-year.
Zhu said the root cause for the decline of herbal tea drinks is a result of their lack of innovation and product updates.
"With rising awareness of health among Chinese consumers, the herbal tea market still has room to grow," said Zhu. "The key is held in product innovations to meet changing demand from consumers."
But the RTD tea drink market in general has seen a comeback since last year.
According to research institute Mintel Group Ltd's report, the market value and volume of RTD tea drinks witnessed a rebound in 2021, partly driven by the fast recovery of the food service sector.
For example, sales of RTD Asian herbal tea are estimated to have reached 22.2 billion yuan in 2021, with a growth rate of 9.7 percent over that of 2020 due to resumed out-of-home shopping and gifting occasions, said the report.
Compared to 2021, heavy users-those who consume tea drinks at least several times a week-of RTD herbal tea increased by 12 percent, while heavy users of all RTD tea drinks also increased from 42 percent to 52 percent, which are the greatest changes across all segments.
The report said leading brands such as Wanglaoji have renovated their traditional products with a sugar-free formula, helping the category attract more users in light of rising healthy eating and drinking priorities.
Despite the recovery of RTD herbal tea drinks, the report has found that tea bags became the most preferred format for new tea infusion products last year, with a growth rate of 26.9 percent, reaching a value of 13.8 billion yuan.
"It is important to pay more attention to consumers' evolving taste preferences with a diversified product portfolio, including pure and niche tea offerings with health benefits," said Roolee Lu, senior research analyst at Mintel.
"The opportunity exists for tea infusions to tap into young consumers by developing cold brew options which can better satisfy their serving temperature preferences," Lu said.
Brands are actively removing sugar, fat and calories in RTD tea and introducing more flavor options such as jasmine, osmanthus and roasted or toasted barley.
Tingyi, Guangzhou Baiyunshan and Uni-President held onto lead positions in the RTD tea drink market in 2021. Tingyi launched its sugar-free iced black tea in response to consumer health preferences and also kept establishing the brand image of its jasmine and green tea through crossover collaborations and celebrity endorsements.
Guangzhou Baiyunshan Pharmaceutical launched innovative and customized products such as surname cans and blind box cans, further strengthening its leading position in the RTD Asian herbal tea segment, according to Mintel's report.