Moutai, Mengniu mix up baijiu, milk for heady, creamy Gen Z treats
Share - WeChat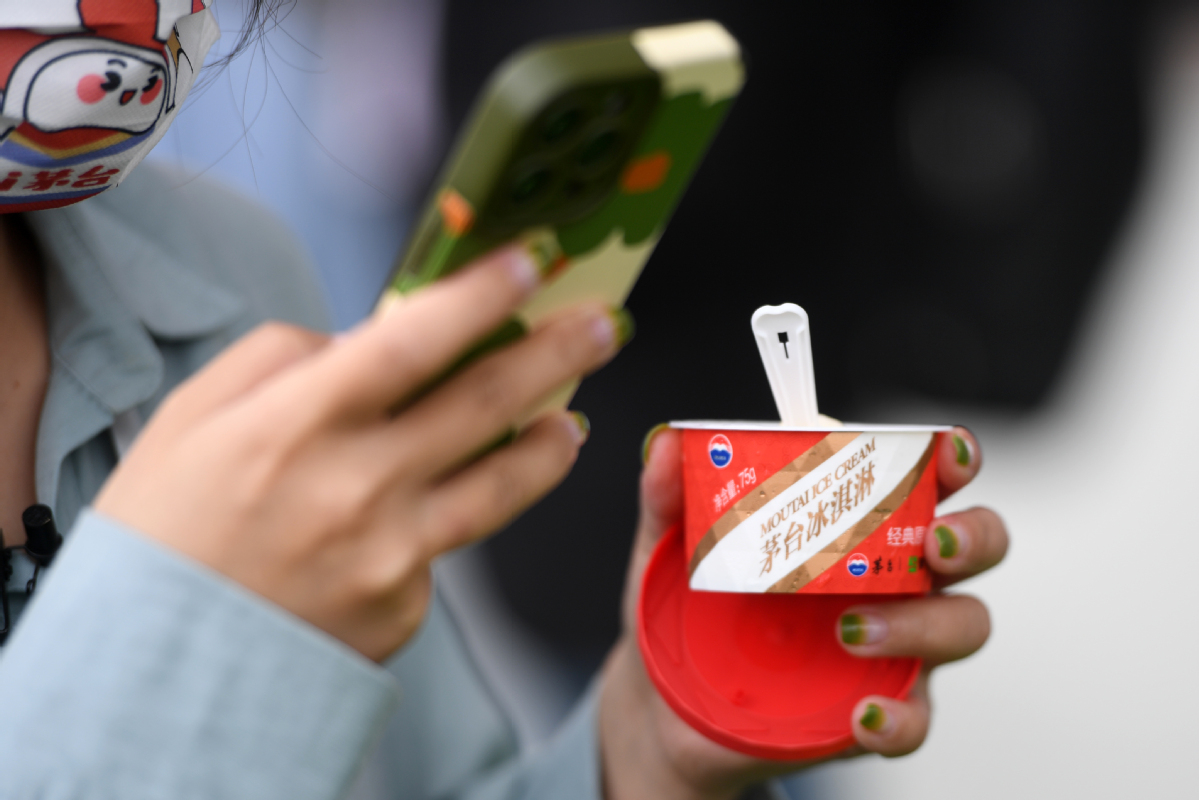 Kweichow Moutai Co Ltd, an iconic high-end spirits maker in Southwest China's Guizhou province, teamed up with Mengniu Dairy Co Ltd, a major dairy producer based in the Inner Mongolia autonomous region, to launch three flavors of prepackaged ice cream in Guiyang, the provincial capital, on Sunday.
After launching its first product outside of its portfolio of alcoholic beverages, Moutai said it wants to attract more young consumers, or Generation Z, with enriched offerings.
The three flavors-plum, vanilla and milk-come in small-sized tubs of 75 grams each, are spiked with 2 percent alcohol, and retail for between 59 yuan ($8.85) and 66 yuan, Moutai said.
"With the launch of ice cream, Moutai has realized its aim of enriching its product portfolio. We would like to create an immersive experience for more consumers and stimulate their cultural resonance," said Li Jingren, general manager of Moutai.
The distiller started to trial its ice cream on Sunday on its official mobile app, iMaotai, with deliveries restricted to Guiyang at the moment. Within one hour of the launch, more than 40,000 servings were bought online.
The app is expected to help Moutai gain an additional annual income of more than 12 billion yuan, according to a research report of CITIC Securities.
Soon, the ice cream will be sold in seven domestic cities such as Nanjing, Jiangsu province; Hangzhou, Zhejiang province; Changsha, Hunan province; and Guangzhou and Shenzhen, Guangdong province.
Lu Minfang, president of Mengniu Group, said the ice cream is a top combination of baijiu and milk and serves as a trans-boundary innovation of food.
The emergence of Moutai ice cream can help Moutai to further promote its brand among young and female consumer groups, as the penetration rate of high-end spirits among such groups is not that high, industry analysts observed.
"The launch of the ice cream isn't an impulsive move for Moutai but a well-thought-out strategy to foray into a new field. The distiller has been aiming to develop more products to meet the demand of young and fashion-conscious consumers," said Dai Shijin, an alcohol industry researcher.
"For people who like drinking baijiu of Moutai, the product is expected to provide them another surprise. For those who are not very familiar with the spirit, the ice cream can satisfy their curiosity about the taste of Moutai in a comfortable way," Dai said.
Moutai said as the ice cream contains around 2 percent alcohol, minors, pregnant women and people who are allergic to alcohol should not consume it. Drivers should enjoy it with caution, the company said.
Shares of Shanghai-listed Moutai rose 1.32 percent to 1,778.41 yuan, making it the most expensive food and beverage stock globally. The company's valuation has exceeded 2.2 trillion yuan. Moutai has been ahead of Nasdaq-listed US multinational Coca-Cola Co since mid-2020.
"The launch of the ice cream serves as the first breakthrough of Moutai's initiative to approach young people. We hope Moutai will produce more products that are favored by consumers and cooperate with more companies in wider areas," said Liu Lisha, head of the Guiyang Bureau of Commerce.