Riches of camel milk bring prosperity to Alshaa area
Share - WeChat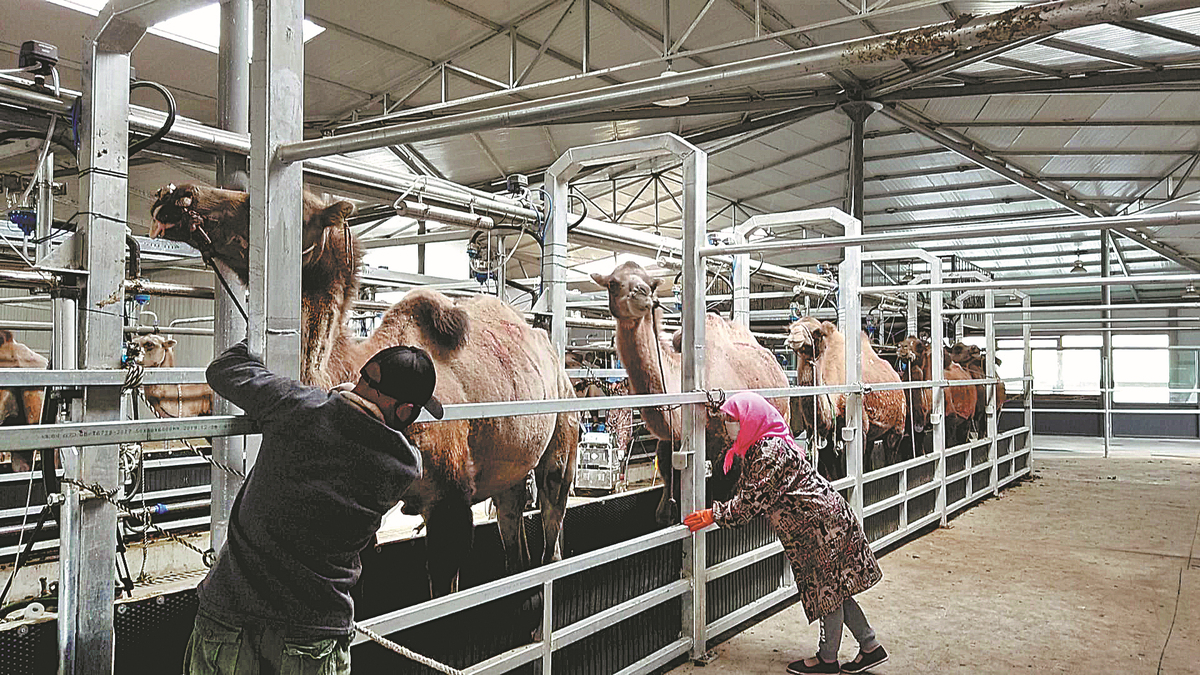 Located in the far west of the Inner Mongolia autonomous region, two-thirds of Alshaa Right Banner is desert. But for camel breeder Baatar, the middle of nowhere is the perfect place to produce camel milk.
"Raising camels is really good business, and it helps farmers and herders get rich," Baatar said, adding that he has 80 camels producing milk, which earns him as much as 800,000 ($120,274) yuan a year.
He began developing his business in 2019 when he set up a cooperative dedicated to large-scale camel breeding.
"With government support, our cooperative invested 2.2 million yuan in infrastructure, including camel parks, feed sheds and milking rooms," he said.
Income from the project has increased the willingness of herders to participate, he added.
Zhang Huawen, deputy director of Alshaa Right Banner's agricultural science bureau, said the population of Bactrian camels in the banner has been stabilized at 60,000, or roughly 20 percent of the national total.
"Among them are 10,000 females that produce milk. We produced 3,000 metric tons of camel milk last year," Zhang said.
Juramt, president of the Inner Mongolia Institute of Camel Research, said that unlike other animals, camels have high levels of blood sugar and elevated blood pressure but are free from heart disease and can survive for as long as 120 days without food or water.
The institute owns the largest camel gene pool in China, and it seeks to protect the genetic diversity of camels and improve the lives of herders, he said.
"The institute's goal is to solve practical problems. Camels are not only emotionally connected with their herders, they also support them economically," Juramt said. "Life is tough for herders living in this no man's land. They've stayed here for the country's benefit."
With 17 essential amino acids, camel milk has low levels of sugar and cholesterol and is also high in minerals and proteins. The nutritious milk is widely recommended by health experts.
Li Yuqi, director of the institute's research and development center, said the milk is helpful in treating hepatitis and disorders of the stomach, lungs, kidneys and digestive system.
"It also helps lower blood sugar. Per liter, camel milk has 52 units of insulin, 3,000 times more than cow milk. It is a natural, multifunctional dairy product with high nutritional value," Li said.
Camel colostrum-the early milk the mother secretes during the first month after giving birth-is more expensive than regular camel milk due to its high nutritional content. It is also thicker and has a shorter shelf life.
Ran Qiwei, the manager of a camel dairy production company in Inner Mongolia, said the density of camel colostrum is between 32 and 35, while normal camel milk is around 28. "The lactose content in camel colostrum is also higher," Ran said.
The company has also been developing other camel-related products including cosmetics, textiles and biopharmaceuticals. Alshaa Right Banner has invested in deep processing companies and research institutions to build a breeding base that integrates research, production and promotion to boost innovation in the camel milk industry.
So far, it has 30 camel breeding farms and 39 cooperatives. Over 2,500 herders are involved, and households breeding camels enjoyed an average increase in income of 20,000 yuan a year.