China's chefs are doing a vanishing act
Share - WeChat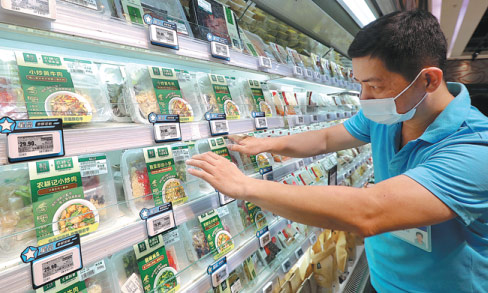 The pandemic has helped speed up the adoption of stay-at-home living, and the result of that may be something you see on your dinner plate, Xu Haoyu reports.
In recent years pre-made food has spread from the central kitchens of large restaurant chains to takeaway catering platforms and has gradually become highly popular among consumers.
This has been helped in no small measure by the stay-at-home economy, itself spurred by the pandemic and the gradual improvement of cold chain technology.
China's pre-made food industry was worth 253 billion yuan ($37.9 billion) in 2020, with compound annual growth of 28.8 percent from 2017 to 2020, says a report by ASKCI Consulting, an industry consulting professional organization in China.
The value of the market is forecast to reach 415.15 billion yuan this year, representing annual growth of 32.4 percent.
In such an environment there is little doubt the standing of chefs has greatly declined.
Pre-made food comes in three main forms. The first can be described as ready to cook, offering processed raw materials, such as washed and cut vegetables or salted meat that are needed for the dish. The second is pre-cooked food that is ready to heat, and the third is ready-to-eat food such as canned goods.
These three represent different levels of the disconnection between catering and the chef, from the chef losing control of seasoning, eliminating the chef to eliminating the kitchen entirely.
Perhaps unsurprisingly, pre-made food originated in the United States, where the world's first quick-freezing machine was invented and tested in 1920, followed by the introduction of quick-frozen processed products. By the 1950s frozen foods were becoming increasingly popular, and in the US various types of pre-made food became commercially available from the 1960s.
Pre-made food was initially supplied to the catering industry, enabling restaurants, companies that offered catering services and takeaway food industries to reduce labor, utility and waste disposal costs, as well as kitchen space and equipment purchases. Later, some pre-prepared food was retailed to consumers at large, making homecooking easier.
In the US, the shelf life of highly processed raw and clean vegetables is only three to four days, even when it is refrigerated. Frozen foods are highly popular, as are vegetables that are lightly processed, having had soil and roots removed.
With the development of the food service industry, pre-made food is well established, and it was in this environment that Sysco, a global mega ingredient distribution supply chain company whose headquarters are in Houston, Texas, was founded in 1969.
In the 1980s, preprepared dishes began to take off in Japan, Canada and some European countries. After first appearing in Japanese cities, the premade meal then became popular in Taipei and Kaohsiung in Taiwan.
Japan's extremely high population density means that supermarkets and convenience stores are ubiquitous, and demand for processed food, including both frozen and refrigerated products, is high.
A report analyzing the development of the pre-made food industry by New Fortune, a Chinese financial services platform providing evaluation and research, says the pre-made food industry developed rapidly in the late 1970s and early 1980s in Japan, growing at more than 20 percent a year. The penetration rate of pre-made food in the country exceeds 60 percent, the report says.
In China, it has become increasingly uncommon for consumers, especially young people who are busy at work, to cook meals at home, time spent cooking becoming, an important cost factor for consumers to calculate.
Pre-made food was introduced to China in the 1980s, KFC entering the country in 1987 and McDonald's three years later. This spawned imitators such as Dicos and Wallace, and the country's food and beverage industry was transformed.
Most Popular