Reform and innovation spur growth of China's medical systems
Share - WeChat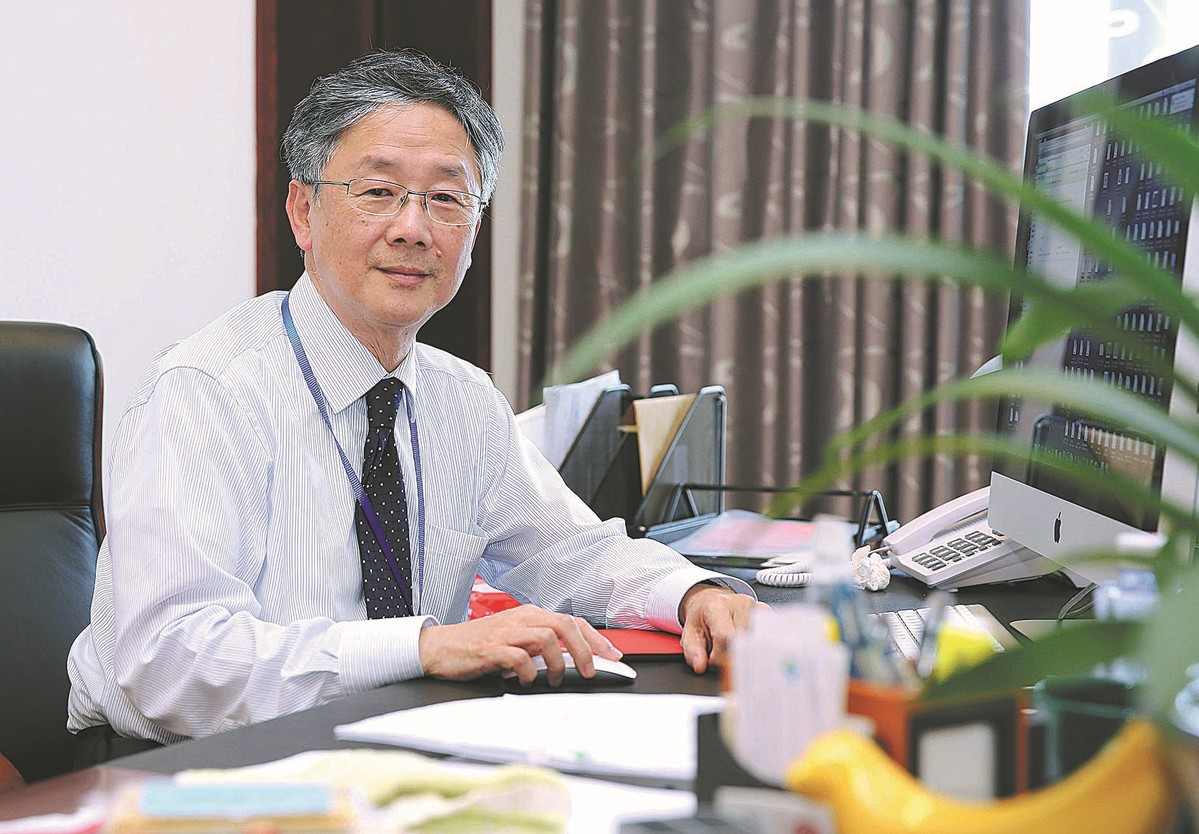 Born in Shanghai, Patrick Chu Chimai, an expert in hematology, closely followed the development of his country of birth, despite having moved to Hong Kong aged 3 and later emigrated to the United Kingdom. Due to his own professional and personal background, he remained very interested, and thus paid close attention to the development of China's healthcare system.
So, for him to be given a chance to play a pioneering role in China's medical reform project, after working as a doctor in the UK for more than 30 years, was a surprise, Chu admitted.
When he was invited to join the newly founded University of Hong Kong-Shenzhen Hospital, or HKU-SZH, 10 years ago, with the aim of exploring and introducing medical reforms and innovations, Chu decided to take a bold step. He felt it was a once-in-a-lifetime opportunity and a transformative event for him in his career.
"To me, it was a matter of fate. I am still very proud of my decision back then to return," recalled Chu, now the director of the haematology department at HKU-SZH.
Chu was one of many pioneering healthcare experts attracted by the special role of HKU-SZH, which was a new hospital established in Shenzhen by the local government who then collaborated with and invited the University of Hong Kong to run this new hospital, as a pilot project for public hospital reforms in China.
"While devoting myself to the development of HKU-SZH, I also had the chance to witness the remarkable progress that China made with medical reforms," Chu said.
"This has motivated me to stay and continue my own involvement to be part of that progress over the past years," he added.
With the help of experts from Hong Kong, the UK, the United States, Canada and Australia, HKU-SZH has accumulated valuable innovative experience, setting many good examples for China's reform of public hospitals. For instance, it is one of the first batches of hospitals in China to launch an appointment system to help relieve congestion and overcrowding in the clinics, and guarantee that doctors would have enough consultation time with patients. It also pioneered a package pricing system for its outpatient clinics, as well as some surgical procedures. HKU-SZH was also one of the earliest hospitals in China to emphasize the concept of multidisciplinary teamwork, and in doing so, the patients were able to benefit from the wide-ranging clinical expertise that a comprehensive hospital like HKU-SZH offers.
Continual breakthroughs
During his 10 years at HKU-SZH, Chu has witnessed or played a role in many "firsts" recorded by the hospital to innovate the medical system for the benefit of patients.
Among those innovative steps, HKU-SZH became the first pilot hospital in China to implement the "Hong Kong and Macao Medicine and Equipment Connect" policy last year, which has been one of the most exciting developments, according to Chu.
The policy was approved by the Chinese government in 2020 to allow hospitals in mainland cities in the Guangdong-Hong Kong-Macao Greater Bay Area to use drugs and medical devices already approved for clinical use in Hong Kong for appropriate clinical purposes in the Bay Area without prior certification from the National Medical Products Administration.
In the past year, a total of 13 such innovative drugs and nine medical devices, including one for blood diseases, were approved for use in his hospital under the policy. This year, Chu aims to apply for three more drugs for blood cancers to be approved, including one for multiple myeloma, a common blood disease among the elderly, to help better meet the rising medical demands in China's aging population. This is consistent with the national strategy of encouraging institutional innovation to offer more support and treatment options to the elderly in China.
Chu explained: "The elderly patients are generally less medically fit compared with young adults, because the elderly patients tend to have other medical conditions. Therefore, their treatment needs must be more carefully calibrated to avoid excessive side effects, especially in the treatment of cancers. One of the key considerations here for the elderly is a treatment that is relatively easier to administer, and effective with minimal side effects."
"Thanks to this new policy introduced in the Bay Area, patients in need of such innovative drugs can now have extra choices. They can choose to come to our hospital in Shenzhen where the drugs are available, thus saving them the extra time and effort of traveling to Hong Kong," Chu said.
Chu said that this pilot policy reflects China's many ongoing reform efforts to improve its medical system.
"These innovations and breakthroughs in China's healthcare models and policies are primarily patient-centered, which means patients' medical needs are met and thus the overall provision of medical services can be improved. I'm glad HKU-SZH can play an active part in this improvement," Chu added.
Communication matters
In addition to striving to give patients extra choices, Chu and the hematology team at HKU-SZH have always stressed the importance of the medical team to be fully engaged with the patients and their families, in helping them to make properly informed choices in their treatment. In short, the medical team makes decisions with the patients, not for the patients.
"When you give patients the choice, you are obliged to provide for them as much relevant information as possible so they can make an informed choice. That's not only the right thing to do, but can also prevent misunderstandings and medical disputes," Chu explained.
Chu went on to point out that the key principle here is to always seek better communication with patients. He believes this is a critical part of the duties of a doctor and is one of the core principles for his department.
Furthermore, Chu explained that by putting himself in the patients' shoes, he appreciates the anxiety that the patients and their families may have. This anxiety must be handled properly, humanely and with empathy, through effective communication, especially when new and innovative treatment is being considered.
"You have to treat the patient not only as a patient, but as someone who you are fighting a battle with. Thus, you're fighting together, and it would help to ensure mutual trust," he said.
"As a result, I always explain to them, to the best of my ability, what they may be going through. The thing is, if you do it well and do it consistently, you end up having the cooperation with the patients and their families. You gain their trust and hopefully then you would achieve the best results."
With Chu's influence, doctors at HKU-SZH are encouraged to spend more time on communicating with patients to earn their trust and support. That includes placing communication as a core duty in the minds of the younger generation of doctors who joined the department. For example, at HKU-SZU, young residents participating in training programs are not just taught clinical skills, but also communication skills, which will help them to establish a trusting relationship with patients, according to Chu.
Witnessing changes
Having served China's healthcare system for more than 10 years, Chu has gained a much deeper understanding of the system. He thinks the clinical standards in China are generally high and the provision of services is efficient in a country with such a large population, though not without challenges, such as the discrepancies in provision of care between large, densely populated urban cities and less populated rural areas, where often a patient with a serious illness such as cancer may have to travel a long distance to receive appropriate care.
He has also noticed the continuous progress in China's medical system in other areas, especially in the development of primary care. For example, one of the significant changes is that patients are much more willing to seek primary care of common diseases in local or community hospitals rather than crowding into top hospitals, as in the recent past. This emphasis in local primary care is also the standard model in many other major countries.
"I'm seeing the improvement not just in pilot hospitals like HKU-SZH, but the whole medical system throughout China," Chu said. "We were initially a catalyst, a model and a showroom. Then gradually what was so special about HKU-SZH is no longer that special, because other hospitals were also making similar changes. Some of the changes are even more innovative, which I think is encouraging."
In 2020, Chu published a book in both Chinese and English to share his personal views about being a doctor from overseas working in China. In the book he also wrote about his observations of the medical systems in China and shared with the readers many personal stories about his work in China.
"This book summarizes for me the last 10 years of working at HKU-SZH," Chu said, noting that coming back to work in China is one of his best decisions he has ever made and has transformed his life in many ways.
"If someone asks me whether I have ever regretted coming back to China, my answer is always no. Otherwise, I wouldn't have stayed for so long," Chu said.
Looking ahead, Chu said he plans to stay on with HKU-SZH to continue his work in hematology, hoping to introduce more modern treatments to the hospital. He said that his enthusiasm for achieving his own primary goal-which he set for himself 10 years ago-of fulfilling his responsibility to the Chinese patients, the Shenzhen government as well as the University of Hong Kong has not diminished. His motivation for working in China remains as strong now as it was 10 years ago.
"I have to admit it's a hard job, but doing a good job is never easy in life, and the good things in life are always worth working hard for," Chu said.