Skateboarding offers Gazan youngsters a refuge from strife
Share - WeChat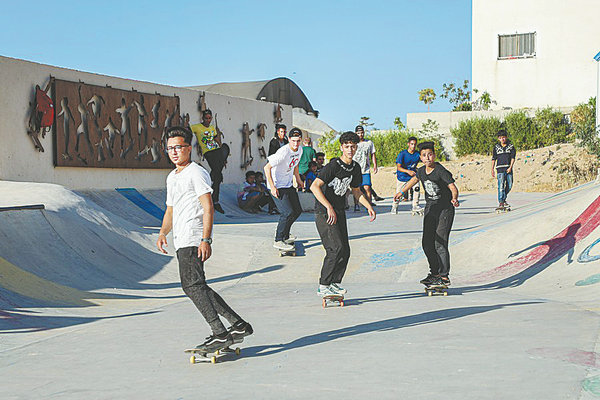 GAZA - For 15-year-old Ali Ahmed, spending hours on a skateboard feels like "flying in the sky and experiencing freedom".
Ali is among the many Gazan teenagers who have turned to sports, particularly skateboarding, to beat psychological stress brought on by the region's endless conflicts.
"Every time I heard an explosion, triggered by Israeli raids, I thought I would die," Ali says, recalling how he became nervous and introverted, and sometimes even had a proclivity toward violence.
According to a report issued by the Palestinian Central Bureau of Statistics last year, over 70 percent of Gazans suffer from depression and psychological duress owing to political instability in the region that largely affects their quality of life.
The power struggle between Palestine and Israel has robbed Ali and his friends of their childhood, and now casts a long shadow on their adolescence. "The raids may be over, but the memories still scare us. We don't feel safe. It is often impossible to believe that the future will be better," he says.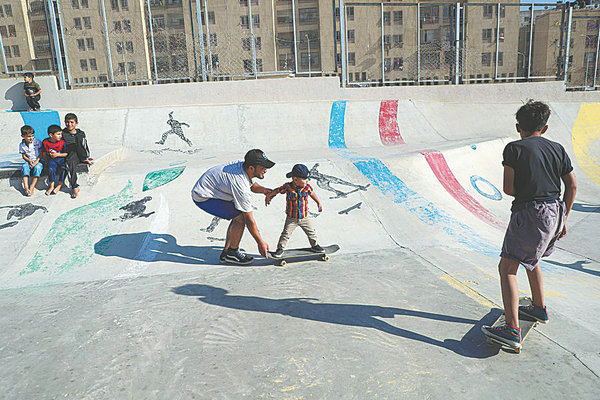 After the conflict in 2014, Ali decided to explore skateboarding. It offered him a mental health refuge. He felt empowered too. "When I became a pro in this sport three years ago, I tasted freedom for the first time in my life.… I forgot all my fears and the harsh situation in Gaza," he says.
Since he picked up the skateboard two years ago, Ahmed al-Sharifi, now 12, noticed a significant change in himself. He made more friends and enjoyed sports, rather than being reclusive and spending time on his phone.
Ahmed says skateboarding has enabled him to "see another side of Gaza that is way different and comforting from what a region torn by conflicts can offer".
Ali and Ahmed are among the dozens of boys coached by Rajab al-Rifi, a 26-year-old who began skateboarding in 2014, after being trained by an Italian sports team that visited Gaza.
The coach began promoting skateboarding among Gaza's children by uploading short videos on the internet. Thanks to his relentless endeavors, the number of youngsters who participate in the sport has grown to more than 200 from just seven a few years ago.
Buoyed by the growing popularity of skateboarding among Gaza's youth, the coach hopes that one day his dream of competing in international tournaments, which has been impossible owing to the siege to the Gaza Strip since 2007, will become a reality.
Most Popular