Concerts give pop fans trip down memory lane
Share - WeChat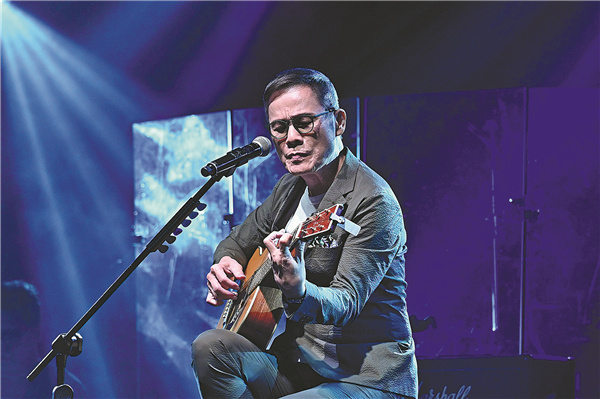 Virtual performances allow audiences to tune into the sounds of their youth.
At 8 pm on Friday, pop legend Lo Ta-you sat in front of his piano and played a piece based on his hit song, Red Dust, which was featured in the popular Chinese movie of the same title in 1990.
This opened Lo's first virtual concert.
"It's been over two years since I performed live and I've been thinking about ways to meet you, talk to you and sing for you since then," said the 68-year-old Lo, whose tours have been postponed due to the COVID-19 pandemic. "Today, we are performing on this beautiful lawn in Hualien (Taiwan) under the starry sky. You can hear the sound of crickets chirping. It is so romantic."
Along with his band members, Lo sang 20 of his songs for nearly two hours, including Childhood, Dream, Love Song 1980 and Love Song 1990.
He named the concert after his song Childhood, which was released in 1982.
"Because of the pandemic, our lives have changed. I have slowed down and I realized that I could still remember many old songs that I listened to and sang as a child," Lo said during the virtual concert. "Childhood was not written for children. It was for adults. When I grew up and shouldered responsibilities for my family and the society, I realized that the most beautiful thing was my childhood, when I was well-protected by my parents."
The virtual concert, which was streamed on Chinese social media platform, WeChat, attracted more than 40 million viewers. Nostalgic fans left real-time comments while watching the concert, expressing their excitement and their love for Lo, a cultural icon of their youth.
"It reminds me of my days in university when I listened to Lo's songs with my friends while having a beer together. We shared our lives, dreams and all the things that brought joy and sadness to our lives," commented a fan. "I am very touched tonight."
Another fan said: "The best part of this concert is that I got in touch with my old friends. We haven't seen each other for years and because of this concert, we decided to watch it together online. All of a sudden, it was a reunion."
Born in Taipei, Lo learned to play the piano at the age of 5. He planned to become a doctor and studied in medical school. However, he launched a music career in 1972 while still a university student.
His debut album, titled Zhi Hu Zhe Ye, which was released in 1982, was an instant success. Featuring his original pop hits, such as Childhood, Love Song 1980 and The Story of Time, the album was considered pioneering. Songs from the album are still adapted and performed by singers today.
The veteran singer-songwriter has captured the hearts of Chinese music lovers for decades, gathering a large fan base especially among people born in the 1970s and '80s.
He ended the virtual concert with his song, Tomorrow Will Be Better, hoping to provide a sense of comfort and hope to people amid the pandemic. The song was originally released in 1985, and involved about 60 Taiwan pop stars. It was written by Lo with a goal to highlight the International Year of Peace in 1986.
Most Popular