Volunteer work provides a fresh view of the world
Share - WeChat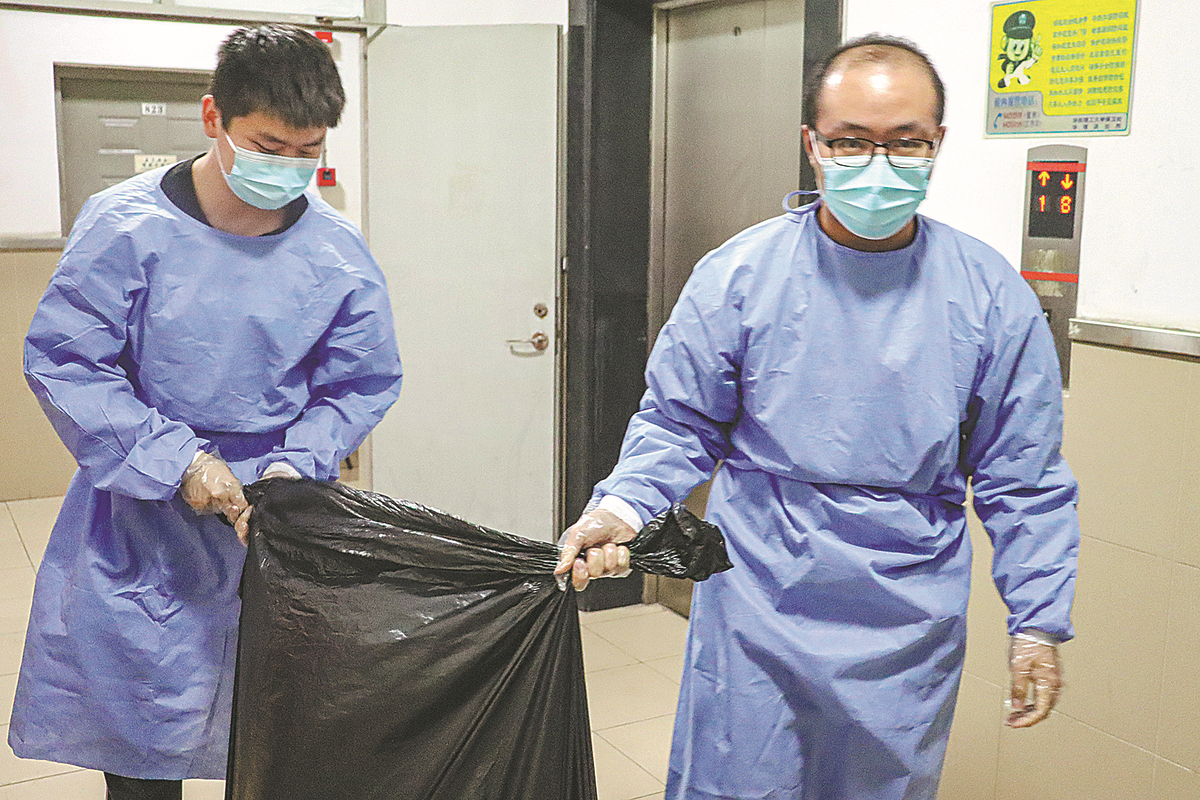 Shi Lei has maintained a busy schedule since he was quarantined in his dormitory in early March.
As a doctoral candidate in analytical chemistry who will graduate this month, he has been busy writing his graduation thesis, doing online interviews to secure a job at a foreign chemical company, lifting weights every day to stay fit and playing the piano.
The 27-year-old student at East China University of Science and Technology in Shanghai volunteered to become the "floor head "for 43 students living on the same dormitory floor as him.
His main tasks include distributing meals, self-reporting rapid antigen tests and medicines.
He arranges the meals provided by the school and takes photos of them to show appreciation for canteen staff members.
"After becoming a volunteer, I understand how hard the canteen employees work to ensure that the 20,000-plus students and faculty members have delicious food every day," he said.
To make sure breakfast is delivered at 7 am every day, the staff members must start work at about 4 am, he said.
Shi takes the meals from their original packaging and arranges them with the limited tableware he has in the dormitory.
Under natural light and using a piece of artificial lawn as a background, he creates fancy, eye-catching photos of the meals.
As a photography enthusiast, he gained experience taking shots of dishes while working part time and taking such pictures for hotels.
"The university has made sure that we not only have enough food, but have nutritious, delicious food, which was not easy during the most critical time of the outbreak in April, when many Shanghai residents had trouble securing daily necessities," he said.
The university has asked the administrators of all the colleges to move into the student dorm to be ready to work on any problems that may arise, he added.
The administrators work alongside the volunteers to ensure that even though the students are unable to leave the dormitory, their daily lives and studies can continue as smoothly as possible, Shi said.
"Having to live through serious outbreaks is the last thing anyone wants, but being able to stay on the campus during the outbreak makes us feel much safer and more secure because we know the university will offer strong support."
He has built a small studio in his dorm, using time-lapse photography to record the whole process of hyacinths blooming, and he also takes photos of the moon from his balcony.
"Not being able to leave the school makes me pay more attention to the small changes in life-watching flowers blossom, the sun rising and setting, and the beautiful moonlight," he said. "These small things we tended to overlook in the past are fulfilling enough."