Caring couriers ferry passengers trying to get home
Share - WeChat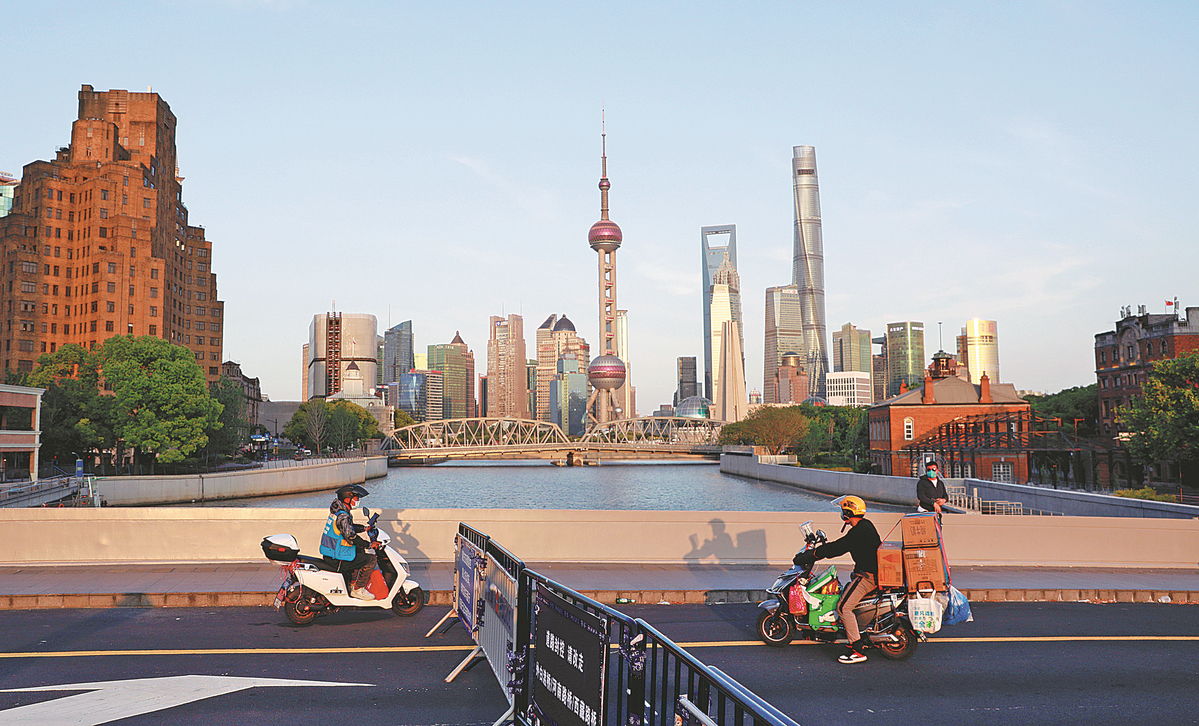 Before bus and metro lines in Shanghai resumed partial operation on May 22, most people attempting to leave the city had to make their way to the railway station on foot or by riding a bike.
Those more fortunate, however, managed to hitch a ride from kindhearted couriers.
One of these couriers is Ren Senfu, who has in the past month offered free rides to the railway station for hundreds of people.
A migrant worker from Guizhou province, the 19-year-old dropped out from dance college and traveled to Shanghai on March 6 to find a job, only to end up being cooped up in a small rental room for the whole of April due to the citywide lockdown. During this time, he survived on just one meal a day.
As couriers are considered essential workers, Ren managed to obtain a special pass to return to work on May 1. But this was not the end of his troubles-going to work meant having to leave the compound, which meant not being allowed back in because of the regulations set by the neighborhood management.
As such, he and another courier had little choice but to stay in a minivan that was loaned to them by the owner of a factory on Beidi Road.
A few days later, while making his way back to his makeshift home after work, Ren came across a young man riding a bicycle pulling behind it a large tethered suitcase at around 10 pm.
"The person was a native of Yuncheng, Shanxi province, and he had traveled to Shanghai in March to visit his friends but ended up getting trapped in the city. He said he was headed for Hongqiao Railway Station, which was more than 10 kilometers away," Ren said.
Having faced the same predicament, Ren offered the man a ride to the station.
"He told me that he had set off from Baoshan district in the morning, and that if he hadn't met me, he needed to cycle for another two hours to get to the station."
From that fateful moment, Ren has spent every evening ferrying beleaguered strangers to the railway station after completing his daily work. He even started a group on WeChat to rally help-the group has 57 other couriers who, like him, give free rides to those in need.
The heartwarming service provided by these couriers is in stark contrast to what a small group of unscrupulous people have been doing-exploiting the circumstances and charging exorbitant fees for transportation. One of Ren's passengers said an unlicensed driver wanted to charge 2,500 yuan ($375) for the 25-kilometer journey from Jing'an district to the railway station. Another said she was scammed out of 2,300 yuan by a fraudster who disappeared after receiving payment.
"My fellow couriers and I are disgusted by such behavior. I think that what we did helped to combat such negativity," said Ren.
Word of Ren's initiative quickly started making the rounds, and calls for help started streaming in.
On May 12, he ferried 14 people-a new daily record-to the Hongqiao station. His head hit the pillow at 3 am.
To thank these couriers, people offered food, water and even cigarettes. But Da Yong, who shared the minivan with Ren and was a part of this initiative, played down the significance of their acts of kindness.
"It's only natural that we help one another. After all, we all come from other provinces. All we couriers gave was just a little effort and some electricity," he said.
On May 24, Ren bade farewell to his fellow couriers and hopped onto a train at Hongqiao Railway Station to make his way back to his hometown in Tongren, Guizhou province. But this farewell, he said, is temporary.
"Everyone in the group chat agreed that when this outbreak is over, we'll get together in Shanghai for a meal and a group photo," he said, adding that he had decided to go back to school and complete his college education.