Mission over for makeshift hospital
Share - WeChat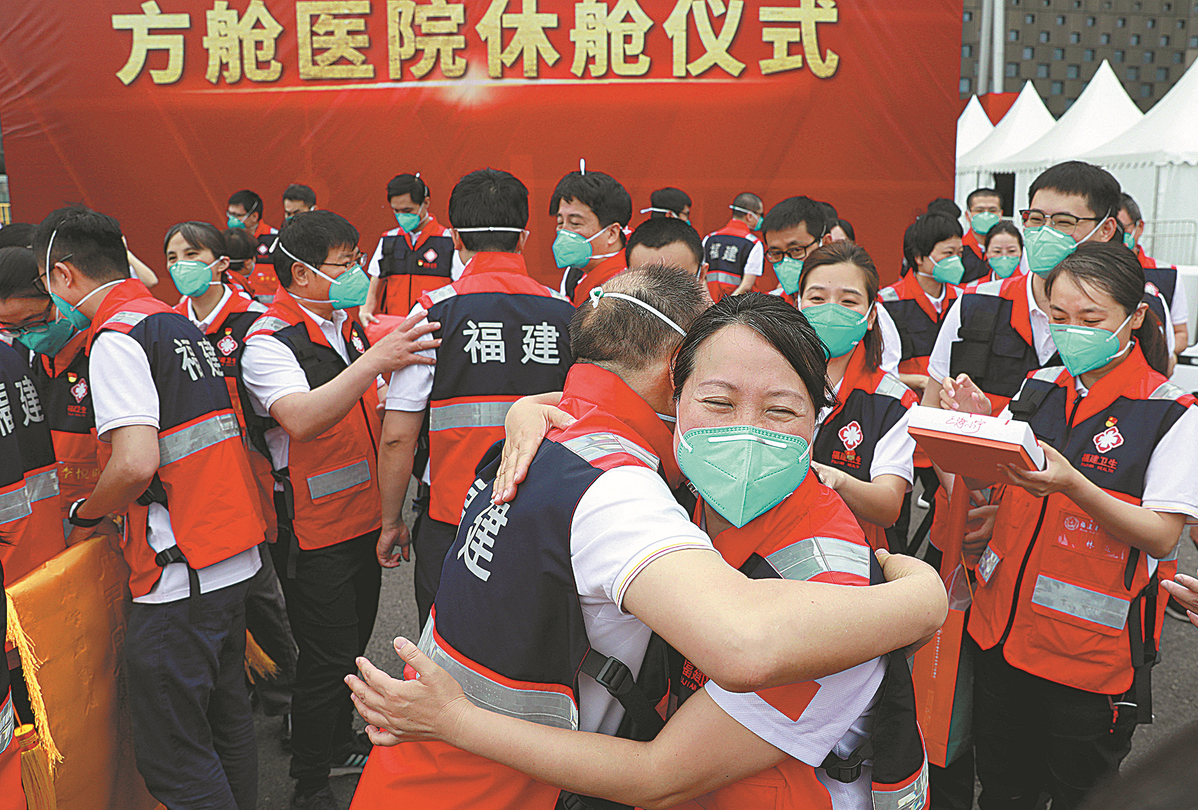 Shanghai's first temporary medical facility built for recent outbreak closes
The first makeshift hospital built to fight Shanghai's recent outbreak of COVID-19 was closed on Wednesday after helping more than 25,000 people recover.
With a capacity of over 7,000 beds, the temporary hospital was established in the Shanghai World Expo Exhibition and Convention Center on March 25, and the next day began receiving and treating asymptomatic and mild cases.
Shanghai medics staffed the makeshift hospital alone until a medical team of more than 1,700 people from Fujian province came to take over running the venue on April 9.
On Tuesday afternoon, the last patient was released.
Of the 25,658 patients given medical treatment in the makeshift hospital, the oldest was 86 years old and the youngest 15 months, according to Xu Jie, deputy head of the team.
He said at the closing ceremony of the makeshift hospital that traditional Chinese medicines had been administered to all patients, adding that psychological aid was also provided for those feeling anxious during the quarantine and treatment period.
Over the past two months, Chen Linglin, one of the team members, was required to look after 156 infected people every day. Regarding it as a challenge, the nurse told China Daily that she learned a lot from the job and also felt the patients cared for her in return.
"Tending to such a number of people at a time wasn't easy. I must pay close attention to the health condition of each while offering them daily care," she said. "If I find that someone's symptoms are getting serious, I would tell doctors in our ward and take urgent measures for the patient.
"Simply put, I had to observe every infection carefully during my four-hour shift. In this way, I could accurately share the health information with my colleagues on the next shift to prevent a mild case from becoming severe," she said.
Although nursing was hard work, especially in early and mid-April when the metropolis faced a rapid growth of asymptomatic infections, she said, "It didn't feel that hard, because I was also cared for by my patients.
"Some patients helped me distribute meals after they realized it wasn't convenient for me to do that while wearing protective clothes," she added. "Before they left the makeshift hospital, they had even asked someone else to continue the distribution, which moved me."
The temporary hospital will be fully disinfected, and then its facilities will be upgraded, according to Cao Wei, chairman of Donghao Lansheng Group, the enterprise that converted the venue into the makeshift hospital in March.
He said the makeshift hospital will be kept for the city to cope with epidemics more effectively, with extra shower rooms and improved ventilation.
"Patients will be given a better quarantine environment after the upgrading," he said, adding that the improvements are to be finished by the end of June.
"The center will be designed as a comprehensive venue where people can still hold exhibitions. But if new infections are found and need to be treated, it will immediately become a makeshift hospital," he said.
With a slowdown of the epidemic in recent weeks, makeshift hospitals have been gradually closed. On Saturday, for example, the makeshift hospital in Lingang accomplished its mission after treating over 47,000 patients.
As of May 13, half of the city-level and 68 district-level temporary hospitals had been closed.