Medical services on the up in Shanghai
Share - WeChat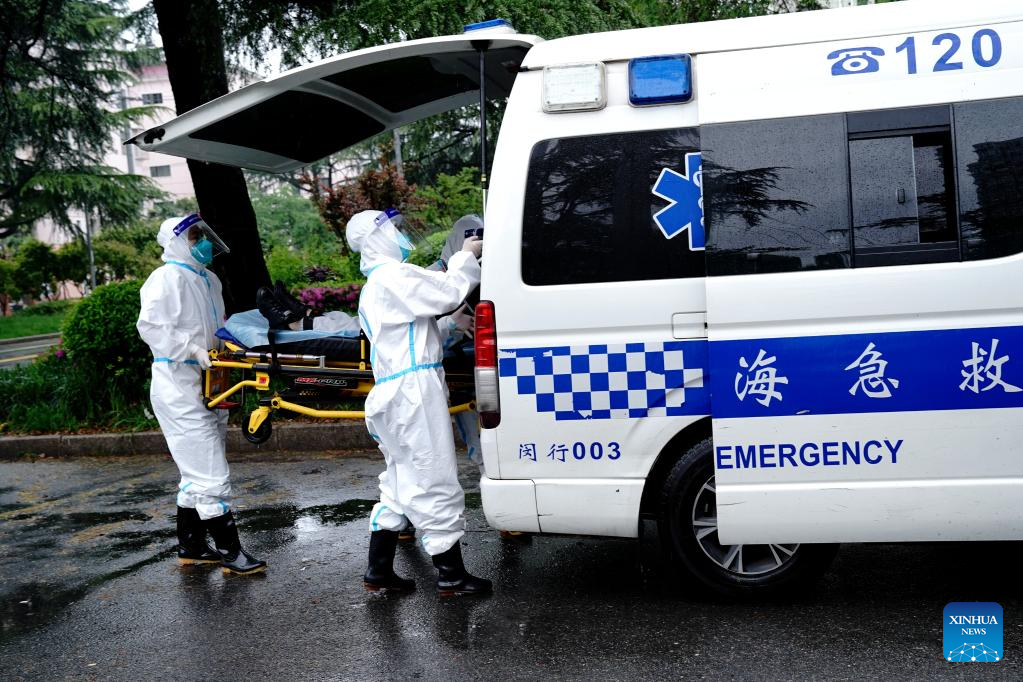 The number of outpatient and emergency services at tertiary and secondary medical institutions in Shanghai in May has bounced back to 40 percent of the same period last year as the COVID-19 epidemic wave continues to wane in the city, according to the health authority.
Except those institutions designated to treat COVID-19 cases, all the others have resumed outpatient and emergency services, and the number of clinical services, hospitalized patients and surgeries are increasing, Zhao Dandan, deputy director of the Shanghai Health Commission, said at a news briefing on Sunday.
He said the daily number of outpatient and emergency services at Zhongshan Hospital and No 1 People's Hospital has both exceeded 10,000. The daily number of emergency treatments at Huashan Hospital has recovered to nearly 90 percent of the level before the outbreak began in early March.
Zhao said the number of surgical operations in the city has also climbed back to nearly 1,900 per day, including technically difficult and complicated ones.
Huashan Hospital and Fudan University Children's Hospital jointly performed a liver transplant on an infant, and medical helicopters transported patients in two cases to Ruijin Hospital to receive critical emergency surgeries.
"Zhongshan Hospital has completed over 50 transplant surgeries this month, including an internationally innovative dual living donor liver transplantation-one from a family member and another from a patient," said Qian Juying, vice-president of the hospital.
At the Obstetrics and Gynecology Hospital of Fudan University, a 33-year-old woman, who had 180 uterine fibroids surgically removed over the past four years, underwent a C-section last week and gave birth to a baby safe and sound.
Having unexpectedly become pregnant only four months after the last surgery to remove the fibroids-which left inadequate time for the uterus to repair and could lead to serious conditions during pregnancy-the woman was admitted to hospital for monitoring in mid-March when she was 24 weeks pregnant. Multi-disciplinary teams designed detailed plans to guarantee the safety of her and the fetus, and avoided the risk of uterine rupture and hemorrhage during pregnancy and surgery.
Zhao also said on Monday that the city will maintain its efforts to vaccinate the population, especially the elderly. More than 62 percent of the residents aged 60 and above in Shanghai have completed the full COVID-19 vaccination regimen, and more than 39 percent have received booster shots, up by more than 1 percentage point over the past month.
"All the districts shall optimize their vaccination service models according to local conditions, and promote the COVID-19 vaccination of elderly residents in a safe, standardized and orderly manner," he said.
As the epidemic situation stabilizes, 163 vaccination clinics, or 40 percent of the city's total, have also resumed regular vaccination programs for children, for which parents should make reservations in advance, Zhao said.
To consolidate the results of zero community transmission, the city has enhanced measures in old neighborhoods where less than favorable living conditions pose greater challenges to COVID-19 epidemic control and prevention efforts, said Lin Jingjun, vice-governor of the downtown Huangpu district.
Lin said the district has 330 old residential neighborhoods that have communal kitchens and lack flushing toilets. As such, the district government has taken measures to enhance epidemic prevention and control efforts in these areas to achieve zero community transmission.
The district government has dispatched portable toilets to around 18,000 households without independent bathrooms and arranged timings for residents to dispose of human waste so as to prevent gatherings.