Lovebirds flock to tie the knot on their special day
Share - WeChat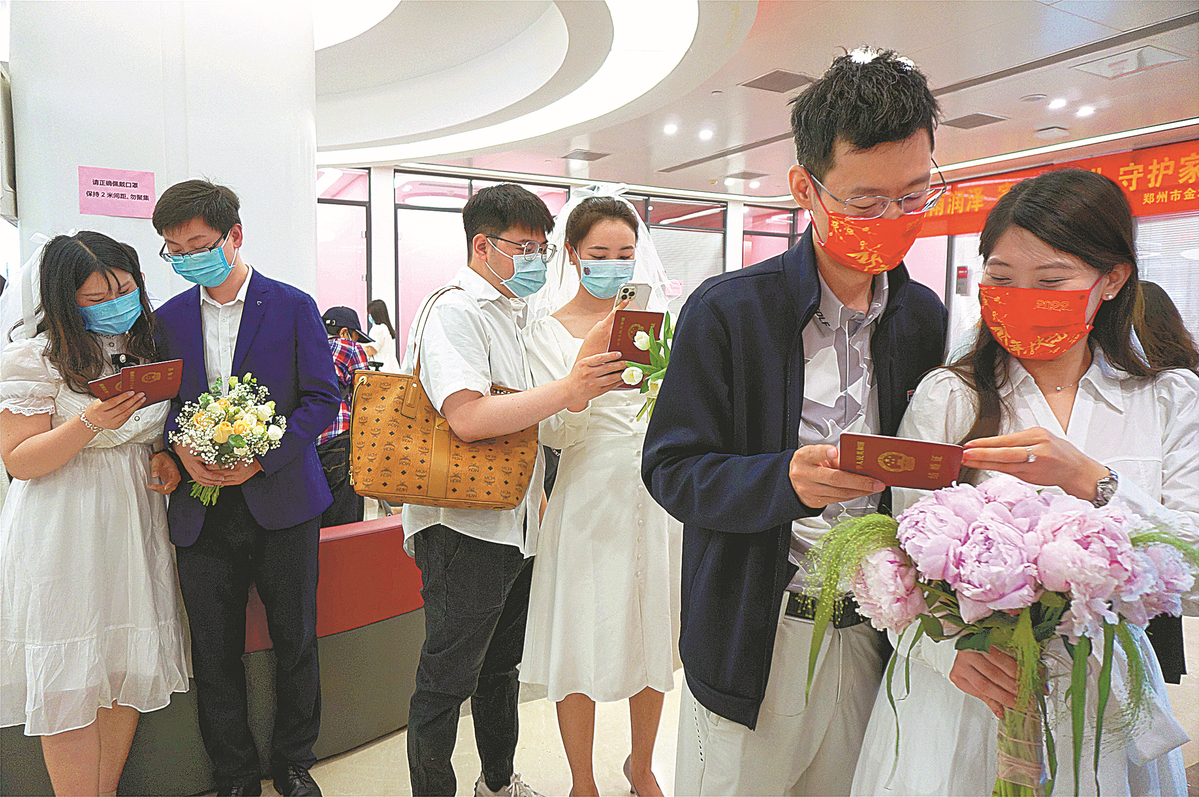 Zhou Yan and Wang Jingming, a couple who have been in a relationship for three years, registered for marriage on Friday, which happened to be May 20-a date whose pronunciation is very similar to the phrase "I love you" in Chinese.
The young couple works in the healthcare sector in Beijing's Fengtai district where the COVID-19 epidemic is stubbornly hanging on. They have both been helping administer nucleic acid tests for more than 20 days since the latest outbreak began in late April.
The sudden surge in cases has delayed their wedding plans, but they still found the time to get registered on such a meaningful day.
"Our biggest wish is that the epidemic can end soon," the couple said.
Even though the epidemic is still ongoing in several cities across the country and many local authorities have tightened control and prevention measures and encouraged avoidance of crowds, many couples still chose to get registered on Friday.
Facing an increasing number of confirmed COVID-19 cases in the city and a more complicated epidemic situation, the Beijing Civil Affairs Bureau announced earlier that couples should bring negative nucleic acid test results within 48 hours to register for marriage. Reservations are also required.
The bureau triggered an emergency plan to deal with the booming number of couples getting registered on Friday.
To avoid risk of infection, family and friends of new couples will not be allowed to enter registration offices. Other nuptial activities such as exchanging wedding vows have been suspended.
Meanwhile, the bureau said marriage registration office staff should start work one hour earlier in the morning, cancel their noon breaks and get off work only after completing all reservations on Friday, in order to satisfy public demand for auspicious starts to marriage.
Liu Xiaoguang, 31, who registered in Beijing's Xicheng district, said thanks to a reservation, he and his fiancee didn't wait too long to complete the process.
"The whole procedure was in good order. The staff even provided disposable gloves for us to sign our names on the certificates in order to avoid virus transmission via the shared pen," Liu said.
In Dongcheng district, where more than 200 couples had made reservations for marriage registrations on Friday, the staff of the office started working at 7 am to ensure all couples got their certificates in a timely fashion.
Some couples wore red masks to mark the special day.
Couples in other cities were also eager to tie the knot on May 20.
In Zhengzhou, Henan province, a man started to queue in line in the early hours of Friday morning in order to be the first to get a marriage certificate on May 20, according to Chinese media.
In Jinan, Shandong province, the number of reservations for marriage registration was six times more than on other days.
Li Xiaokang, 30, who works in Beijing but got registered on Friday in his hometown-Huanggang, Hubei province-said due to COVID-19, he and his betrothed have been staying in their hometown for months.
"Even though life can be a bit tougher in this special period, we still want to do things with love and hope-such as getting married on May 20," he said.