Students show language talent in contest
Share - WeChat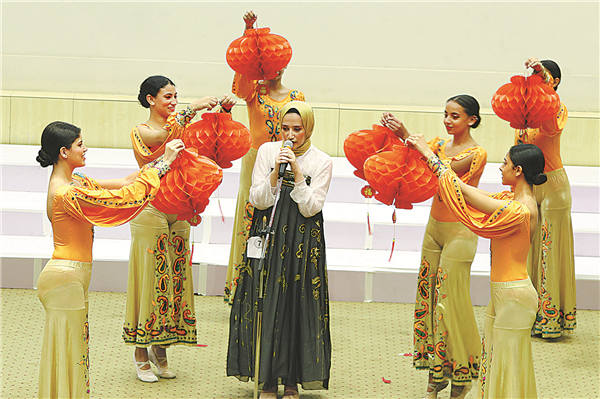 The 21st Chinese Bridge competition, a Chinese language proficiency contest, concluded on Saturday in Egypt's capital, Cairo, as contestants showed their talent and skills in the language and Chinese culture.
Three out of the 12 finalists, who distinguished themselves from the preliminary rounds of the competition, won grand prizes after their good performances at Ain Shams University in Cairo.
Hosted by the Chinese embassy in Egypt and Confucius Institute at Ain Shams University, the contest attracted students from local universities.
Contestants first showed their skills in speaking Chinese and their knowledge of Chinese culture, before performing singing, poetry reciting and martial arts.
Aya Ibrahim, a 21-year-old student from Cairo University, won first prize after her performance impressed the audience and judges.
"I felt shy to join such competitions. This made it a great challenge for me to participate in the Chinese Bridge contest," Ibrahim says.
"My love for China, its culture and language, in addition to my resilience, made it easier for me to win," she says.
Wang Shenggang, minister counselor of education at the Chinese embassy in Egypt, says the competition is fierce and fully demonstrates the Chinese teaching and students' learning level in Egypt.
"The COVID-19 pandemic has brought challenges to the Chinese teaching and the competition, but the Egyptian government and people from all walks of life have worked together to overcome many difficulties," Wang says.
With the deepening cooperation in education between China and Egypt, such as the awarding of academic degrees from both countries, there are greater opportunities for people to learn Chinese in Egypt, he notes.
Esraa Abd El-Sayed Hassan, director of Confucius Institute at Ain Shams University, says 23 students from Chinese departments at Egyptian universities joined the contest, and 12 of them made it to the finals.
Most Popular