New consortium seeks to inspire global dialogue
Share - WeChat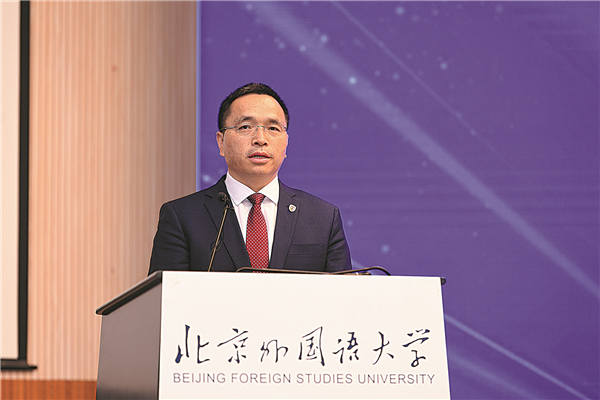 In a world which is undergoing profound changes, country and area studies, as an emerging field of research, is expected to help promote better understanding among countries, inspire unbiased dialogues and address global challenges.
At this point, the Consortium of Country and Area Studies-a network among scholars from 181 countries, supporting more than 100 languages, that are involved in different disciplines of area studies-was inaugurated in Beijing last month. It aims to foster global academic collaboration and innovation, as well as facilitate interdisciplinary cooperation.
The event, held both online and in person, gathered UN officials, representatives of universities and experts in country and area studies from home and abroad. It was broadcast live in eight different languages, including English, French, Spanish, Japanese and Portuguese.
Siddharth Chatterjee, UN resident coordinator in China, notes that the world faces many challenges including poverty issues, violent conflicts and the COVID-19 pandemic.
"In these uncertain times, the world greatly needs evidence-based knowledge and open dialogue," he says. "I see the power of area studies in developing fit-for-purpose and demand-driven solutions to those global challenges."
He says that area studies has a tradition that respects intellectual pluralism and values context, where social scientists closely collaborate with humanists to develop culturally and historically contextualized knowledge of various parts of the world.
"Creating a solid foundation for inclusive global governance rests upon the intellectual and moral solidarity of all humanity," he says, adding that the launch of the CCAS is a welcome step toward building that foundation.
Yang Dan, the president of Beijing Foreign Studies University and director-general of the Global Alliance of Foreign Studies Universities, which is the initiator of CCAS, highlights the importance of enhancing mutual understanding and respect among countries and regions for the long-term global peace and sustainable development.
He points out that the United States and many European countries established a relatively complete academic system for country and area studies long ago, therefore, a Western-centric approach has long been used in the field.
"The emergence of area studies research in China and other developing countries in recent years will enable the disciplinary development of area studies to be more global and equal," Yang says.
He adds that the CCAS will bring together more academic magazines or journals to support the promotion of achievements made by scholars from around the globe in country and area studies, especially those from developing countries.
Yang also addresses the fact that scholars who are involved in the field, while having different specialties, such as politics, culture and economics, used to have limited communication with each other.
Today, country and area studies is expected to be set as a first-level discipline under the category of interdisciplinary studies in Chinese universities, making it possible for scholars from diverse disciplinary backgrounds to conduct more efficient and frequent exchanges, he adds.
He points out that language, as a carrier of human civilization, serves as the basic infrastructure for area studies.
BFSU has started majors in 101 languages, and is among the first group of Chinese universities conducting interdisciplinary research in area studies.
Yang says the university endeavors to cultivate more talent with a global perspective and expertise in the field.
Most Popular