Former policeman gets back in the saddle to tackle the disease
Share - WeChat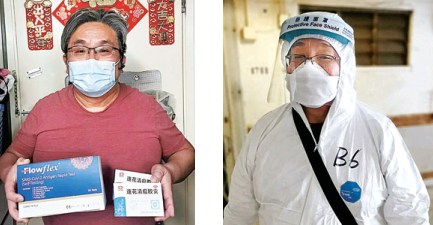 Left: Chan Chun-wai poses with the rapid antigen test kits and traditional Chinese medicine his teammates gave him after he tested positive for the virus. Right: Chan takes his turn on duty. [Photos provided to China Daily]
Editor's Note:China Daily puts the spotlight on regular people in Hong Kong, who share their firsthand accounts of their fight with the virus and how they assisted others in need in the city.
Chan Chun-wai, team member of a special force that facilitates the government's compulsory testing operations
Before testing positive on Feb 27, I had helped with the government's compulsory testing operations in blocked buildings for about a month. After testing negative on March 7, I heard that the work still needed more personnel. Without much thought, I rejoined the battle to support my comrades a day later.
In early February, at the invitation of former colleagues, I joined a 500-strong special force formed by retired Disciplined Services members. We helped residents in buildings that had been cordoned off take compulsory tests.
During each operation, 40 to 50 of our members served nearly 1,000 households in a block.
In addition to persuading every family to go downstairs and be tested, it was also our job to send materials to those under home quarantine, arrange for infected patients to be admitted to community isolation facilities and prevent residents from leaving the restricted area without permission. The operations usually started at dusk and ended in the early hours of the morning.
During the work, I experienced shocking and sympathetic moments, and was also subjected to uncooperative, even hostile, gestures.
In a subdivided apartment in Sham Shui Po, we found 14 people living in a space of just 56 square meters. In another operation, I knocked on the door of a family for more than four hours, but they refused to come out and be tested. Some people even shouted abuse at us to vent their grievances amid the crisis.
In the initial stages of the operations, some panicked residents who didn't want to be grounded would leave in advance and move in with relatives and friends. The situation eased later, as people gradually got used to the procedures and our operations became increasingly well-organized.
As case numbers rocketed and our workload got heavier, I was infected and spread the virus to my wife, son and daughter. I did think I might get infected in the raging fifth wave, but not so quickly. Before the diagnosis was confirmed, my family was still busy delivering medicine to my infected brother-in-law.
Although the government later boosted assistance to people in home isolation, the situation in late February was quite disorderly. Hotlines were busy and hospitals were full. We could only rely on ourselves.
Although I'm still in good health at my age, when the news of older adults' deaths kept coming, it was very hard to sit still and keep calm.
With all four family members infected, we only had enough medicine for two days. One of my relatives sent more to us, but he was also struck down later. When we ran out of drugs and I was at my sickest, my colleagues in the special force offered help with medicines and rapid antigen test kits.
After self-isolating for about a week, all my family members gradually recovered. The force was also in urgent need of more personnel, as many team members had been assigned to community isolation facilities. I felt it was time to get back in the saddle.
I worked in crime investigation for about three decades, and investigated a lot of murders and other serious cases.
After retiring five years ago, I began doing maintenance work for a local clinic. Now that we have faced the citywide battle against COVID-19, I'm happy that my life was enriched by the various missions. I hope my passion and strength do not diminish with age.
Chan Chun-wai spoke with Li Bingcun.