More jobs for disabled a key govt priority
Share - WeChat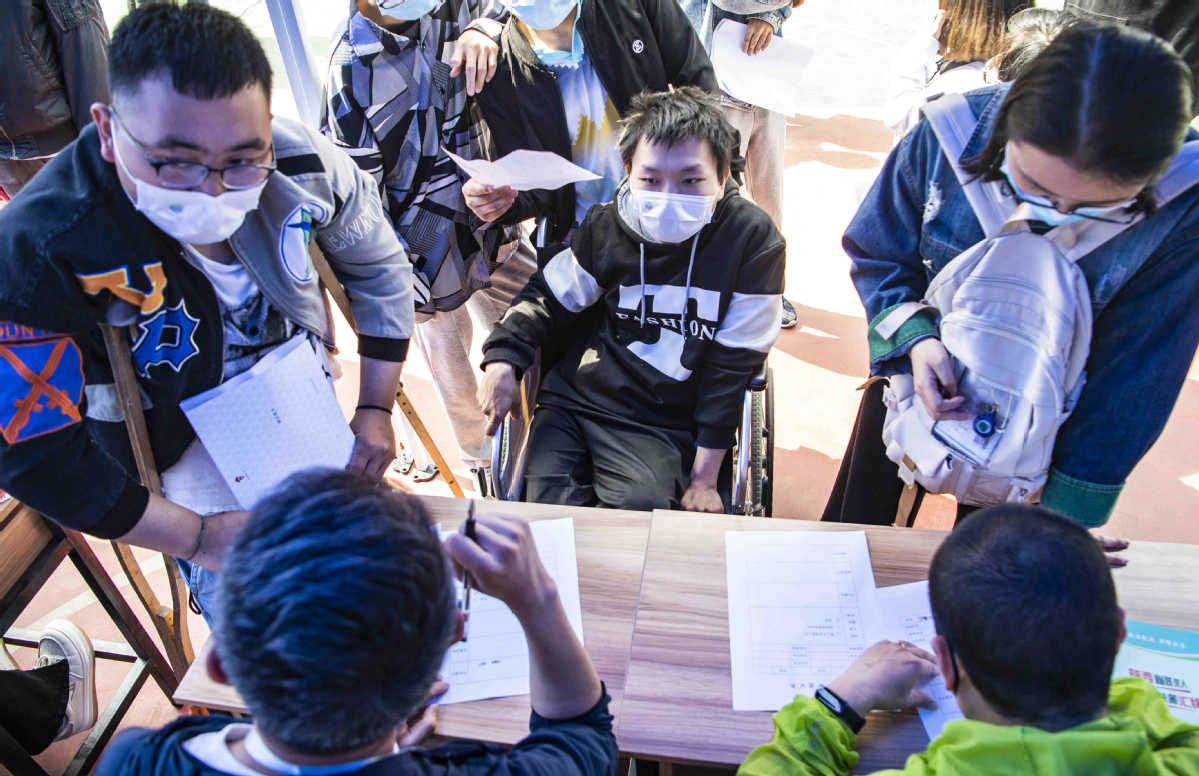 Monthlong campaign to discover real needs and create more opportunities
China has been stepping up comprehensive efforts to improve the lives of people with disabilities and create more job opportunities for them to prosper.
On Sunday, the Ministry of Civil Affairs and the China Disabled Persons' Federation began the nationwide operation of online services for the application for living allowances and subsidies for nursing care. China marked its 32nd National Disability Day on Sunday.
People with disabilities can now submit their applications, inquiries or information updates via the platform without any need for on-site administrative review.
Government allowances and subsidies have benefited over 12 million disabled people who are struggling financially and 15 million people with severe disabilities as of late April, according to the latest figures from the Civil Affairs Ministry.
In addition to financial assistance, central departments are also taking steps to stop job market discrimination, create more opportunities and find employment for more people with disabilities.
"The great challenges and difficulties for people with disabilities in landing jobs are often compounded by reduced access to high-quality education," said Xie Hongde, an official from the education and employment department of the China Disabled Persons' Federation.
He said some industries have set unreasonable physical restrictions and standards in recruitment, while the economic downturn and COVID-19 have led to more fierce competition in the job market, a factor that can work against people with disabilities.
The government has acknowledged that the employment of disabled people is one of its priorities and that it has made some progress in the past few years.
"For example, administrative departments in Beijing, Shanghai and the provinces of Jiangsu and Shandong have offered jobs to disabled people. Also, some companies such as e-commerce platforms Alibaba and JD have recruited people with disabilities as customer service staff members," Xie said.
"We now also have 12,000 visually-impaired people serving as therapeutic masseurs and over 110,000 people with visual impairment working in healthcare massage services."
According to Xie, the government has also improved services to provide better access to more precise and regulated job information for disabled people.
The nation has around 2,700 institutes offering job services to disabled people, and it is developing a real-name management system focusing on employment and skills training services for them, which can help offer more specific job-seeking guidance, Xie said.
According to the federation, a monthlong campaign by human resources bureaus and China Disabled Persons' Federation will run from Sunday to offer tailored and more precise job-seeking guidance to disabled people.
The federation will consult with unemployed disabled people to get to know their real needs for employment and help them, including 30,000 college graduates with disabilities, find jobs.
Earlier in April, the State Council, China's Cabinet, released a three-year action plan to promote the employment of people with disabilities. The plan aims to help 1 million disabled people find jobs by 2024 and create a fairer and more friendly environment for them to improve their working skills and labor rights.