Mass nucleic acid testing to continue in the capital
Share - WeChat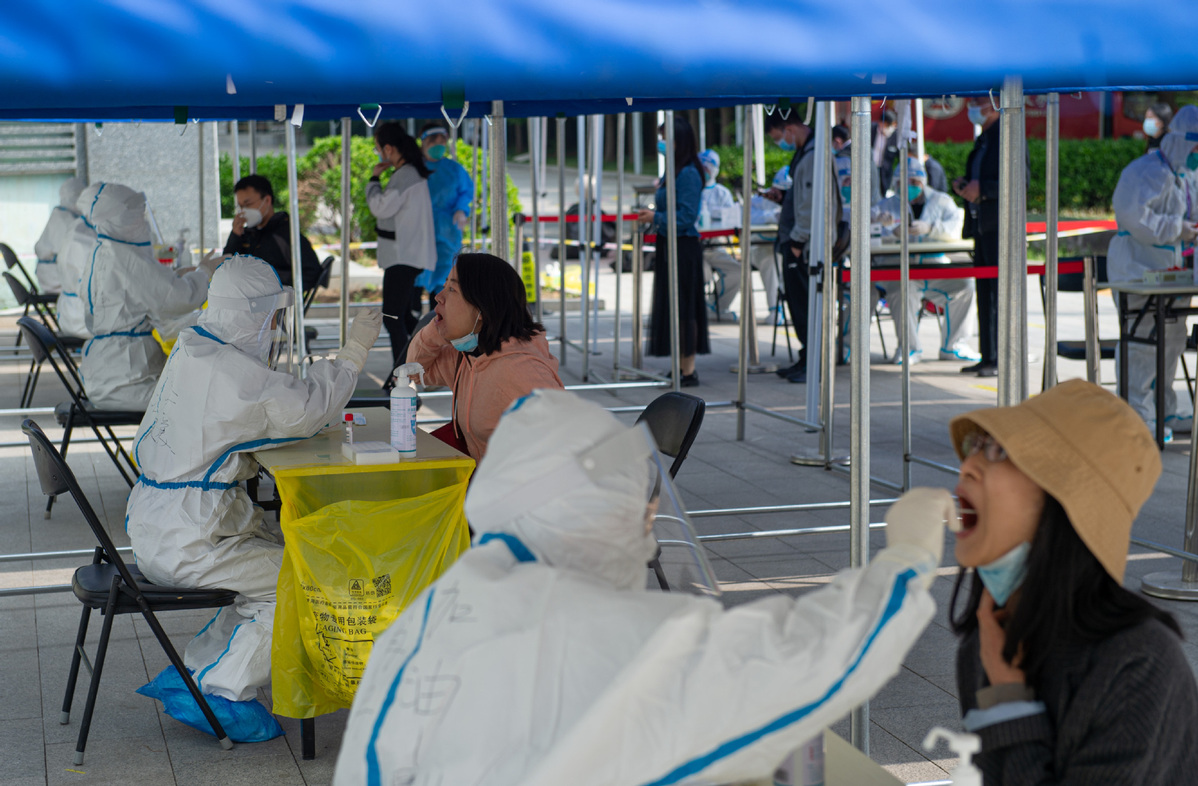 Beijing has taken strict control and prevention measures during the May Day holiday and will conduct more rounds of nucleic acid testing in some areas to curb the COVID-19 outbreak in the city.
Li Ang, deputy director of the Beijing Municipal Health Commission, said at a news conference on Sunday afternoon that the city completed its third round of mass nucleic acid testing on April 29 and 30, covering around 21.8 million residents.
He said from May 1 to 4, there will be two more rounds of testing in some areas such as Chaoyang and Miyun districts, and he encouraged the public to cooperate with medical workers and volunteers.
To curb virus transmission, the municipal authority has required that all residents must present a negative result within 48 hours of taking a nucleic acid test if they wish to enter public places, including scenic areas, hotels and homestays, during the five-day May Day holiday, which began on Saturday.
Furthermore, all restaurants in the city should suspend dine-in services and instead offer food delivery services for customers from May 1 to 4, the city's commerce bureau said.
The Universal Beijing Resort announced on Sunday morning that it has started its emergency plan for epidemic control and prevention, which means the resort will close temporarily starting on May 1. The reopening date will be decided according to the epidemic situation.
It will conduct mass nucleic acid testing for all its staff and start disinfection work in all its areas under the guidance of the city authorities.
The resort, which opened in September, includes the CityWalk entertainment and dining complex, two hotels and the Universal Studios theme park.
Starting on May 5, when the May Day holiday ends, Beijing will start regular mass nucleic acid testing. From that day, residents should get tested on a weekly basis, Li said on Saturday.
They should also have negative results within seven days of testing to use public transportation and to enter public areas.
From May 3, nucleic acid tests will be offered for free to citizens in the capital. The cost will be covered by government finance and medical insurance. In addition, to provide efficiency and convenience, authorities will further improve testing availability all over the city.
After the five-day holiday, students and workers should have negative results within 48 hours of testing before returning to school or work.
"Beijing has reported dozens of locally transmitted COVID-19 cases every day since April 22," Li said.
"The city has completed two rounds of nucleic acid testing for everyone living or working in 11 districts this week, in addition to Chaoyang, which began testing earlier."