TCM proves effective in treatment of elderly COVID patients
Share - WeChat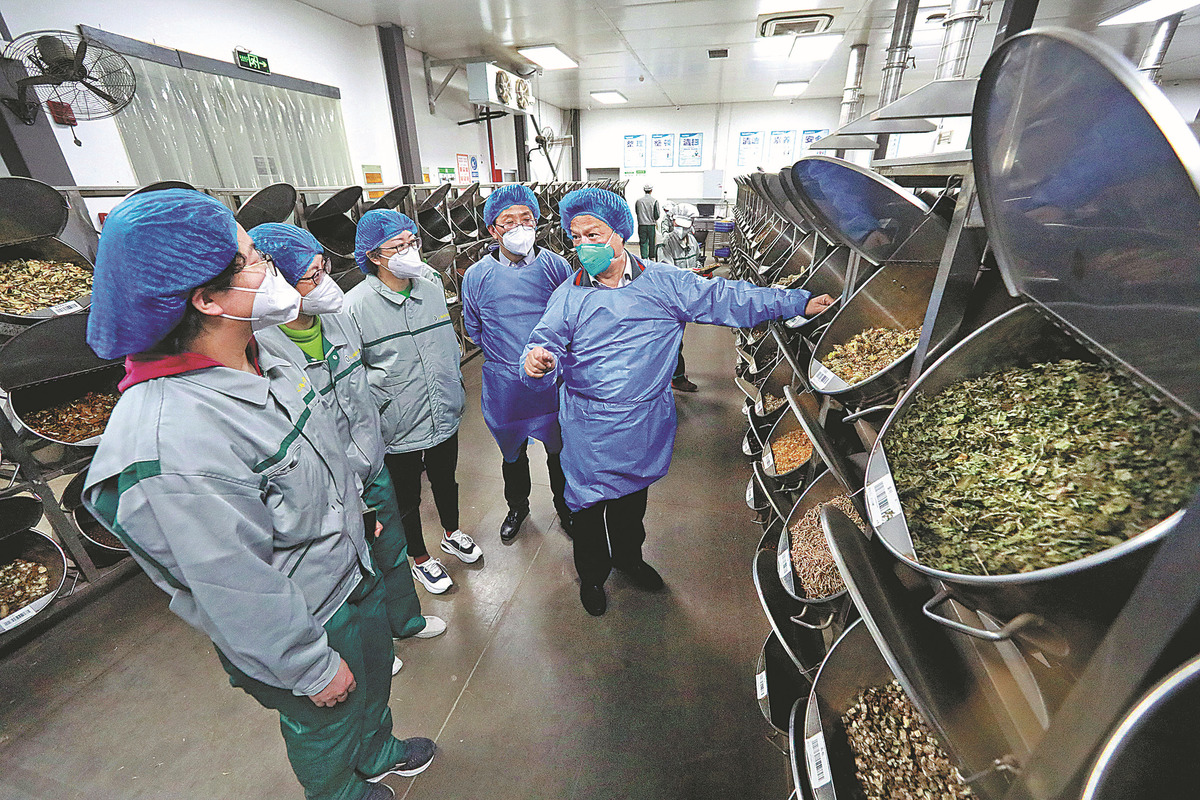 Traditional Chinese medicine is playing an effective role in treating elderly COVID-19 patients in Shanghai by helping to prevent their cases from becoming severe and by reducing mortality, experts said.
Treatment protocols that have been tailored to the elderly include an emphasis on monitoring the prognosis of underlying diseases and intervening early to address any sign that their condition might worsen.
Zhang Boli, honorary president of Tianjin University of Traditional Chinese Medicine and an academician of the Chinese Academy of Engineering, said people age 60 and older account for about 30 percent of all infections in Shanghai.
"Most elders also suffer from chronic conditions and diseases, such as high blood pressure, diabetes, stroke and uremia, so they are at higher risk of developing into severe or critical cases and we should pay extra attention to the group," Zhang said during an interview in Shanghai on Sunday.
Shanghai reported 48 new deaths on Tuesday, with the average age being around 81. The total death toll had risen to 245, and 271 patients were in severe or critical condition, local health authorities said on Wednesday.
"It is especially difficult to treat COVID-19 patients whose conditions might be unstable due to chronic diseases, so we emphasize keeping track of symptoms caused by preexisting illnesses," Zhang said.
In addition, he said, some elderly patients seem to be moderately affected in the beginning, but when symptoms of a worsening condition, such as constipation and shortness of breath, are detected, it is vital to deliver targeted treatment immediately.
TCM drugs aimed at ventilating the lungs, reducing fever, aiding blood circulation and detoxifying are recommended, according to Zhang.
Zhang said health experts have established expert consensus on TCM therapies for elderly COVID-19 patients, as well as a catalog of essential TCM medications for severe and critical cases.
"For serious infections, cooperation with multidisciplinary departments and integration of Western and Chinese medicine is highly significant," he added.
As an increasing number of patients improve and are released from hospitals in Shanghai, TCM drugs also help them to rehabilitate and can ease lingering symptoms.
On Tuesday, more than 2,600 patients were discharged from designated hospitals, and about 33,000 patients with asymptomatic or mild cases were discharged from makeshift hospitals.
Zhang said that during initial waves of domestic outbreaks, patients who recovered reported fatigue, sore muscles, insomnia and hair loss. "With a combination of medications and light workouts such as tai chi, such symptoms can be eradicated in about three to six months," he said.
However, Zhang said that the lingering effects of the Omicron variant need more study in the future.
Huang Luqi, deputy director of the National Administration of Traditional Chinese Medicine, said during an interview in Shanghai on Monday that nearly 9,300 TCM medical workers were sent from 20 provincial-level regions to aid Shanghai in fighting the disease.
Local TCM hospitals sent more than 2,000 healthcare workers to help manage 28 makeshift hospitals across the city.
"At makeshift hospitals, therapies such as acupuncture and traditional Chinese massage are also very popular," he said.
He added that TCM experts are working to improve treatment tailored to infants and young children.