Dedicated till the end, sniffer dog dies on duty
Share - WeChat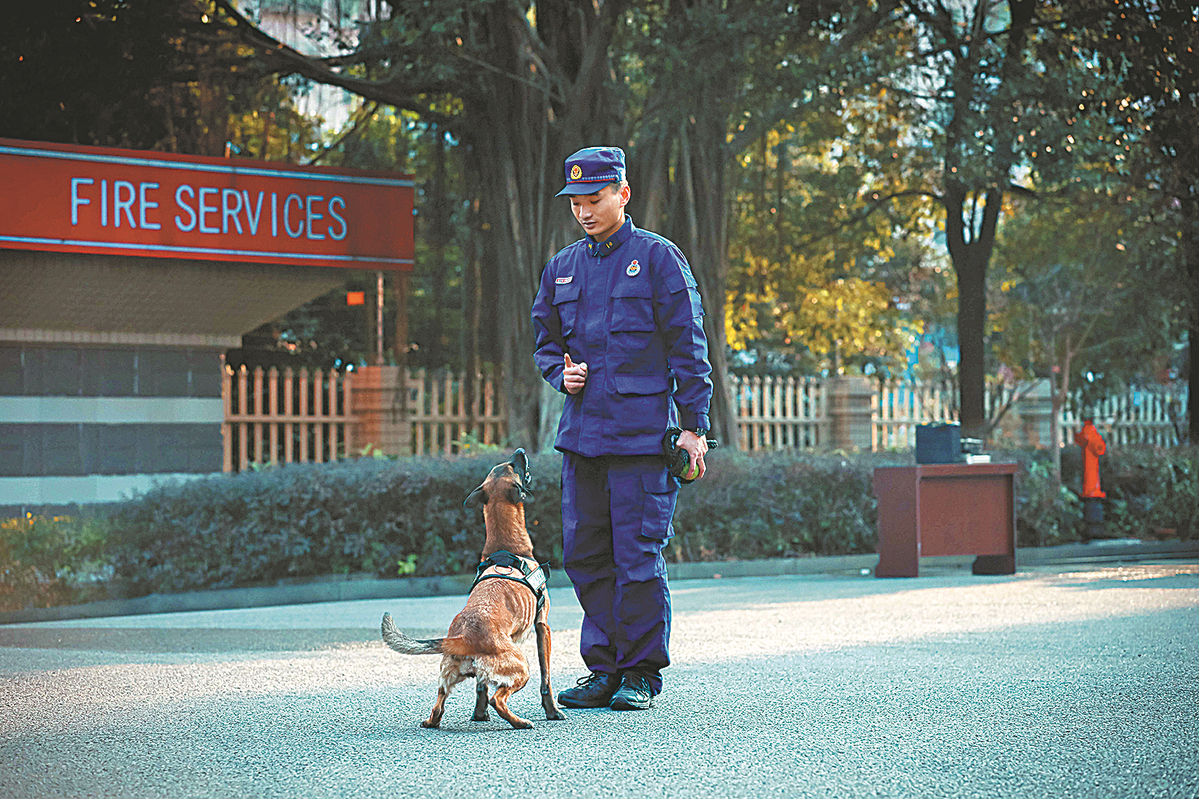 As music hung in the air, a special farewell ceremony was held to commemorate the death of Beibei, an 8-year-old sniffer dog at a fire and rescue station in Chongqing on April 11.
Two uniformed firefighters carried the covered body of their four-legged friend while marching in lockstep.
Other firefighters stood on either side offering their salutes.
Beibei, who served at the Yinheshi Special Service Station in Chongqing's Wanzhou Fire and Rescue Detachment for seven years, died of encephalitis.
As a Belgian Malinois, she was known for her obedience, vigilance, superior sense of smell and ability to jump. The breed is favored by rescue teams all over the world.
Since she started working with the force in 2015, Beibei proved invaluable to 74 disaster missions and helped rescue 16 people during landslides and other major disasters in Wuxi county, Kaizhou district and Wanzhou district in the last few years.
"Her loyalty, determination and strong sense of mission will always be a great inspiration to me," said 28-year-old Li Xinran, Beibei's former handler.
Belgian Malinois have an average life expectancy of 10 to 14 years, but working dogs live shorter lives due to hard work and training, Li said.
Li joined the fire department in September 2013. In 2015, he was paired with the 6-month-old Beibei and served as her keeper and handler from then on.
"Beibei was yellowish-brown and barely the size of my palm at the time," Li said, recalling his earliest memories of his four-legged companion. "She was so cute that I loved her at first sight."
After training together for four-and-a-half months, Li and Beibei obtained their certificates of completion in 2015. Li fed his charge at 8 am sharp, cleaned her kennel, then walked her and played with her. During weekly training, Beibei would walk a narrow, 9-meter-long wooden bridge, climb a 2-meter barrier and navigate obstacles with Li's guidance.
After two years of training, Beibei became a qualified sniffer dog, and the pair went on to take part in numerous rescue missions during natural disasters.
"She understood me very well, even if I only gave her a few orders. And although she couldn't speak, I understood her as well," said Li, who remembered how during one rescue, Beibei's feet got cut on broken glass.
After he cleaned and disinfected her wounds, she jumped in the air a couple of times to show that she was ready to continue with the search. She found two survivors later that day.
"Whenever there was a rescue, there was Beibei," said Li, whose eyes welled up with tears as he spoke.
He said she always looked determined when she heard the alarm, and while her nose and paws often got injured performing her duties, she seemed to have no fear of hardship and would keep searching until told to stop.
Li said that he and Beibei were workmates, but also like parent and child.
For eight years, they enjoyed their time together. Each night, Li left Beibei in her kennel, and checked on her again at midnight.
He said that he had worried greatly since she had fallen ill, and knowing that it would end in a goodbye broke his heart.
At the ceremony, the grief-stricken handler bid his final farewell to the silent hero.