'Monster' Xu back on the hunt
Share - WeChat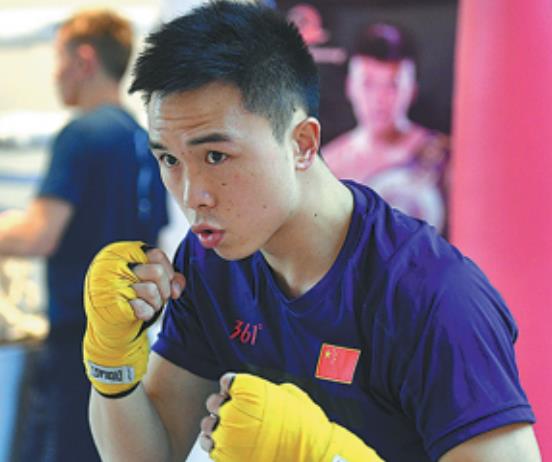 Wounded, yet more dangerous. "Monster" Xu Can is back on the prowl as he looks to return to winning ways.
Eight months after losing his WBA world featherweight title to Britain's Leigh Wood, Xu has pledged to fight his way back to the top, beginning with a 10-round bout against Mexico's Brandon Benitez on May 20 in Florida, USA.
The fight against Benitez (18-2, 7 KO) provides Xu (18-3, 3 KO) with a platform to prove he has recovered and improved from the shock 12th-round TKO loss to Wood last August in England, which ended Xu's 15-bout winning streak and cost him the "regular" WBA 126-pound (57-kilogram) belt.
"The stoppage loss to Wood was quite disappointing. I couldn't process it for a while because I knew I didn't do my best," Xu said in an interview at Beijing's M23 boxing club last week.
"After spending about two months with my family and friends to snap out of it, I now consider the loss as an opportunity to regroup and identify where I can still improve," added Xu, who wrested the WBA featherweight crown from Puerto Rico's Jesus Rojas in January 2019.
A young and aggressive fighter known as "Leoncito", or little lion, in the ring, Benitez possesses a similar rapid-fire style to Xu.
"Fans know my style. They know that I like to throw lots of punches. So when it's a fight between me and a Mexican warrior like Benitez, you know it will be a war," said Xu, who threw a WBA-record 1,562 punches over 12 rounds to defeat Manny Robles III in his last successful title defense in November 2019.
"I am ready and excited for this opportunity to face a former world champion," said Benitez, a 24-year-old out of Queretaro, Mexico.
"This is the opportunity I've been fighting for all my life. I know it will be a difficult fight where there will be a lot of punches thrown, but I will be in great shape to not only throw more than my opponent, but also to win convincingly."
Xu, supported by Beijing-based Max Power Promotions, has been focusing on his strength conditioning over the past eight months. He says he now feels like a more complete fighter, knowing how to punch at the right pace, not just letting fly with volume.
"I will make the best out of my advantage in size and distance, not just punch as much as I did in the past," said the 28-year-old native of Fuzhou, Jiangxi province.
With Wood next taking on the WBA's "super" title holder, Leo Santa Cruz of Mexico, Xu is required to take a few interim fights to improve his ranking-which has been affected by the pandemic-for the right to earn another shot at the featherweight title.
China's former Olympic boxer Meng Fanlong will share top billing with Xu on the same card when he faces arguably the toughest challenge of his career against Jean Pascal, a Canadian who previously held the WBA, WBC and IBO light heavyweight titles.
Pascal (35-6-1, 20 KO) will end a two-and-a-half-year layoff when he squares off against the unbeaten Meng in Plant City, Florida.
"I'm back with a lot to prove and a fire under my ass," said Pascal, who was stripped of his WBA title following positive tests for several banned substances after his last bout in 2019.
"This fight with Meng is a great opportunity for me to get right back where I belong, the top of the division. He's a good fighter. He's undefeated for a reason, but he's never been in with anybody like me," said Pascal.
Meng (17-0, 10 KO) was all set to challenge the division's current world champ, Artur Beterbiev of Russia, for two light heavyweight titles in early 2020, only to be interrupted by the onset of the COVID-19 pandemic. Attempts to reschedule proved fruitless, leaving Beterbiev to fight Adam Deines while Meng sat on the sidelines until last October.
"This fight is so unique for a lot of different reasons," said Meng, who represented China at the 2012 London Olympics. "It's my first time as the main-event fighter. It's the first time I will face a former world champion, and it's the first time we will livestream in China so that 1.4 billion people can support me. I've been training very hard here in Florida. Camp has been great. I can't wait to put on a good show."
The event, organized by Probox Promotions, will be livestreamed exclusively on the Chinese mainland on the Florida-based promotion's partner platform, KOTV. A one-month subscription will cost about $1.99.
Most Popular
Highlights
What's Hot