Rain or shine, teacher goes extra mile to teach students
Share - WeChat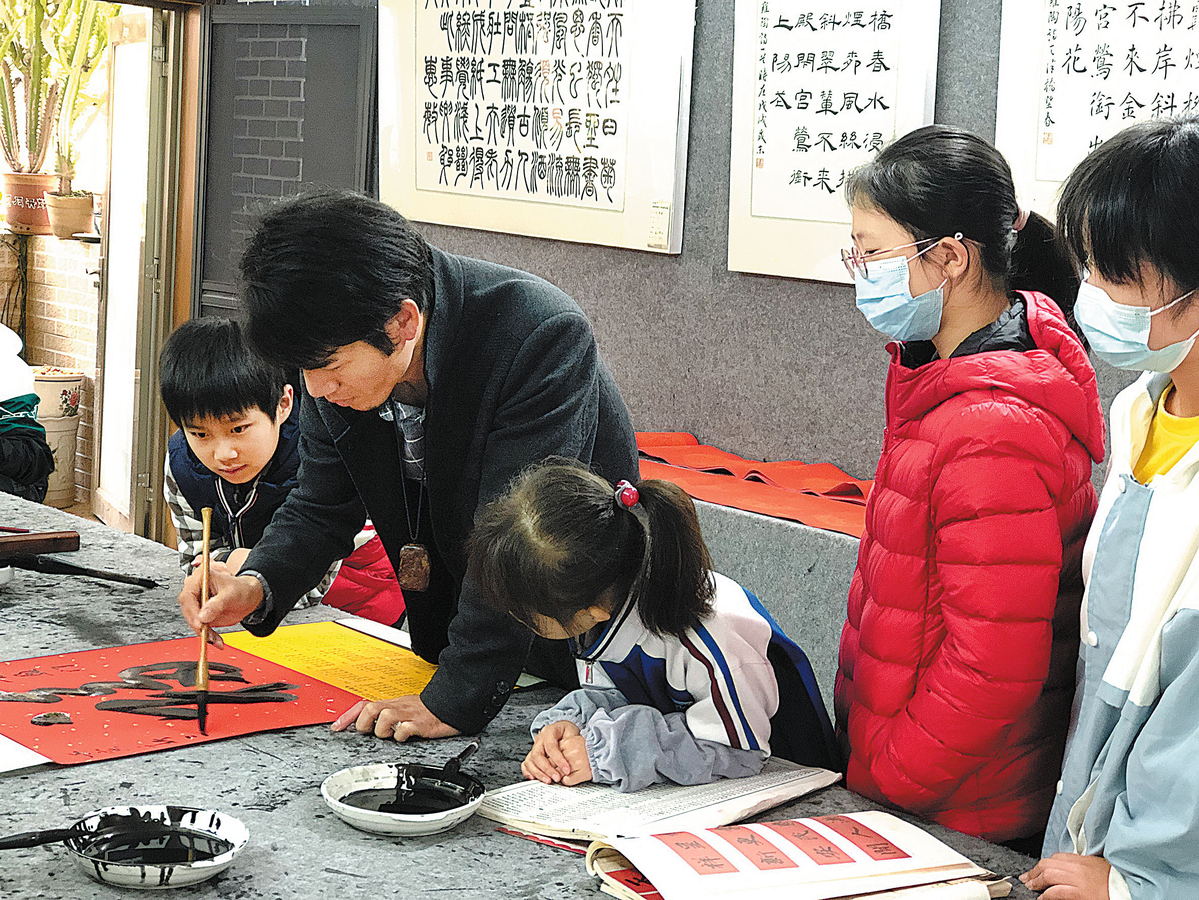 When Wen Xionghui gets home on a Friday evening, he's both tired and happy.
That's the day the calligraphy teacher, who works at the Dongyuan Senior High School in Heyuan city, northern Guangdong province, travels to a primary school in the city's mountainous area to teach its young students the art.
Born in 1986, Wen has been involved in rural education ever since he joined a literature and art training program for left-behind children organized by the Heyuan Cultural Center in spring 2014.
A native of Zijin county, which is administered by Heyuan, he usually teaches at one rural primary school for a year before being sent to another.
"Even the nearest school took at least one and a half hours to reach by bus," Wen said. "And it can take over 3.5 hours to get to some remote ones, as they haven't been connected by expressways yet."
Consequently, Wen sometimes has to set out before 11 am to reach the school on time. He usually begins class at 2:30 pm and returns home afterward.
"The journey is even harder if it rains heavily, or there's other bad weather," said Wen, who is a member of the Communist Party of China. "Sometimes by the time I get home, it is already 10 pm. It is really tiring, but I am happy when I see the progress they make in learning calligraphy."
His aim is to teach students in remote areas about the art of calligraphy and sow the seeds of appreciation in their hearts to spread a love of traditional art and culture in the countryside.
He also hopes to encourage more children to carry on traditional Chinese culture and art.
"Teaching art is even more meaningful in remote mountainous areas because there is a real lack of calligraphy and art teachers there," Wen said.
Most of the children he teaches are second grade to fifth grade primary school students, most of whom have been left behind by migrant worker parents who have had to leave in search of employment in urban areas.
Wen said that although rural children are slower to learn compared to their urban counterparts, this does not mean that some of them aren't excellent students. In fact, he said he always finds children with an aptitude for calligraphy or art in the mountain schools, and some have become quite skilled if they are able to keep studying. "I am happy from the bottom of my heart when I see their progress," he said.
Due to his hard work supporting education in rural areas, Wen was chosen by the Ministry of Culture and Tourism as an "excellent volunteer" for the Fulfilling Dreams Project last year, after being rated as an "excellent cultural volunteer" by the Guangdong Provincial Department of Culture and Tourism in 2016. "I think the awards are important because they encourage me to continue my work with my students," he said.
Wen, who is also deputy director of the Heyuan Calligraphers Association, is now the longest serving teacher in mountainous areas in the province and the only one to have persisted with the program for over eight years.