Bus drivers called on to provide vital transport
Share - WeChat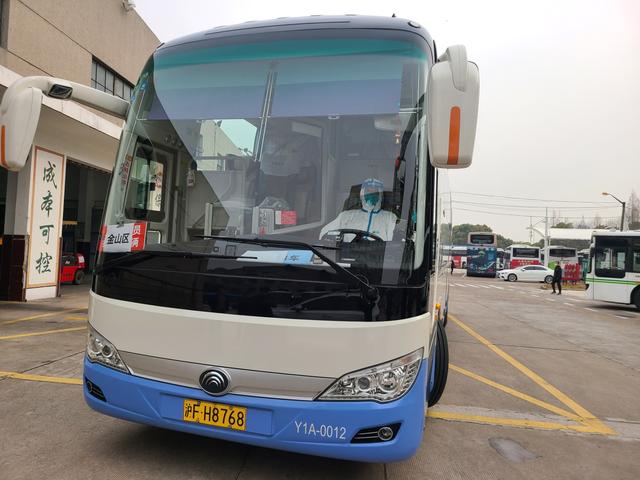 Among the many unsung heroes on the front line of Shanghai's latest outbreak of COVID-19, bus drivers are playing a critical role in ensuring infected people are transported efficiently and safely to the facilities they need to get to for treatment and quarantine.
More than 100 bus drivers in Jinshan district alone have joined the effort, and 54-year-old Zhu Yurong is one of them.
Zhu, who works for Shanghai Jinshan Public Transport, has been a bus driver for 30 years. The company has used its fleet of buses to transport asymptomatic patients and close contacts between quarantine facilities and hospitals since March 28.
"Back in March 2020, I was the leader of a team of 20 drivers stationed at Hongqiao and Pudong airports when the first wave of COVID-19 hit the country" Zhu said. "So when I was given the task of transporting asymptomatic patients this time, I said yes without hesitation."
Zhu admitted that he was a little nervous about the high transmissibility of the Omicron variant, the dominant variant of the current outbreak. However, he was reassured by the strict prevention and control measures that had been put in place to ensure his safety while carrying out his duties. A full-length plastic screen had been placed around the driver's cabin and all drivers are required to wear hazmat suits with a face shield, gloves and an N95 mask at all times. After each trip, the bus is thoroughly disinfected.
During his downtime, Zhu currently resides in a hotel operating under closed-loop management, however he is on call 24/7 if a call from the district epidemic control office comes in.
To make sure the drivers get enough sleep, each is paired with another driver. In Zhu's case, it's Xu Qiang, a veteran and Party member. In the past two weeks, they have completed 29 assignments and transferred a total of 404 people to quarantine facilities.
"We often splash our faces with cold water to help us stay alert before we leave the hotel and refrain from drinking water because we cannot go to toilet during each mission," Zhu said.
"Sometimes we have to skip lunch or dinner when the assignment drags on because if we remove our mask we may be exposed to the virus."
Despite his uncomfortable conditions, Zhu said he will keep on driving.
"I have dedicated almost my whole life to this career and I will carry on till the time when the battle against the virus is won," he said.