Nomination period of HKSAR's sixth-term chief executive election concludes
Share - WeChat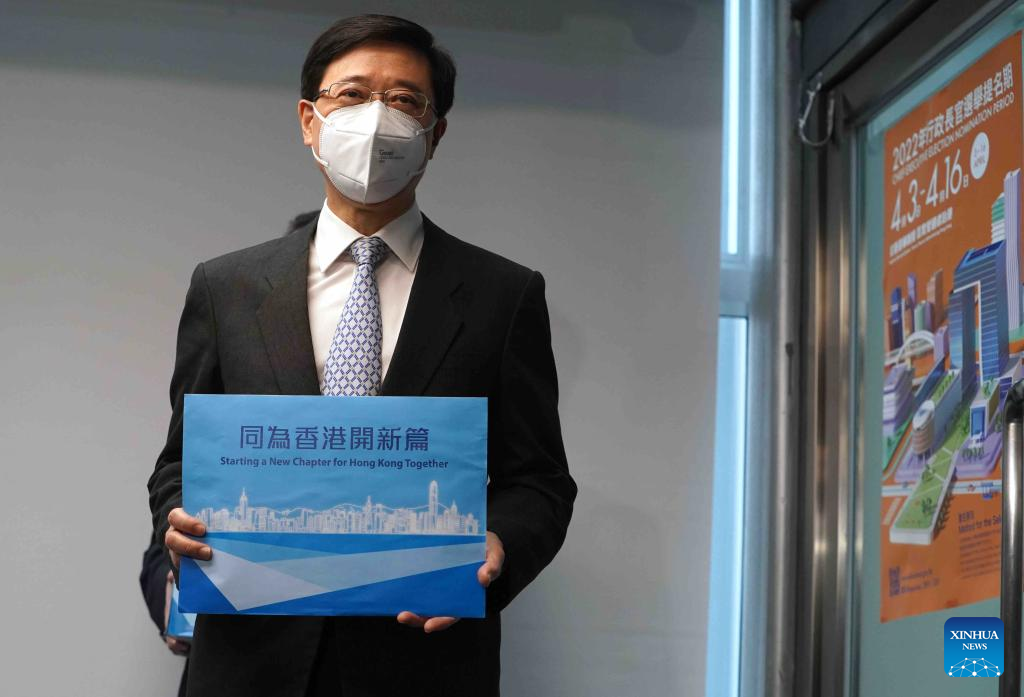 HONG KONG - The nomination period for the election of China's Hong Kong Special Administrative Region's sixth-term chief executive concluded on Saturday.
During the nomination period that began on April 3, Returning Officer Keith Yeung received one nomination form, which was submitted by John Lee, former chief secretary for administration of the HKSAR government, according to the Registration and Electoral Office of the HKSAR government.
The Candidate Eligibility Review Committee of the HKSAR will publish a notice in the Gazette within seven days after the close of the nomination period. The notice will contain the name of the validly nominated candidate and the names of the Election Committee members who nominated the candidate.
Lee, 64, served as chief secretary for administration of the HKSAR government in June 2021. He tendered his resignation to Chief Executive of the HKSAR Carrie Lam on April 6, and China's State Council decided to remove Lee from the post of chief secretary for administration of the HKSAR government on April 7.
On April 13, Lee handed in a completed form of nomination by 786 Election Committee members to the returning officer for the election of the HKSAR's sixth-term chief executive, formally submitting his candidacy application.
The election will be held on May 8.
According to Annex I of the Basic Law of the HKSAR, the HKSAR chief executive shall be elected in accordance with the Basic Law by an Election Committee which is broadly representative, suited to the actual situation of the HKSAR, and represents the overall interests of society, and shall be appointed by the Central People's Government.
A candidate for the office of chief executive shall be nominated by not less than 188 members of the Election Committee, with not less than 15 members from each of the five sectors.