Some Shanghai communities allowed to ease lockdowns
Share - WeChat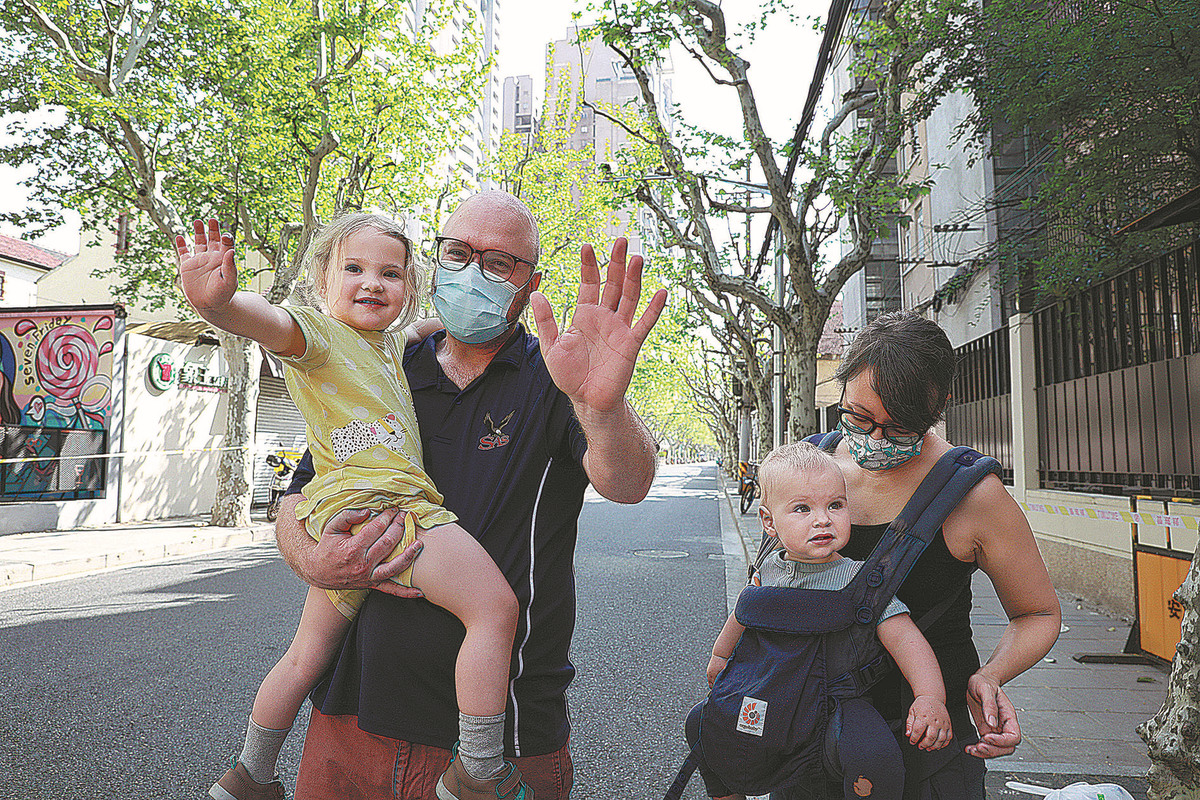 Shanghai resident Li Xiaofang walked out of her community and visited a nearby bakery on Tuesday morning after being locked down at home for more than 10 days.
She was among the first group of residents who were able to leave their neighborhood after the city began implementing a three-zone epidemic control system on Monday that categorizes communities based on their level of COVID-19 infections.
Changle Apartments in Xuhui district, where she lives, has not reported any infections over the past 14 days. It was listed as a precautionary zone by the local government early on Tuesday morning, meaning that residents are allowed out of their community but must stay within their subdistrict. They are also encouraged to limit their movements.
The other two zones are on "lockdown" and "controlled". Lockdown zones refer to neighborhoods that have reported new infections in the previous seven days, and residents are ordered to stay at home for a week under closed-loop management. Controlled zones refer to communities where no infections were reported in the previous week, and people are permitted to retrieve food deliveries or take a walk at designated areas at staggered hours within the compound.
"I was so happy when I found our compound was listed as a precautionary zone. I couldn't wait to take a good look at the familiar street scenes, as I missed them so much under the closed-loop management," Li told China Daily.
She said residents of her community are so far following the new rules. Through a WeChat group, the neighborhood committee is also providing them with details of an activity area to abide by.
After receiving a notification from the committee that she could move outside the community, Li washed her hair and walked out of her apartment. Her destination was a bakery she usually frequents on Anfu Road.
"I usually eat bread from there for breakfast," she said. "I bought some before the lockdown, since I just couldn't give up eating their bread. Because I wasn't sure how long I would have to stay at home, I rationed my supplies."
Holding a big package of different breads she had bought on Tuesday, Li said she would share some with her neighbors and added she would strictly abide by the rules set for precautionary zones.
Dakota Cronin, a United States native who has been living in Shanghai for nine years, was also excited he could leave his community after it was categorized as a precautionary zone.
"Life was stressful when we were locked down, but everyone has been taking care of each other. We feel we're part of a community," he said. "We share resources with neighbors, though maybe we don't talk very often."
He said they often exchanged food items and other supplies based on needs.
"We were afraid that we wouldn't have coffee, so they (the neighbors) gave us a lot of coffee. We didn't have water, and they give us water. The government also gave us chicken and vegetables. They're very nice."
Peter Legner, a German who has been living in the city for three decades, was able to take his dog for a walk around his residential compound on Tuesday. He was accompanied by his Italian neighbor. "I hope we can get back to normal life as soon as possible and I can return to my office instead of working from home," he said.
Another customer of the Anfu Road bakery surnamed Zhao said: "I can leave my community, but it's hard to describe what it feels like. I passed through the area around Anfu Road by bike, but the hustle and bustle has disappeared. I missed the old days, talking and drinking with friends after work."
Shanghai, which has been under lockdown, released a list of more than 24,000 communities based on the latest citywide nucleic acid test results available on Tuesday. The list will continue to be updated in line with the categorized epidemic control system.
District governments have started releasing the status of communities via social medical platforms. By Tuesday morning, the city had categorized 10,323 zones as precautionary.