China's COVID-19 vaccines offer seniors significant protection against severe symptoms
Share - WeChat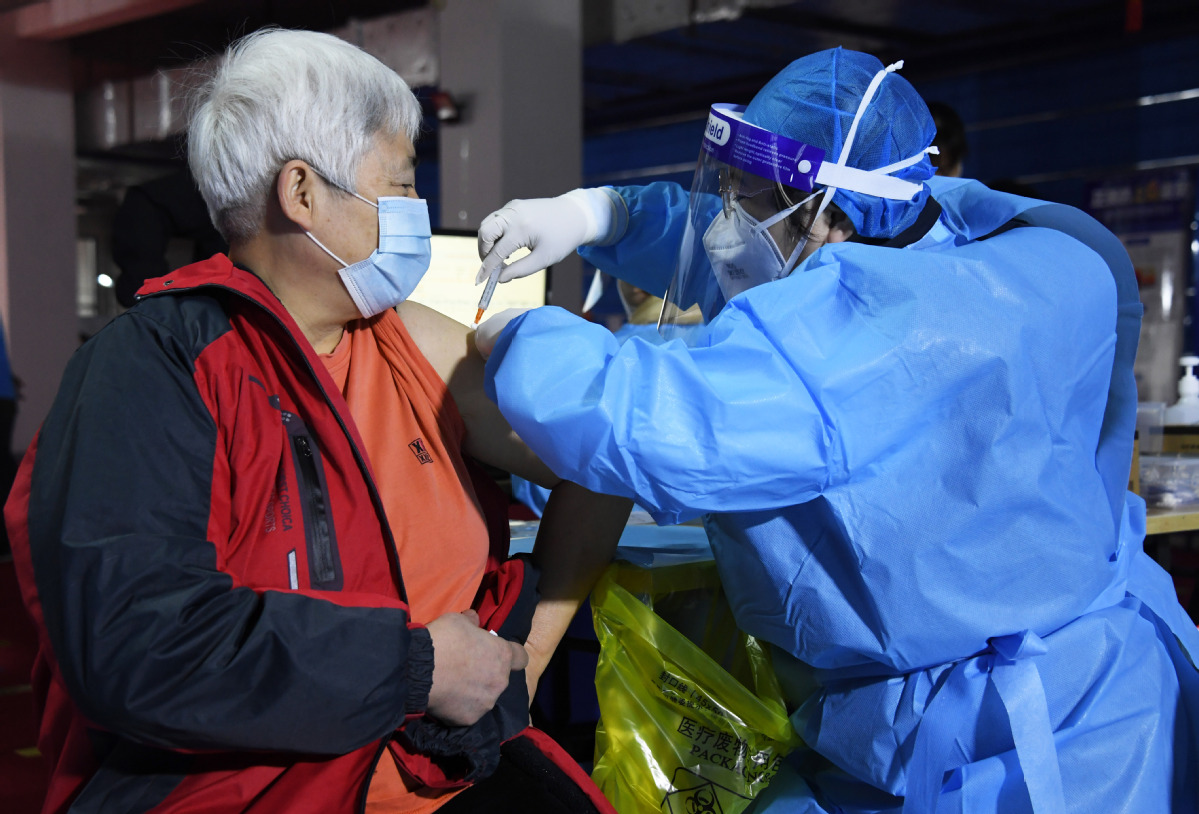 China's COVID-19 vaccines can provide seniors with significant protection against pneumonia and severe symptoms caused by the Omicron strain, according to a new study released by Chinese scientists on Friday.
Its findings add to growing evidence that it is imperative for the elderly to get vaccinated and then booster shots to protect themselves, said the study published in China CDC Weekly, the national public health bulletin and an academic platform established by the Chinese Center for Disease Control and Prevention.
With cases of Omicron in those aged 60 and above, getting fully vaccinated with domestic vaccines was associated with a 70 to 80 percent decrease in developing pneumonia, according to the study that looked at all COVID-19 infections on the Chinese mainland from late May of 2021 to the end of February this year.
No serious Omicron infections had been recorded among seniors who had received a booster shot, it added.
China has so far approved three types of COVID-19 vaccines for public use — the two-dose inactivated vaccines, one-dose adenovirus-vectored vaccine and the three-dose recombinant subunit vaccine. All three types had been included in the study.
The study added that domestic vaccines have also shown efficacy in lowering the risk of pneumonia and severe illnesses caused by the Delta variant.
Researchers of the study, all from the China CDC, suggested all individuals aged 3 and above without contraindications complete full vaccination and receive booster shots. "The pace of booster dose administration, especially among the elderly, should be accelerated," it added.
Another report published by China CDC Weekly on Friday that looks into vaccination coverage in the Hong Kong Special Administrative Region also reveals the crucial protection offered by vaccines for the elderly.
In Hong Kong, both domestic and foreign vaccines, including doses based on the novel mRNA technology and inactivated technology, have been widely administered.
By analyzing COVID-19-associated deaths in Hong Kong from January to March — when the fifth wave of COVID-19 outbreak emerged and swept through the region, the report found that 96 percent of deaths occurred among people aged 60 and above.
Within this age group, "the risk for death was 20 times lower among those who were fully vaccinated compared with those who were unvaccinated," it added.
As vaccination coverage declined with increasing in age in Hong Kong, it said that "efforts to identify and address gaps in age-specific vaccination coverage can help prevent high mortality from COVID-19, especially in older adults".
The report was jointly authored by researchers from the United States, the Hong Kong Special Administrative Region and the mainland. It was published simultaneously in the China CDC Weekly, the US CDC's Morbidity and Mortality Weekly Report, and the World Health Organization's Weekly Epidemiological Record.