Manual reveals tips for those dealing with virus
Share - WeChat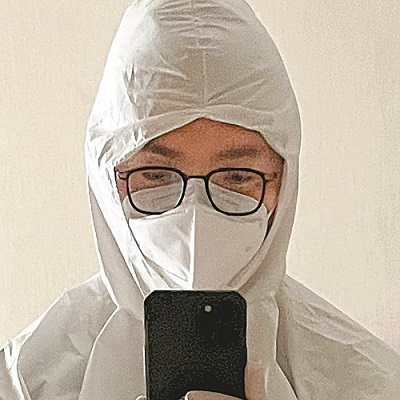 A manual compiled by a recovered COVID-19 patient in Shanghai has attracted interest online, as it reveals advice and tips for people who might have to quarantine or who test positive for the virus.
Based on his experience, Shen Jian, author of the manual, lays out step-by-step instructions and suggestions for individuals going into centralized quarantine facilities, including preparing daily necessities and packing clothes and slippers.
From there, Shen provides insight on how to deal with patient registration and treatment in medical facilities, with the final part dishing out suggestions on what to do after being discharged.
The manual, which was shared on social messaging app WeChat on March 31, five days after Shen's release from hospital, has been viewed almost 400,000 times.
"I hope it's useful for patients who are struggling with the virus and for their family members, and can help to alleviate some anxiety and worry," said the 38-year-old who is currently in home quarantine with his wife, father, son and mother-in-law, who have also recovered from the virus in the past few days.
While calm now, when he was first notified of having to undergo centralized quarantine as a close contact of an infected person on March 11, Shen initially panicked not knowing what was ahead of him.
One day later, he tested positive for the virus and was transferred to Shanghai Public Health Clinical Center in Jinshan district for treatment.
Although his symptoms were only minor-a slight fever, sore throat and cough-Shen said he felt extremely anxious when he arrived at the medical center.
"Medical staff were busy organizing patients and I, along with other new patients, waited to be allocated our beds, during which time I was full of worry at maybe having spread the virus to my family, which turned out to be true. The tally of the infections in the city at that time was soaring as well," he said.
"I was at a loss knowing nothing about what would come next, and I and others who were facing the same situation felt the same. That's exactly why I made the manual, to help people navigate the uncertainty."
Despite his worry, Shen was soon relieved by the orderly operation in the medical center. He received treatment involving the regular monitoring of his body temperature, blood oxygen and mild medication. He also took nucleic acid tests regularly.
"The meals always included things such as eggs, milk and meat that are high in protein. Good rest and an optimistic outlook can boost immunity and cut recovery time," he said.
An online Q&A section was launched by news outlet ThePaper.cn on April 3, where Shen replies to questions from the public about treatment.
"The section will be available as long as there are questions, and new content will be added to the manual," he said.
"Amid the critical situation, I believe the little steps I've taken can contribute to the city's fight against the virus."