Medics rush to help in COVID-19 fight
Share - WeChat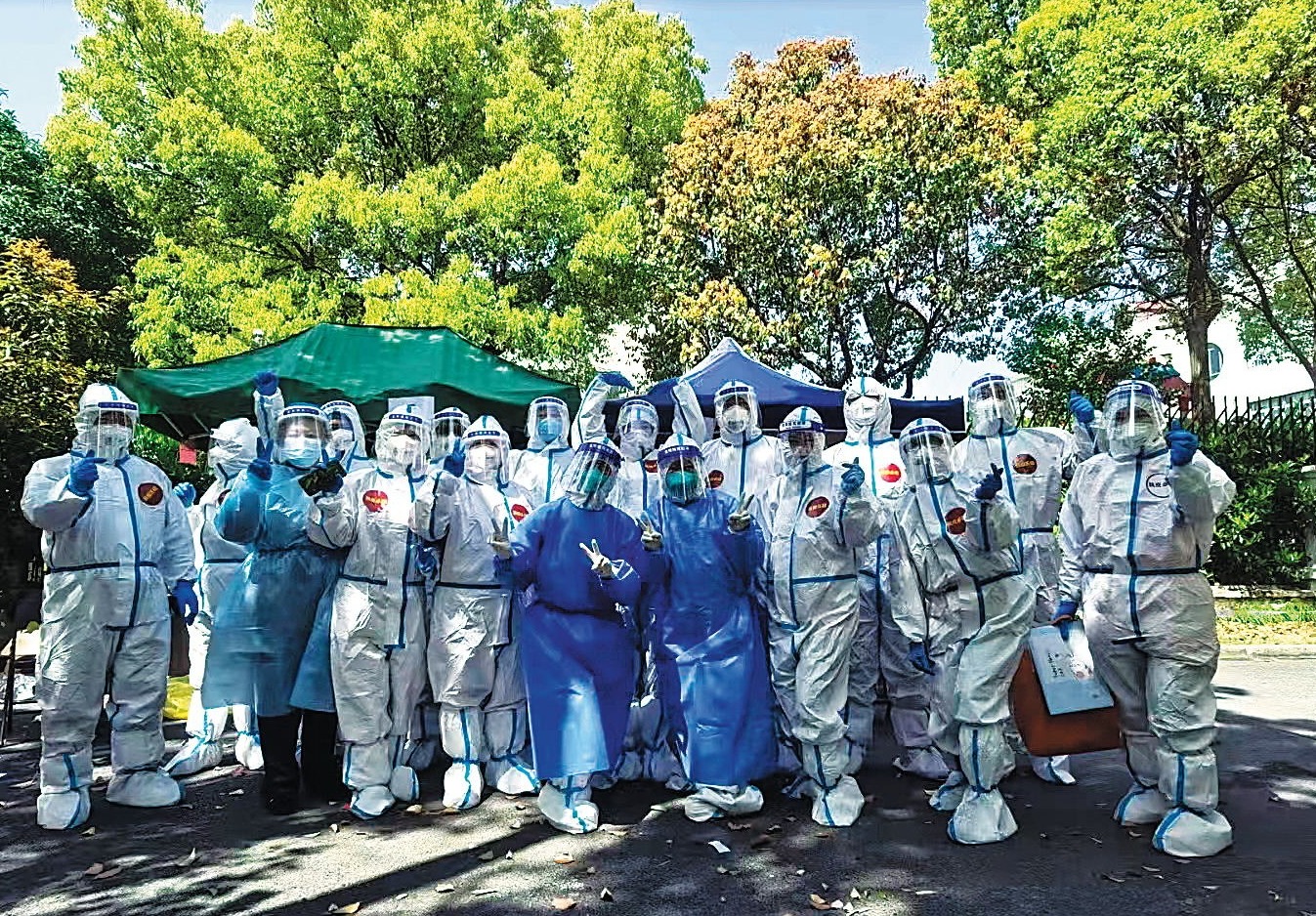 Cheng Fang, a nurse from Wuhan, Hubei province, carried out nucleic acid testing on almost 500 people in Shanghai on Monday.
As one of the medical workers sent to Shanghai to help in the city's fight against its COVID-19 outbreak, Cheng, from Wuhan Jinyintan Hospital, said she wants to do everything she can to help the city contain the epidemic so that it can return to normal as soon as possible.
More than 1,200 medical workers from 50 hospitals in Hubei province arrived in Shanghai on Sunday to assist in the city's epidemic containment efforts, according to Hubei Provincial Health Commission.
All medical workers have experience fighting on the front line during the COVID-19 outbreak in Hubei province in 2020, the commission said.
When Cheng arrived in Shanghai on Sunday, the empty streets and quietness reminded her of Wuhan more than two years ago when the city was hit hard by COVID-19.
"My colleagues and I did not hesitate to sign up for joining the team as we know how much help we received back then from colleagues across the country who came to Wuhan's aid," she said.
Cheng is not concerned about her personal safety or when she will be able to return to Wuhan.
"When they came to Wuhan, they did not consider such things and they had much less knowledge about the virus than we do now," she said.
In 2020, more than 42,000 medical workers across the country rushed to Wuhan and other cities in Hubei to fight the virus. Medical workers from Shanghai were among the first to come to Hubei's assistance.
The first team of 136 medical workers from Shanghai arrived in Wuhan on the first day of the Chinese New Year in 2020, and the city sent more than 1,600 medical workers to Hubei province who stayed there for several months until the epidemic was brought under control, according to official data.
"We have always wanted to repay the kindness we received from people around the country. And coming to Shanghai feels like visiting relatives, having worked closely with colleagues from Shanghai in 2020," Cheng said.
She was deeply moved by a thank-you note given to her by a local 3-year-old, and by the generosity and consideration of the residents who have given gifts such as fruit, milk and even chilli sauce.
Li Mengyao, a nurse from Taikang Tongji (Wuhan) Hospital, received a painting from an 8-year-old Shanghai girl while carrying out nucleic acid testing on Monday. "You are not angels, but you are mightier than angels," the girl said.
Xiong Jing, a nurse from Tongji Hospital affiliated to Tongji Medical College of Huazhong University of Science and Technology, said more than 50 medical workers from the hospital arrived in Shanghai on Sunday. They were up early on Monday to carry out nucleic acid testing for Shanghai residents.
Xiong and her two colleagues collected 2,900 nucleic acid test samples on Monday. For people with difficulty traveling to testing sites, medical workers visited them at their homes to conduct the tests, she said.