Core route taken to showcase Beijing's history
Share - WeChat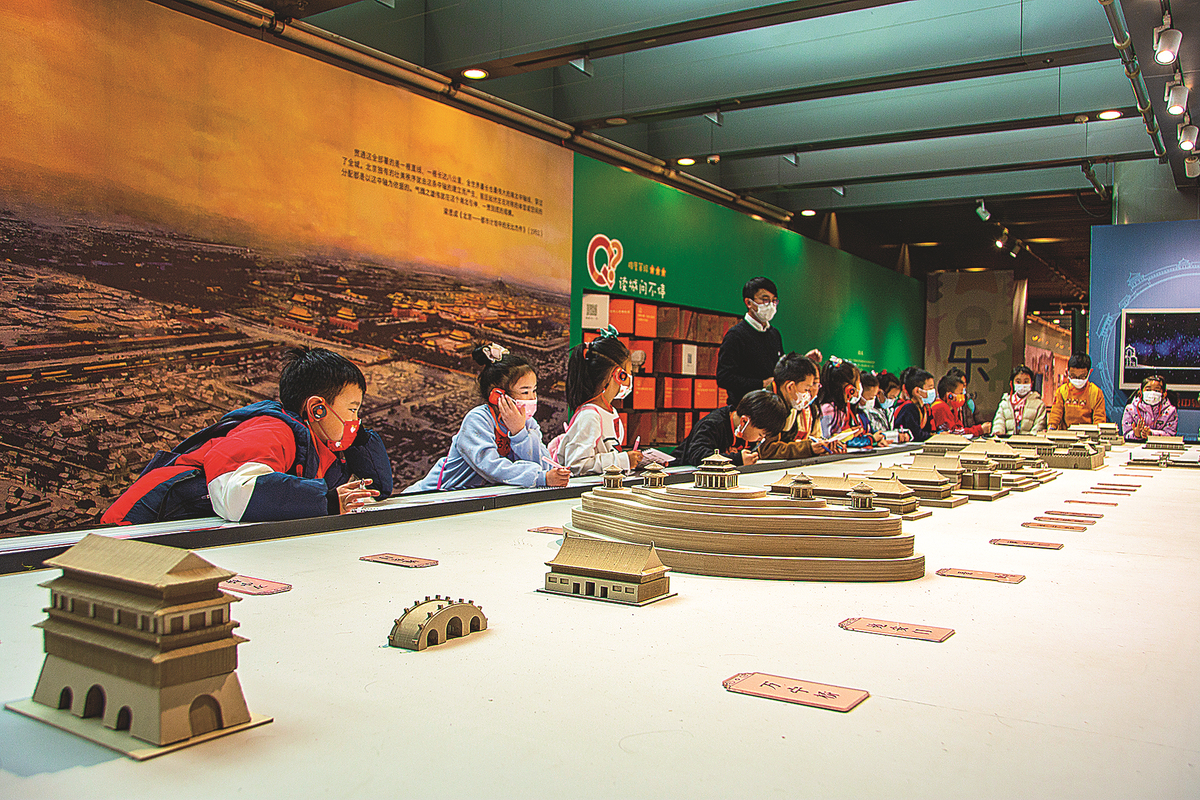 Cultural significance
Qiao Ran, 36, a book editor who lives in a hutong near Beihai Park, said she has noticed a difference over the years as the alleyway has been significantly upgraded, with issues such as car parking addressed and greening projects launched.
"I bought an apartment on the East Fifth Ring Road in Beijing, which is far from the downtown," she said. "However, as I want to live close to the heart of the city, where I can sense its past and present, I have rented a place in a hutong for years."
Qiao said she likes walking the streets and alleys after work and learning more about the ancient buildings. "Sometimes, there are introductions to the buildings, sometimes not, but I just love the atmosphere," she added.
Lyu Zhou, director of the National Heritage Center at Tsinghua University, said the central axis changes as the city evolves. "By looking at the scale, shape and color of the buildings along the axis, as well as the city gates, streets and building complexes, a clear order can be seen," he said.
"The idea of ritual in traditional Chinese culture is fully realized by the embellishment of buildings along the axis, as evidenced by the shape of nearby government offices, residences and temples.
"The axis best embodies the Chinese idea of 'respecting the center' in urban construction. It represents Chinese civilization, reflecting the most important aspects of the nation's culture, such as the relationship between humans and nature, and also humans following order."
Lyu said the axis influences the entire city, as it is the core of urban planning, adding, "At the same time, many historical events have occurred on the central axis, including the founding of modern China."
According to Shan Jixiang, president of the China Cultural Relics Academy, the axis represents more than heritage, as it is a continuation of traditional Chinese city planning concepts, which still influence urban construction.
"The axis has inherited Chinese urban order and city planning philosophy from thousands of years ago and has witnessed unique Chinese civilization and cultural traditions, as well as representing Beijing's long history and cultural confidence," Shan said at a forum in February.
Many new buildings are situated on the extended line of the axis, including the National Stadium, where the opening and closing ceremonies for the 2008 Beijing Summer Olympics, last month's Winter Olympics and this month's Winter Paralympics were held. The nearby Olympic Forest Park stands as a legacy of the Games in 2008.
To some extent, the axis has witnessed the city's growth and become an important cultural symbol. Acquiring World Heritage status for it would not only make the axis better-known globally by spreading Chinese civilization and traditional culture to the world, but would also help promote protection of Beijing's old city and improve the environment for residents.