Shanghai begins phase two of massive lockdown
Share - WeChat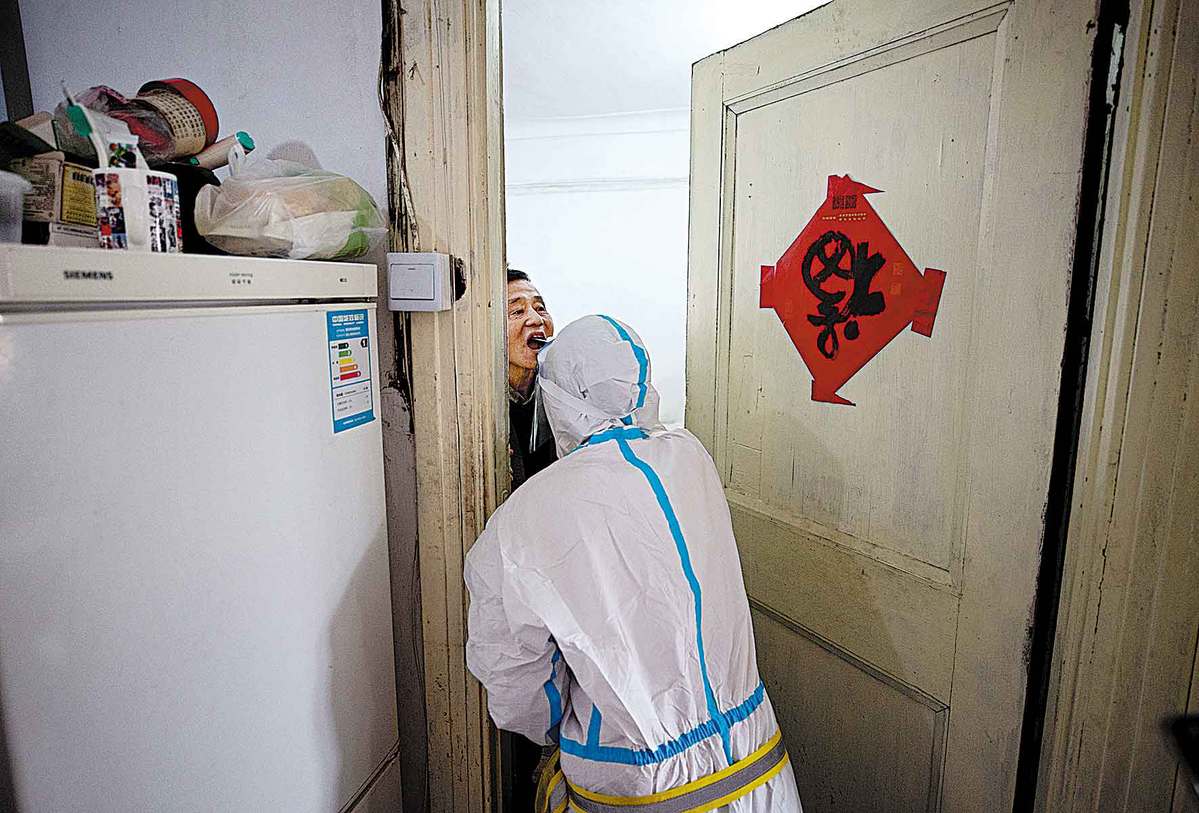 Residents in Shanghai woke up to a quiet morning on Friday as the city entered its second phase of lockdown, beginning mass testing of 16 million residents living in Puxi, the area west of the Huangpu River.
The normally bustling, popular tourism sites in the area, including the Bund and Nanjing Road shopping street, became silent as the city fights its worst COVID-19 outbreak in two years.
Medics, community workers and volunteers got up early in preparation for the mass testing, while residents waited patiently at home for their turn for tests, usually being notified through improvised community communication groups set up by community management officials or volunteers on WeChat.
"People were all very cooperative and maintained social distancing for the tests," said Wang Ziren, a volunteer in Jiameifang, Putuo district.
"Many young people participated in the community work this time, and I believe that the current hardship will be overcome when we unite together."
Shanghai has reported around 35,000 new cases since the start of the outbreak in early March. On Thursday, the city reported 4,502 new cases, with 4,144 being asymptomatic, according to the municipal health commission.
To rein in the spread of the Omicron subvariant, the major cause of the current outbreak, Shanghai has implemented citywide "static management", which bars residents from leaving their homes unless necessary.
While residents in Puxi are under strict lockdown until April 5, most of the 9 million people living east of the Huangpu River, who completed two rounds of nucleic acid tests between March 28 and April 1, remain confined to their homes or neighborhood in accordance with epidemic control protocols based on the test results.
During the lockdown, police officers, medical workers and those providing essential public services are allowed to work outdoors to fulfill their duties.
Life continues as local authorities take measures to help residents cope with this period by setting up hotlines, keeping delivery services open for community purchases, and distributing food supplies to households.
At a meeting on Wednesday night on the city's epidemic control efforts, Li Qiang, the city's Party secretary, stressed the significance of citywide "static management" to break the transmission links in order to achieve zero infections as soon as possible.
"We must win this difficult war, and the only way to victory is through perseverance," Li said.
Shanghai is not the only region that's experiencing a COVID-19 outbreak.
Lei Zhenglong, deputy head of the National Health Commission's disease control bureau, said that from March 1 to 31, a total of 103,965 local cases were reported nationwide, affecting 29 provincial-level regions.
"Ninety percent of the newly reported infections nationwide come from Jilin province and Shanghai. The epidemic in Jilin is still in the developing stage while in Shanghai it is expanding rapidly," he said at a news conference.
Wu Zunyou, chief epidemiologist at the Chinese Center for Disease Control and Prevention, said that China can still achieve the goal of Zero COVID.
But he said at a news conference on Friday that this will take a longtime because the Omicron strain is spreading fast and it is difficult to detect.
"We need a more sensitive monitoring system to find cases in time ... We especially need the public's cooperation and support," he said.
To prevent the current COVID-19 outbreak from spreading to other cities from Shanghai, its government issued a travel restriction on Thursday that requires people leaving Shanghai to produce a negative nucleic acid test result obtained within 48 hours before departure as well as a negative antigen test result obtained within 24 hours prior to their journey.
The office leading the city's epidemic control efforts said that residents can purchase antigen test kits at nearby pharmacies and report their self-administered results through the Yiceda mini app on WeChat.
Travelers who receive a negative nucleic acid result in the 24 hours before their departure will not have to do an antigen test.
Those who fail to provide the required certification will not be allowed to leave the city.