China sets out blueprint for fuel cell vehicles for 2025
Share - WeChat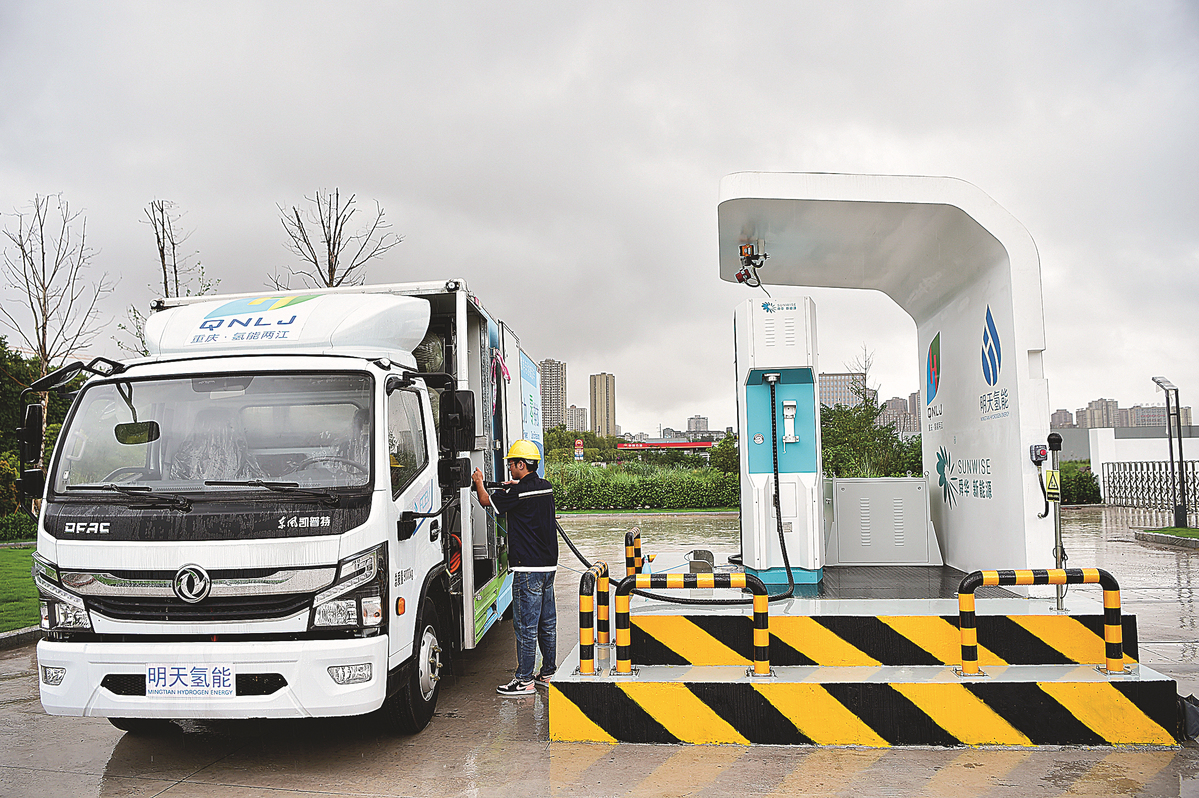 Sector to play key role in achieving nation's emissions targets
China's top economic planner has unveiled its latest blueprint for the hydrogen sector, which is expected to push the growth of the fuel cell vehicle industry in the world's largest vehicle market.
By 2025, China is expected to have mastered the core technologies and manufacturing processes, said the National Development and Reform Commission in the development plan that runs to 2035.
Also, there will be around 50,000 hydrogen fuel cell vehicles, or FCVs, on Chinese roads by 2025, according to the plan.
Last year, 17,000 such vehicles were sold worldwide, with 1,586 delivered in China, according to the China Association of Automobile Manufacturers.
China's annual hydrogen production output from renewable energy is expected to reach 100,000-200,000 metric tons by 2025, according to the plan.
Analysts said the new blueprint will stimulate the enthusiasm of companies in the industry.
Hyundai is expected to start production of hydrogen vehicle fuel cell systems in China from late 2022, with its annual capacity expected to reach 6,500 units.
In a recent interview, Oh Seungchan, head of Hyundai's fuel cell plant in Guangdong province, said cities including Beijing, Shanghai and Guangzhou are aiming to have around 30,000 FCVs on their roads in four years' time.
Oh said fuel cell systems to be produced at the Guangzhou plant will be used in not only Hyundai vehicles but in those of other manufacturers as well.
In the Chinese market, Hyundai is starting out with hydrogen heavy trucks and it will then move into passenger vehicles, he said.
Hyundai said it is adapting its popular fuel cell Nexo SUV for the Chinese market as well.
China's largest SUV and pickup truck maker, Great Wall Motors, said last year that it is to invest 3 billion yuan ($456.4 million) over three years in hydrogen-related research and development.
It plans to expand production and sales of core components and systems in China and aims to become a top-three company in hydrogen vehicle powertrain solutions by 2025.
Mu Feng, vice-president of Great Wall Motors, said: "If we have 1 million hydrogen fuel cell vehicles on our roads (instead of gasoline ones), we can cut carbon emissions by 510 million tons a year."
Many local governments have moved to tap the market potential of the hydrogen sector.
Shanghai plans to have nearly 100 hydrogen stations and 10,000 vehicles powered by hydrogen fuel cells by 2023.
Jiading Hydrogen Park, Shanghai's first hydrogen energy and fuel cell industrial park, has attracted more than 50 hydrogen energy and intelligent automobile industrial projects, with their combined investment exceeding 10 billion yuan.
Of them are companies such as Shanghai Hydrogen Propulsion Technology, Toyota, Great Wall Motors, auto part supplier Faurecia, and measurement technology and analytical instrument supplier Horiba.
Jiading Hydrogen Park said its annual output value in terms of hydrogen energy and FCVs is expected to exceed 50 billion yuan by 2025.
Beijing plans to have five to eight globally influential energy enterprises in the hydrogen sector, according to a government statement made late last year.
Guangdong province in South China is promoting the large-scale application of hydrogen FCVs and speeding up efforts to build hydrogen refueling stations, with 300 hydrogen stations planned for the Pearl River Delta and its coastal economic belt, according to Xinhua.
By 2030, China will have established a sound system of renewable energy-based hydrogen production and supply, according to the plan.
By 2035, the hydrogen industry is expected to have taken shape and will cover transportation and energy storage.
However, Ouyang Minggao, an academician at the Chinese Academy of Sciences and a professor at Tsinghua University, has warned of potential challenges and difficulties ahead.
He said China needs to ramp up efforts to boost innovation and make breakthroughs in major fields, including hydrogen fuel cells and hydrogen storage systems.
China is currently the largest hydrogen producer in the world, with an annual production output of about 33 million tons, but most of the hydrogen comes from fossil fuels.
Depending on the source from which it is produced, hydrogen can be gray, blue or green, and green hydrogen is the only type produced in a climate-neutral manner that could reduce emissions.
The China Hydrogen Alliance estimates China's hydrogen energy market will reach 43 million tons by 2030. Green hydrogen will increase from 1 percent of that energy in 2019 to 10 percent, and the market scale will increase by nearly 30 times.
Ouyang said green hydrogen is an inevitable choice on the path to green and low-carbon development, and the development of the hydrogen industry will help China to achieve its ambitious carbon peak and neutrality goals.