Era of driverless vehicles on the way to reality
Share - WeChat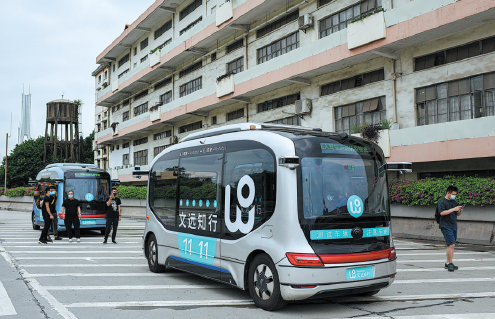 On the campus of Harbin Engineering University in Northeast China's Heilongjiang province, a "deliveryman" wound its way steadily among teachers and students.
Upon arriving at a dormitory building, the "deliveryman" called 25 students who ordered the food at the same time to pick up their takeout orders.
Students were astounded to find that the "deliveryman" was a yellow unmanned delivery vehicle that stopped right in front of them. With no driver, steering wheel, accelerator or brake pedal, the artificial intelligence-enabled vehicle said "Happy Meal" and then left for the next station.
The unmanned vehicle was the first batch of intelligent vehicles launched by the university to help with deliveries. Due to the COVID-19 epidemic, most Chinese universities have taken semi-enclosed epidemic-prevention measures. This meant visitors, including food deliverymen, cannot get into the campus without strict registration and verification procedures.
Since the new semester began in the fall, a large group of universities in Beijing, Shanghai as well as provinces like Shandong, Zhejiang and Jiangsu launched unmanned delivery vehicles, including food delivery vehicles, express vehicles, and minibuses, to help with deliveries amidst the epidemic.
Behind this is the broad momentum of large commercialization of unmanned deliveries in the country, where Chinese companies rev up autonomous driving commercialization, after recent increases in driverless applications.
"To avoid the risk of crowd gathering, we have opened 94 canteen stalls to offer takeaway services of over 1,600 kinds of food for students. It is hard to believe, but the truth is that our unmanned delivery vehicles can take 2,000 to 3,000 orders on average each day," said Li Bo, deputy head of rear services at Harbin Engineering University.
Li said an unmanned delivery vehicle can help with 80 orders per ride and is able to make 100 delivery calls in 5 seconds, the delivery efficiency of which is 10 times higher than that of a manpower delivery.
Aside from the campus scenario, unmanned delivery is speeding up commercialization in a variety of deliveries for districts, factories and industrial parks thanks to the increasingly mature driverless technologies.
In Wenzhou, Zhejiang province, unmanned deliveries are no longer limited to vehicles as unmanned aerial drones of SF Express are transporting boxes of bayberries from a mountaintop to a delivery station located far below.
For local farmers, the delivery of bayberries has always been a problem, as the fruits bruise easily during overland transport. While it previously took over two hours to deliver the fruit, it now takes only eight minutes using aerial drones, according to SF Express.
"While players such as (United States-based) Waymo are halting their pilots during the pandemic, over 30 companies are deploying autonomous delivery solutions in China," said Bill Russo, founder of Shanghai-based consultancy Automobility.
"A more dynamic system built upon autonomous and robotics technologies will allow economies and businesses to adapt to the rapidly transforming world and the new challenges it brings, such as more flexible and less centralized manufacturing," Russo said.
"Compared with manpower, unmanned deliveries avoid human contact and potential infection risks. Self-driving vehicles can also work continuously in all weather conditions to respond to urgent needs," said Zhong Hua, senior vice-president of engineering at WeRide.
WeRide is the first batch of autonomous firms entering the quarantined area of Guangzhou, Guangdong province, to help delivery of urgently needed medical materials during the latest COVID-19 outbreak in the city earlier this year.
More than 20 unmanned vehicles, including passenger cars, small logistics vehicles and heavy trucks, as well as 30 logistics vehicles, had delivered a total of 265 metric tons of necessities in June in the recent outbreak in Guangzhou, according to Gao Yuyue, deputy secretary-general of Guangzhou municipal government.
"Unmanned deliveries have become effective supplements to ensuring supplies during the outbreak, and to some extent, are a major force in delivering necessities. They also help with diversified needs for food, milk powder, medicines and other urgently needed materials in the enclosed areas in a timely manner," Gao said.
In fact, for some time now, domestic tech companies have been gearing up efforts in unmanned delivery services, which are expected to generate huge commercial value in a variety of businesses like express delivery, food take-away orders, fresh produce ordering, and retail pharmaceuticals.
A report by investment firm Estar Capital said sales revenue of the country's terminal distribution market is expected to exceed 300 billion yuan ($46 billion) this year. Terminal distribution refers to logistics services that interact with end-users.
In China, a sound unmanned distribution business model has been formed with technologies being able to support different needs. The overall industry is expected to eventually enjoy large-scale commercial applications, the report said.
For these unmanned vehicles, companies also rely on safety control centers to monitor self-driving vehicles and road conditions in real time and give timely assistance and instructions to vehicles in need.
In 2020, China unveiled a blueprint to boost autonomous technologies in the country. According to the blueprint, the country will realize "scale production of vehicles capable of conditional autonomous driving and commercialization of high-level autonomous vehicles in certain scenarios by 2025".
Earlier this year, a high-level autonomous driving demonstration zone in Beijing issued licenses for unmanned deliveries to companies like Meituan and JD. It marked the first time the country granted legal rights for operations by unmanned delivery vehicles.
In July, Beijing also issued temporary self-driving car plates to 99 vehicles from 15 companies including online food delivery giant Meituan, self-driving firms Neolix, and ride-hailing platform Didi, which marked a milestone for the commercialization of autonomous driving.
The capital city also announced that a 10-kilometer expressway between the city's fifth and sixth ring roads will be opened first to those vehicles. Six other expressway sections will be opened later to add another 143-kilometer stretch to the city's high-speed testing roads for driverless vehicles.
Official data showed that the city has 226 routes for testing self-driving vehicles, totaling approximately 752.4 kilometers.
Wu Gansha, CEO of Chinese self-driving startup Uisee, believes the sector is now ready for takeoff. "Investors are more confident about the commercialization of intelligent driving and hence willing to invest. From this year, we could start seeing large-scale commercialization of driverless vehicles," Wu said. "We've been seeing a healthy pickup in orders."
He Xiongsong, executive president of Estar Capital, pointed out that it will take time for the country's unmanned delivery industry chain to grow and reduce costs.
"Autonomous driving is in the process of rapid development. One of the main barriers is that the cost of core components such as lidar are relatively high," He said.
"At present, some companies can achieve a total vehicle cost of about 200,000 to 250,000 yuan, but others have to pay over 500,000 yuan for a single car."
chengyu@chinadaily.com.cn