Robotaxis looking to take bigger slice of transport pie
Share - WeChat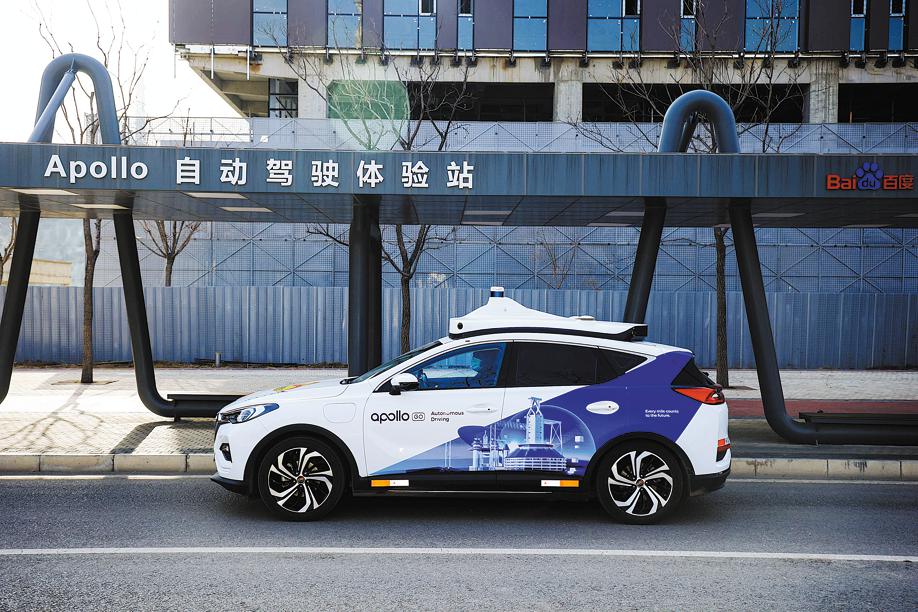 Chinese technology companies are ramping up efforts to launch self-driving taxi services in an attempt to bolster large-scale commercial use of the growing transportation solutions.
Internet search giant Baidu Inc officially opened its robotaxi ride-hailing pilot program to the public in Guangzhou, capital of Guangdong province, in July, marking the largest autonomous driving vehicle-for-hire platform in the city.
Users can order rides on their smartphones through the Apollo Go or Baidu Maps apps between 9:30 am and 11 pm. The autonomous ride-hailing service covers 237 pick-up and drop-off locations, allowing passengers to utilize autonomous driving services in their daily lives and further establish Guangzhou as a benchmark city for new smart transportation infrastructure services.
To date, Apollo Go robotaxi services have been launched across the cities of Changsha, Cangzhou, Beijing and Guangzhou, allowing Baidu to become the autonomous driving technology company with the most widespread operations in China.
The company plans to expand its robotaxi ride-hailing services across 30 cities in China in two to three years to serve a wider range of users, said Robin Li, co-founder and CEO of Baidu, at the annual World Artificial Intelligence Conference held in Shanghai in July.
"Baidu is also rapidly developing a new intelligent vehicle, and we estimate that everyone will be able to experience the arrival of a new species of robo-vehicles in two to three years," Li added.
In the meantime, Baidu received its initial batch of permits to test its self-driving vehicles on expressways from traffic authorities in Beijing in July, becoming one of the first companies to carry out road tests for autonomous cars in high-speed traffic scenarios in China.
Baidu Apollo can now conduct high-speed tests on roads in the pilot zone for intelligent networked vehicles in Beijing, extending the testing scenarios from urban roads to expressways, which will open up commercial exploration of more autonomous driving technologies in the future.
Currently, the Beijing-based tech behemoth has obtained more than 300 autonomous driving test licenses nationwide and is the company with the most testing licenses in China.
The country is planning to realize large-scale production of vehicles capable of conditional autonomous driving and commercialization of highly autonomous vehicles in certain circumstances by 2025, according to a blueprint issued by the National Development and Reform Commission, the Ministry of Industry and Information Technology and nine other ministries.
Apart from robotaxis, Baidu announced the launch of Apolong II, a new generation of multipurpose autonomous minibuses rolled out in Huangpu district, Guangzhou, earlier this month.
Apolong II, which has no steering wheel, is equipped with advanced autonomous driving capabilities and the latest in-vehicle smart cabin technologies to enhance passenger experience. The autonomous minibus is set to be deployed in public parks, airports, business districts and residential communities in Huangpu.
Didi Chuxing, China's largest ride-hailing platform, opened its on-demand robotaxi service to passengers in parts of Shanghai last year. In March, the company signed a cooperation agreement with the government of Huadu district in Guangzhou, to invest in the research and development of intelligent connected vehicles. Didi will also conduct testing and commercial operation of autonomous vehicles in the district.
Furthermore, autonomous driving startup WeRide launched its robotaxi service in Huangpu in November 2019, carrying passengers on 144 square kilometers of roads in core urban areas. In the past year, over 60,000 passengers have been safely delivered to their destinations via 140,000 robotaxi rides.
Yang Diange, dean of the automobile engineering department at Tsinghua University, said L4 self-driving technology will first be deployed in trucks and taxis in some designated areas, and the large-scale application of such technology in private cars might come in 2030. L4 autonomy means the car can drive by itself in most conditions without a human backup driver.
But experts have warned that firms should proceed cautiously, especially when it comes to public safety.
"More tests are still needed before such vehicles can reach mass production and enter large-scale commercial application because of safety concerns," said Zeng Zhiling, managing director of LMC Automotive Consulting Co.
Since these vehicles are highly intelligent and networked, there is the possibility that hackers could break into the system and pose a great danger to road safety, Zeng said.