Latest variant milder, but is still deadly
Share - WeChat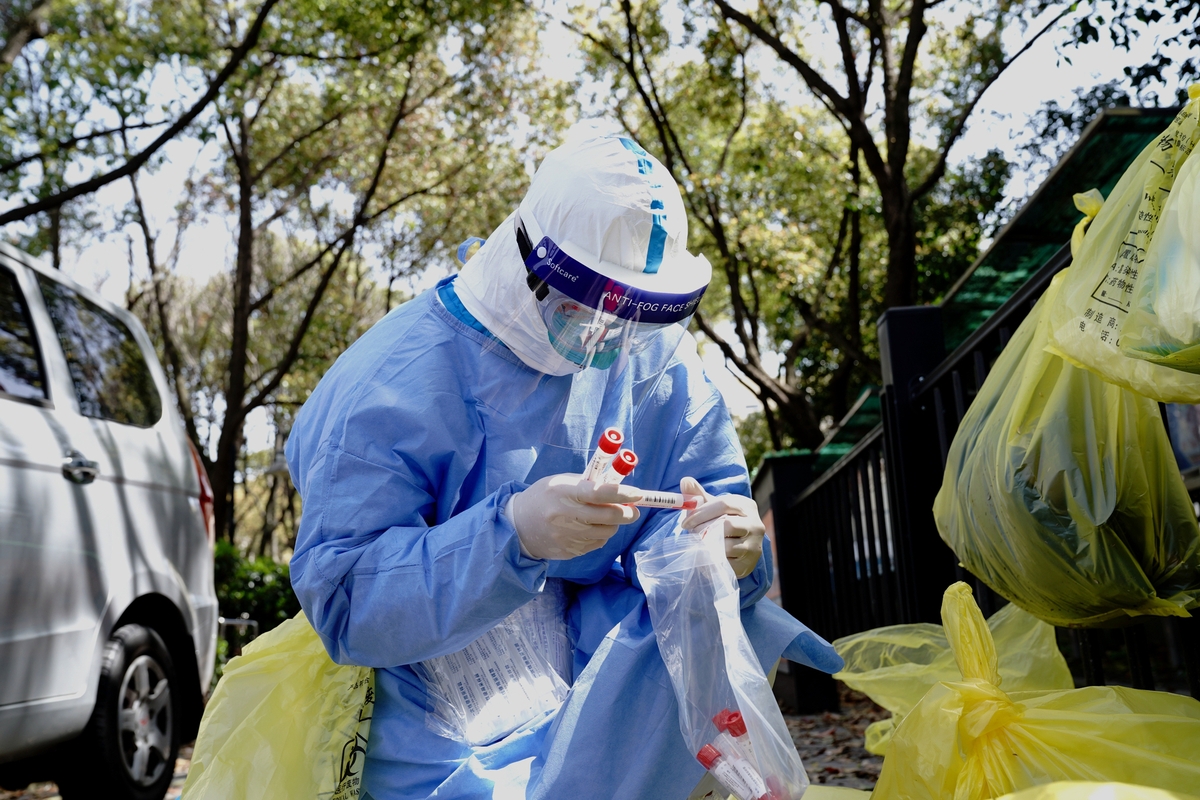 Health expert says dynamic-zero policy remains best measure to fight COVID-19
Although Omicron-the dominant variant in China's latest COVID-19 outbreak-has become milder, it spreads much faster and can cause a large number of infections and deaths given China's huge population, health experts said on Friday.
So achieving dynamic zero-COVID in a short time is still the most effective epidemic containment measure with the least amount of cost, they said.
Wu Zunyou, chief epidemiologist at the Chinese Center for Disease Control and Prevention, said at a news conference that asymptomatic cases can turn into mild or more severe cases very quickly, so more attention should be paid to the infectiousness of the Omicron variant.
Wu cited a study on mortality rates and the number of deaths in certain countries between August last year and January this year, in which the Delta variant was the dominant strain for the first three months and the Omicron variant in dominance for the latter three months.
While the Omicron variant has a lower death rate than Delta, the number of deaths caused by Omicron is greater than that of Delta, meaning the impact of the Omicron variant has not diminished, he explained.
Moreover, the recent outbreak in Hong Kong caused almost 300 deaths per day at its peak and continues to have around 200 deaths daily, he said.
Therefore, despite the relatively lower virulence of the Omicron variant and it being clinically less severe on average," all these remind people that the Omicron variant is not a 'big flu' and it is still very dangerous," Wu said.
"Only by sticking to the dynamic zero-COVID policy can the country minimize the risks of the epidemic and prevent a large number of infections from taking up too many medical resources and possible deaths of the elderly and people with preexisting conditions," he said.
Wang Guiqiang, head of the infectious disease department at Peking University First Hospital, said the latest diagnosis and treatment protocol for COVID-19 has changed based on the characteristics of the Omicron variant.
For example, antigen test kits have been allowed for self-testing for people with high risks of infection as a way to beef up early detection, he said.
Moreover, patients with mild symptoms are now treated at quarantine sites, rather than specialized hospitals. In case of large-scale outbreaks, mild cases would not take up too many medical resources, and specialized hospitals can be used to treat severe patients, Wang said.
The new protocols also relaxed requirements for discharging patients and ending quarantine, so more hospital beds can be reserved for patients in need, he said.