Executive sets sights on Hengqin
Share - WeChat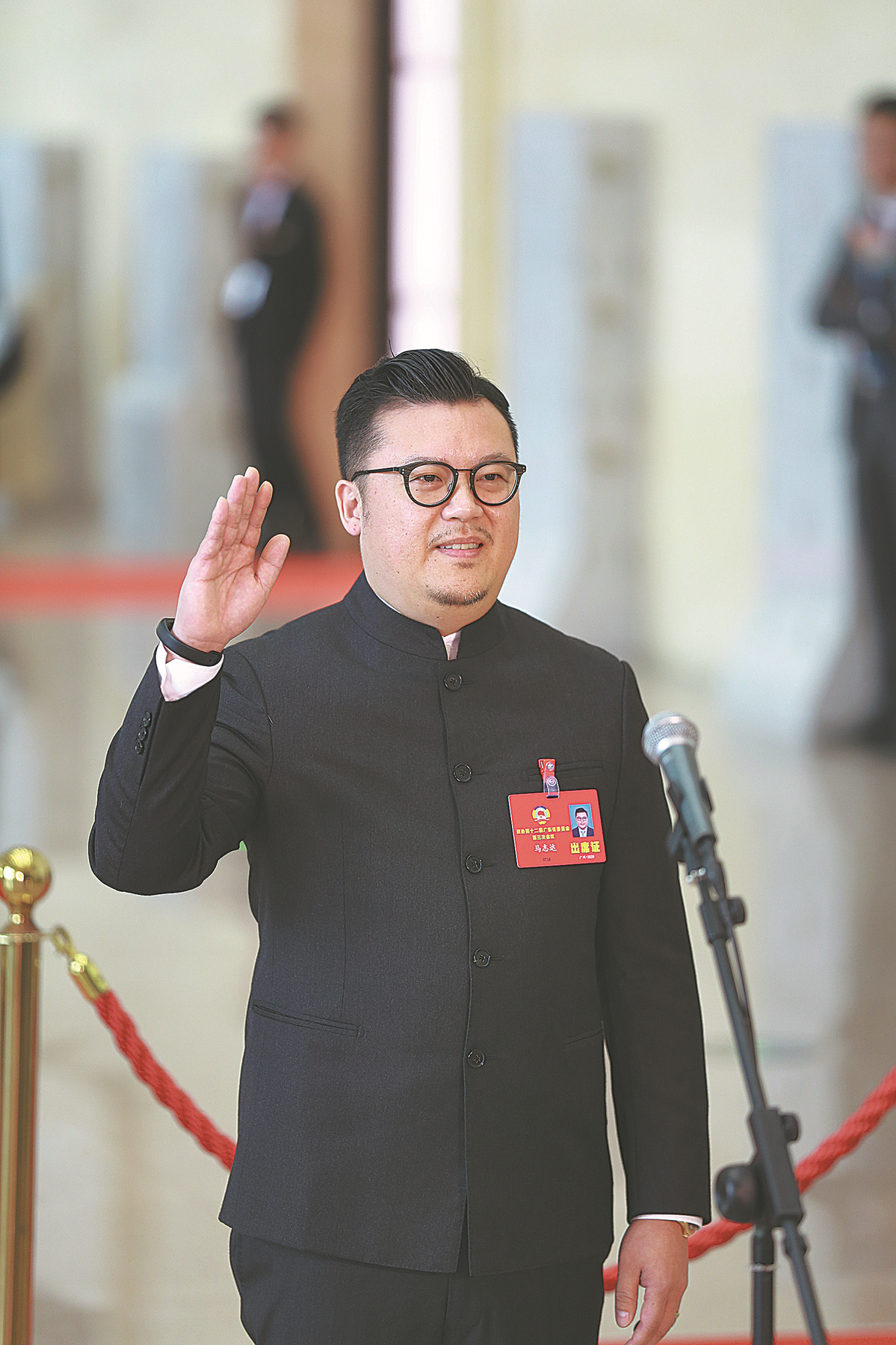 Political adviser from Macao looks to get youth involved in GBA development
Joao Ma believes the development of Hengqin Island will expand Macao's space for development and provide myriad entrepreneurial and employment opportunities for young people from the city.
"Macao is a small city, with a relatively limited economy, and it's only by strengthening cooperation with the other cities in the Guangdong-Hong Kong-Macao Greater Bay Area and integrating into the national development strategy that it will have more room for growth," said Ma, who is chairman of We Park Investment Limited and We Park (Hengqin) Development.
Ma said he was very concerned about the development of Hengqin, the GBA and the motherland. He submitted two proposals on the island's development and on advancing exchanges and cooperation between GBA cities during this year's gathering of Guangdong province's top advisory body, which was held in the provincial capital, Guangzhou, in January.
As a member of the Guangdong Committee of the Chinese People's Political Consultative Conference, he urged the introduction of more preferential policies to attract talent, accelerate construction of the Hengqin pilot free-trade zone and support the development of Macao's scientific and technological businesses there.
Also as director of the Youth Committee of the Macao Chamber of Commerce, Ma urged young people from the city to seize the great opportunities presented by the development of Hengqin and the GBA to actively integrate into the overall national development strategy. Located at the mouth of the Pearl River, Hengqin is the largest island in the Zhuhai special economic zone.
Ma said he expects Hengqin to become a new platform for promoting a moderately diversified development of Macao's economy, as well as a new space to facilitate employment of Macao residents and improve their lives.
The island is expected to become a new demonstration zone for the practice of the "one country, two systems" policy and an additional means of promoting the construction of the GBA, he said.
To this end, Ma said he is willing to do whatever he can and use his experience to help young people from Macao better understand the mainland and contribute to the development of the GBA and the country.
"I have set up a private equity investment company and have invested in local scientific and technological projects, with the aim of giving more financial support to some outstanding local scientific and technological talent and helping them start businesses in Hengqin," he said.
Ma has also set up a youth entrepreneurship service center to help local government departments and State-owned enterprises in Hengqin provide services, including policy consultation, business registration, talent recruitment and financing activities, to Macao youth interested in starting businesses on the island.
Born in 1974, Ma now spends over six months a year on the mainland developing his business.
When the COVID-19 outbreak hit Wuhan, Hubei province, at the beginning of 2020, he immediately purchased protective clothing and 450,000 medical masks from abroad and donated them to Guangdong's medical team in Hubei and other front-line workers in Guangdong province.
He said the mainland has made great strides in economic development, particularly in poverty alleviation, after decades of reform and opening-up to the world. Many poor rural residents have been lifted out of poverty, while many rural areas have now become scenic attractions and agricultural production bases after years of development.
Ma used to accompany his grandfather Ma Man Kei, former vice-chairman of the CPPCC National Committee, on visits to mainland cities to participate in celebrations when he was young.
He said that he was most impressed by Beijing, and that he began to understand more about the mainland from there.
A postgraduate and doctoral student from Peking University, Ma said that great changes have taken place in the northern metropolis, the only city to host both the Summer and Winter Olympic Games.
Having accompanied his grandfather to the 50th Anniversary Celebration of the Founding of the People's Republic of China in 1999, he was invited to return for the 70th anniversary in 2019.
"Now, the main focus of my company is the mainland, especially sectors such as infrastructure construction, financial investment, culture, tourism, commerce and education in the cities of the GBA," Ma said. "So I have to travel frequently between Macao and other GBA cities now."
He also travels to other mainland cities to research investment policies and visits companies and project sites in search of investment and cooperation opportunities.