Expats aid in screening Shanghai residents
Share - WeChat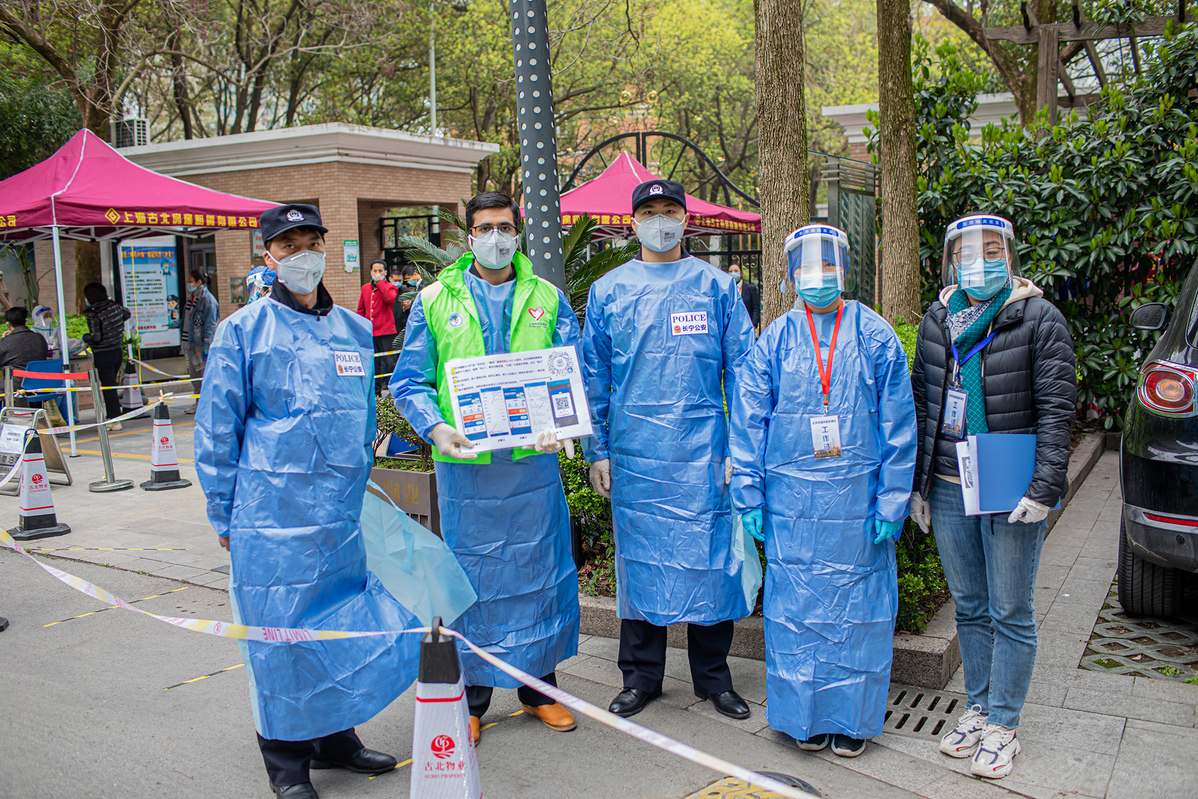 Tens of thousands of Shanghai residents, including some expats, have volunteered to join the city's ongoing novel coronavirus grid-screening program.
The city conducted more than 30 million nucleic acid tests on residents during grid screening from Wednesday to Sunday to stop a recent surge in local COVID-19 infections. The tests are continuing in some grids.
In some neighborhoods with a high ratio of foreign residents, expats have been working as volunteers to help explain the grid-screening plan to their expat peers, get QR codes ready for nucleic acid testing, and maintain order at testing sites.
Habib Ur Rehman, an expat from Pakistan who can speak Chinese and English, worked as a volunteer at a compound in Changning district's Hongqiao subdistrict. He helped ask residents to line up and prepared their QR codes on the Health Cloud app.
"Out of language barriers and culture gaps, foreigners may have different problems when requesting them to line up and undergo testing in the neighborhoods," said Habib, who has lived in Shanghai for 13 years. "I can help explain the plan to them and solve their problems, such as obtaining the QR codes for themselves and their children from the app.
"I hope this can help them save time, and the testing process can go smoothly."
Habib previously worked as a volunteer for police, looking out for violations of traffic rules and telling people not to set off fireworks during Spring Festival.
Changning police said the Hongqiao area is a community with a large number of expats, who account for roughly a quarter of its 80,000 residents.
Some police officers who can speak English and Japanese also joined the volunteer contingent to help facilitate the testing of expat residents. Fei Chenyue was one of them.
"I majored in Japanese in college and I want to use my language skills to help more residents get tested efficiently," she said.
Many expat residents said they did not feel uncomfortable about temporary lockdowns of some compounds. They said they understand that it's a testing time and feel obliged to be cooperative.
"I think the information and announcements of the local government and neighborhood have been handled quite well. Every aspect of organization is well-prepared," Sebastian Wiendieck, from Germany, told International Channel Shanghai.
Fabio Pinto Cesar, from Brazil, said he understands that China has a different approach to epidemic control and feels safe.
Since March 3, nearly 1,950 volunteer projects to aid epidemic control work have been publicized via official channels, said Zheng Yinghao, deputy director of the Shanghai Municipal Civilization Office.
They include jobs taking people's temperatures and checking their health QR codes when they enter public venues, assisting in the organization of nucleic acid testing in neighborhoods, and transporting and delivering supplies.
The volunteers have each worked an average of more than 11 hours in their respective positions.
Zheng said more volunteers will be dispatched to communities still under closed-loop management, with pre-job training and support materials to be beefed up.
"Also, we'll need more volunteers for psychological counseling, health knowledge communication, refuting rumors, and foreign language translation," he said.