Reform of vocational education sought
Share - WeChat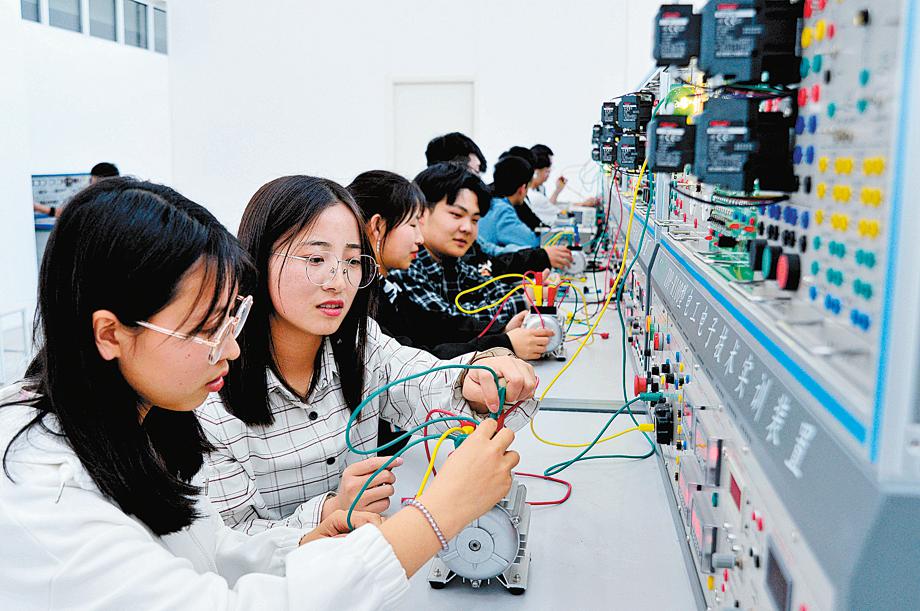 Advisers look to counter social stigma, early categorization of students
The deep-rooted stigma attached to vocational education has prompted many lawmakers and political advisers to call for reforms.
Institutional barriers must be shattered to improve the status of such education in China, as it has long been stigmatized as an option reserved only for failing students, said Hu Wei, a member of the National Committee of the Chinese People's Political Consultative Conference and executive deputy director of the Shanghai branch of the China Vocational Education Association.
People have long held the perception that high school enrollment exams categorize students into regular high schools and secondary vocational schools based on their test scores, and that students with lower scores can only attend vocational schools, he said.
That belief has exacerbated exam-oriented competition and anxiety among students and parents and has deterred efforts to reduce the academic burden on primary and middle school students, Hu said.
Lu Xiaoguang, a member of the Standing Committee of the CPPCC National Committee, said the dividing of students into vocational education and regular education systems should not occur until all students finish high school to cultivate more high-skilled technical workers.
Currently, the divide happens after they have graduated from middle school, and students who go to secondary vocational schools do not have enough academic knowledge to master skills for high-end manufacturing, he told CPPCC Daily.
Online news outlet ThePaper.cn reported that a proposal made by the Central Committee of the China Association for Promoting Democracy to the annual session of the CPPCC National Committee also stressed the need to delay the division.
Regions with resources should allow all middle school graduates to go to regular high schools and start the separation of students at the higher-education level, the proposal said.
Other places can promote the integrated development of regular high schools and secondary vocational schools, and allow students in both to select each others' courses and exchange credits, it said.
Nearly 90 percent of secondary vocational school students in some schools choose to further their studies after graduating, and less than 10 percent start working, which goes against the employment-oriented nature of vocational education, it added.
However, the Ministry of Education recently dismissed appeals for the division of students into regular high schools and secondary vocational schools to be abandoned, calling the latter an important part of the country's high school education system.
Chen Ziji, director of the ministry's department of vocational and adult education, said it is "very necessary "to continue the division because secondary vocational schools can promote diversified development in students and have played an important role in boosting employment, regional economic development and improving people's livelihoods.
According to the latest figures from the ministry, the country had more than 13.1 million students attending secondary vocational schools last year. They accounted for 33 percent of all high school students, down 7 percentage points from 2020.
Zhang Zhiyong, a deputy to the National People's Congress and an education professor at Beijing Normal University, cited a survey conducted by the university's China Institute of Education and Social Development of 1.69 million parents, students, teachers and principals nationwide. Zhang, whose team led the survey, said it found that 30 percent of parents were unwilling to send their children to vocational schools.
The biggest obstacles to the development of vocational education in China include low social recognition, low quality of graduates and insufficient attention from local governments, the survey found.
The average salary of vocational school graduates is lower than for those who attend regular high schools, and such graduates face discrimination in employment and obtaining residency permits, Zhang said.
The preference for an academic background runs deep in society, and employers might even discriminate against students graduating from less-famous universities, let alone vocational school graduates, he said, adding that the government should take actions to address such discrimination.
In order to reverse the stigmatization, an independent exam should be established as the main channel for students to enroll in higher vocational schools and vocational colleges offering bachelor's degrees, Hu said.
Through such an exam, traditional universities and colleges, even those that are well known, could enroll vocational students for technical majors, Hu said.
Skilled workers are the backbone of Chinese brands, and they are cultivated through vocational education, he said, adding that high-quality vocational education teaches students both skills and knowledge while enabling them to learn a trade and become contributing members of society.