HK volunteer brings peace of mind
Share - WeChat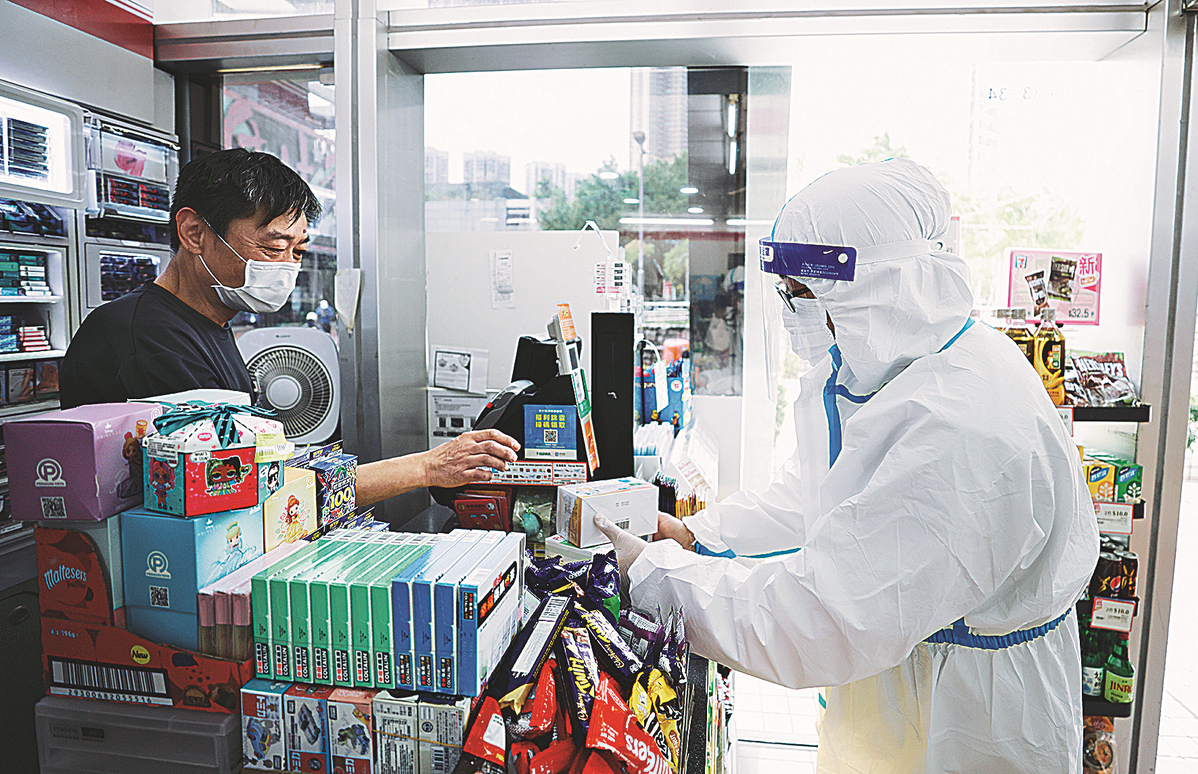 Watch the video about Zhang Xinyu
In recent months he has eaten meals alone, slept in a room separate from other family members, refrained from playing with his kids, and has been unable to kiss them, as other loving fathers do when with their children.
Despite all this, Zhang Xinyu, a member of Hong Kong's Seventh Legislative Council, continues traversing around 100 kilometers a day across the city, delivering items to residents' doorsteps to help them fight the COVID-19 battle.
Weaving around residential buildings, floor by floor, door by door, during this unforgiving wave of the pandemic comes with a high risk. If he becomes infected, his three kids and wife will become very vulnerable, which is the last thing Zhang wants. "But my wife, as well as my mom, are very supportive. They know what I'm doing is dictated by morality and responsibility as a member of the Legislative Council. I'm just doing what I'm supposed to do,"Zhang said.
Since late February, Zhang and other social workers have distributed nearly 400 health kits and other items to residents in Sheung Shui, Fanling and Tin Shui Wai, each containing five rapid-results antigen test kits, 20 masks, traditional Chinese medicine compounds and a pulse oximeter-which measures blood oxygen levels.
"Gripes were commonplace from the communities. People felt helpless when they self-tested positive. They couldn't access medical services, get through to hotlines and be properly isolated," Zhang recalled. "There was a striking imbalance between the sick's desperate need and the government's ability to help. I felt compelled to help close the gap."
The communities that he has been serving were underprivileged even before the pandemic. New Territories North was ranked as one of the four poorest districts in the "Hong Kong Poverty Situation Report 2020", while Tin Shui Wai has the highest density of public housing in Yuen Long. For one of the most disenfranchised communities, fighting the pandemic is all the more challenging: cramped living spaces often lead to cross infection, low household incomes may lead to nutrient deficiency and higher unemployment exacerbates the situation.
To minimize close contact with the residents, Zhang, wearing full protective gear, hangs the health kits on their doors, and then rings the doorbell to remind them to retrieve the bags. Sometimes, Zhang and some residents exchange banter through the iron bars on the door. "If there's a chance, I'd never forget to say 'san tai gin hong' (good health) to them." At this fraught moment, people wish nothing more than that. And the quick banter becomes the humblest but the most effective form of therapy.
Residents' flashes of smiles on their faces, words of gratitude and sighs of relief when they reach for their health kits have sustained Zhang's motivation to carry on.