Xinjiang's development lays foundation for rights
Share - WeChat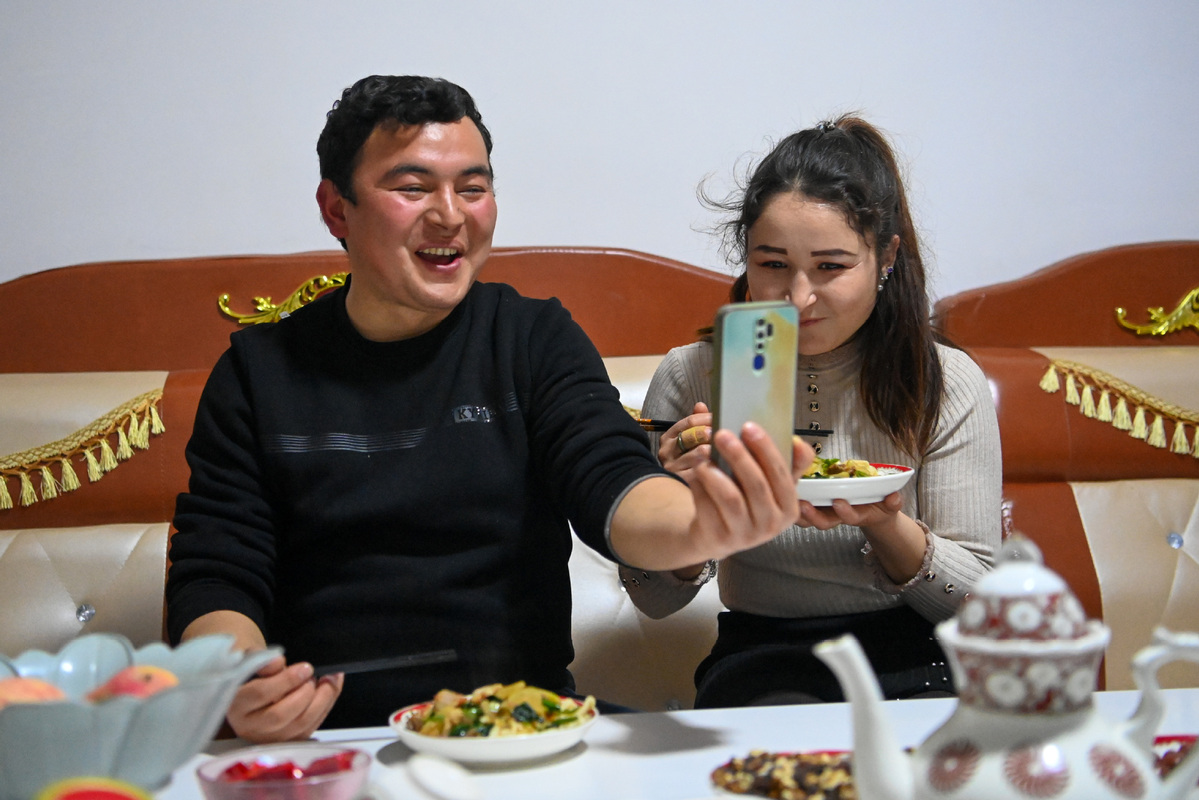 Social and economic development in China's Xinjiang Uygur autonomous region has laid a solid foundation for the region's human rights development and promoted the comprehensive protection of human rights, said experts attending an online meeting on Friday.
The meeting was a side event at the 49th session of the United Nations Human Rights Council. It was sponsored by the Permanent Mission of the People's Republic of China to the United Nations Office at Geneva and other international organizations in Switzerland and the China Society for Human Rights Studies.
Zuliyati Simayi, vice-president of Xinjiang University, said that the development of human rights and economic and social development are interrelated and mutually reinforcing.
"At present, the rights and interests of people of all ethnic groups in Xinjiang are fully respected and protected. Long-term social stability has been achieved in Xinjiang and people are getting more confident, which also provides a sound environment for economic development," he said.
According to Xinjiang's statistics bureau, the gross domestic product in Xinjiang reached 1,598 billion yuan ($251 billion) in 2021, up 7 percent year-on-year, and the per capita disposable income of residents in Xinjiang was 26,075 yuan, an increase of 9.4 percent over the previous year.
The economic and social development of Xinjiang has also laid a solid material foundation for the protection of human rights of all ethnic groups in the region and constantly met the needs of the people for a better life, he said.
"Xinjiang gives priority to ensuring and improving people's livelihood, effectively guaranteeing people's right to subsistence and fully realizing workers' labor rights. The total number of employed people in Xinjiang keeps increasing and the employment structure is optimizing due to the upgrading of Xinjiang's industrial structure," he said.
Apart from improving people's housing conditions in recent years, the Xinjiang regional government has made great efforts to solve the problem of visiting doctors and the high cost of medical treatment. Since 2016, Xinjiang has introduced free physical examinations for all people, enabling early detection and treatment of diseases and greatly improving the health of all residents, he said.
Jia Jianfei, an associate researcher at Shanxi University of Finance and Economics, said that guided by the "people-centered" development philosophy, China has given top priority to the protection of the basic rights of all ethnic groups in Xinjiang, and on this basis has fully guaranteed the equal right to development of all people there.
Some Western countries have repeatedly attacked China on the grounds of so-called human rights issues in Xinjiang in recent years, but they ignored that different countries choose different ways to protect human rights under different social backgrounds and national conditions, Jia said.
"Through active poverty alleviation measures, China has fully protected the equal right to development of all ethnic groups in Xinjiang and improved people's livelihoods. Its commitment to ensuring the people's rights through development has achieved remarkable results," he said.
Statistics have shown that incomes, consumption levels, employment rate and the employed population in Xinjiang have been significantly increased, he said, adding that the educational level of the people of all ethnic groups has also been improved, making them more competitive in employment.