Shenzhen steps up COVID-19 controls
Share - WeChat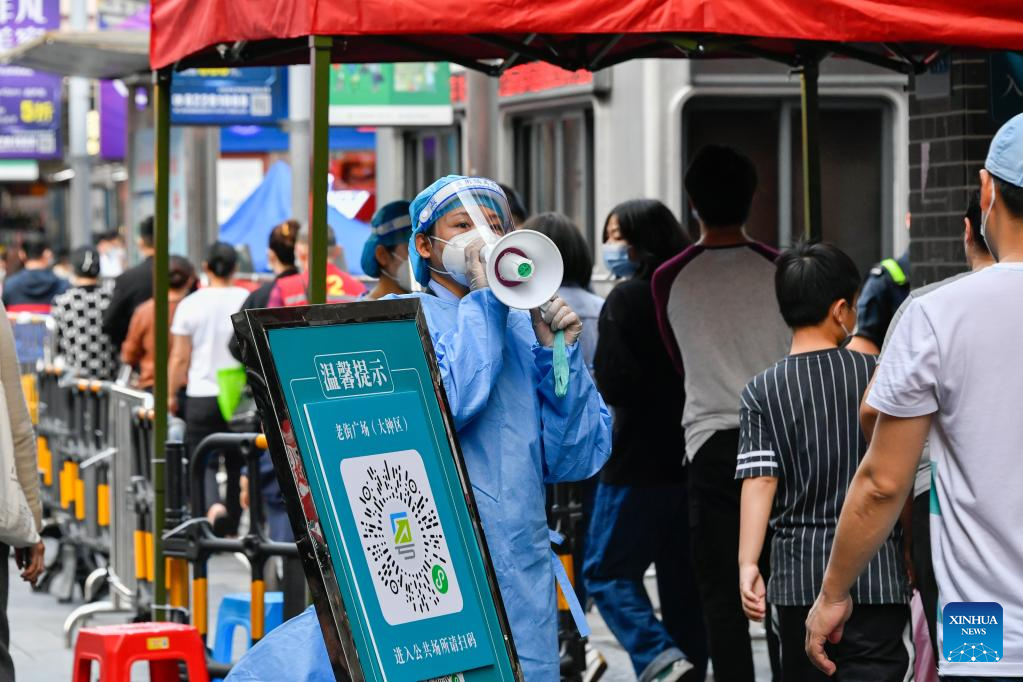 Stricter control and prevention measures have been introduced to fight COVID-19 in Shenzhen, Guangdong province, as the city remains at high risk of community transmission, a senior official said on Monday.
Metro and bus services have been suspended and people working for the government and enterprises have been told to work from home to help curb the spread of the novel coronavirus in the city, Huang Qiang, deputy secretary-general of Shenzhen's city government, said at a news conference on Monday.
"Except for those who have to go out to undertake their pandemic prevention and control tasks, government employees and staff members at all levels in the city are required to work from home, or work as community volunteers to help fight against COVID-19," he said, adding that the measures that came into effect on Monday will last until at least Sunday.
Huang said the number of reported infections in Shenzhen fluctuated again recently, increasing the pressure to block the spread of the virus in the city, which borders Hong Kong.
"The number of confirmed cases detected in the city's key areas, key groups and communities continued to rise, with small clusters of infections reported in urban villages and factories," he said.
"These indicate we still need to introduce and implement concrete and effective measures to guard the city against the pandemic in the weeks to come."
To curb the spread of the novel coronavirus in Shenzhen, the city government started three rounds of citywide nucleic acid testing on Monday.
Lin Hancheng, an inspector for Shenzhen's health commission, said the operations of major hospitals and medical institutions and medical services in the city will not be affected as no effort is spared in the fight against the pandemic.
"No medical institutions are allowed to refuse patients on any pretext," he said.
Xu Wei, deputy director of the city's transportation bureau, said residents can book car-hailing and taxi services online when they need to go out, or they can dial a hotline for help in case of emergency.
Mo Xiling, deputy director of Shenzhen's market regulation administration, said the city's supplies of meat, eggs, vegetables, milk and other food are adequate and prices remain stable.
In Dongguan, a major production base neighboring Shenzhen, the city government launched citywide nucleic acid testing on Monday to identify possible COVID-19 patients and asymptomatic carriers and suspended all public bus services.
Large-scale conferences, events, forums, performances, sales promotions, public dancing and gatherings have temporarily been suspended, and all commercial entertainment venues in the city have been temporarily closed.
The Guangdong Provincial Health Commission said the province reported 79 locally transmitted confirmed cases and 151 local asymptomatic carriers on Sunday. Of those, 75 confirmed cases and 11 asymptomatic carriers were in Shenzhen, while Dongguan confirmed two patients and 140 asymptomatic carriers.