Comfort ensured for young patients
Share - WeChat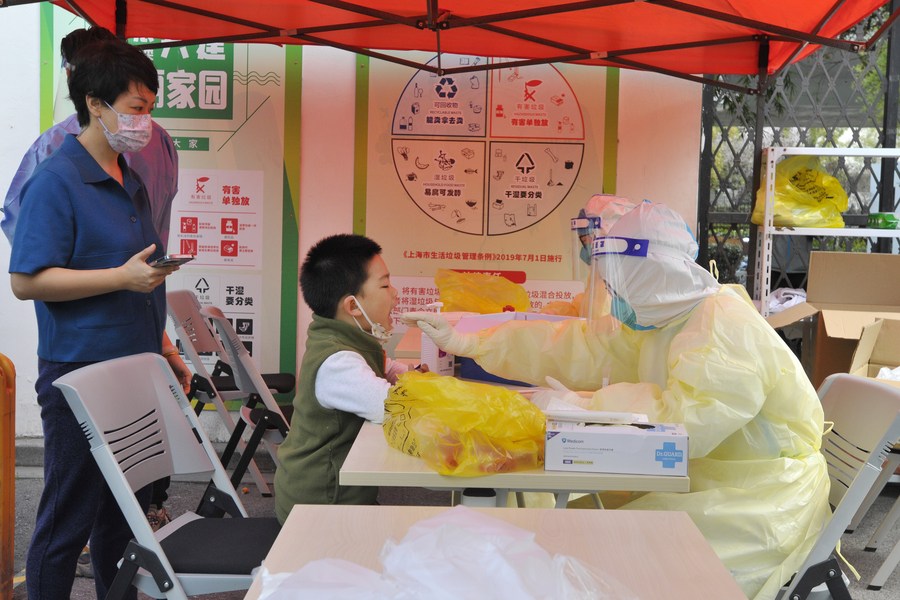 Medical teams in Shanghai have gone the extra mile to ensure young COVID-19 patients quarantined at designated hospitals feel more secure and comfortable, officials from the municipal health authority said.
Lu Taohong, deputy director of the Shanghai Municipal Health Commission, said that when considering treatment plans for young patients, the medical teams paid attention not only to medical treatment and nursing but also humanistic care.
For example, small and low beds identical to those at kindergartens have been moved into children's wards, Lu said.
"In addition to such special beds, we also equipped the young children's wards with drawing and handwork materials for them to learn and be entertained and relieve their anxiety during this special period," Lu said at a municipal news briefing on Sunday. "Also, parents can buy them daily necessities and toys online and the workers will deliver them to the kids."
There are 216 child patients, 63 of them asymptomatic, receiving medical treatment or subject to medical quarantine at the designated hospital. The youngest is three months old.
"Doctors in charge will also regularly update the children's parents about their conditions online," Lu said.
All the children are in stable health condition and are being taken care of by veteran doctors and nurses dispatched from children's hospitals, the health authority said.
Treatment for child patients differs in regard to medical approaches and drug dosages from that given to adults, he explained. Senior doctors make rounds of the wards every day and adjust treatment plans according to the young patients' conditions.
Experienced pediatric medical workers take care of the children's daily needs, including eating and bathing, along with offering psychological support, Lu said.
The current wave in Shanghai had seen 85 confirmed cases and more than 650 asymptomatic infections by Monday afternoon.
The city's epidemic control team said that various measures have been taken to curb the further spread of the novel coronavirus and achieve zero infections outside the transmission chains.
They include mass nucleic acid testing for residents in many neighborhoods, requiring residents to avoid unnecessary trips out of the city, and school suspensions beginning on Monday.
Efforts have also been made to ensure that residents, especially those under closed-loop management in their neighborhoods, live a normal life. Authorities said that multiple supermarkets and online shopping platforms have joined to provide necessary supplies to residents. The elderly or those with chronic diseases, such as kidney failure, cancer or other medical needs, will be escorted to hospitals.
Shanghai released a document on Monday to guarantee maternity medical services for pregnant women during the city's anti-epidemic fight. There are hospitals in each district and city-level medical institutions to ensure mothers-to-be undergo pregnancy checkups regularly and deliver babies safely.
On Monday, a woman from a neighborhood under closed-loop management in Hongkou district was sent to Shanghai No 4 People's Hospital, a designated hospital for the provision of medical services for mothers-to-be in the district, to give birth. Doctors found the fetus was not responding well and performed a cesarean section immediately. The surgery went smoothly and both the mother and baby are in good health.