Legislators call for law on barrier-free facilities
Share - WeChat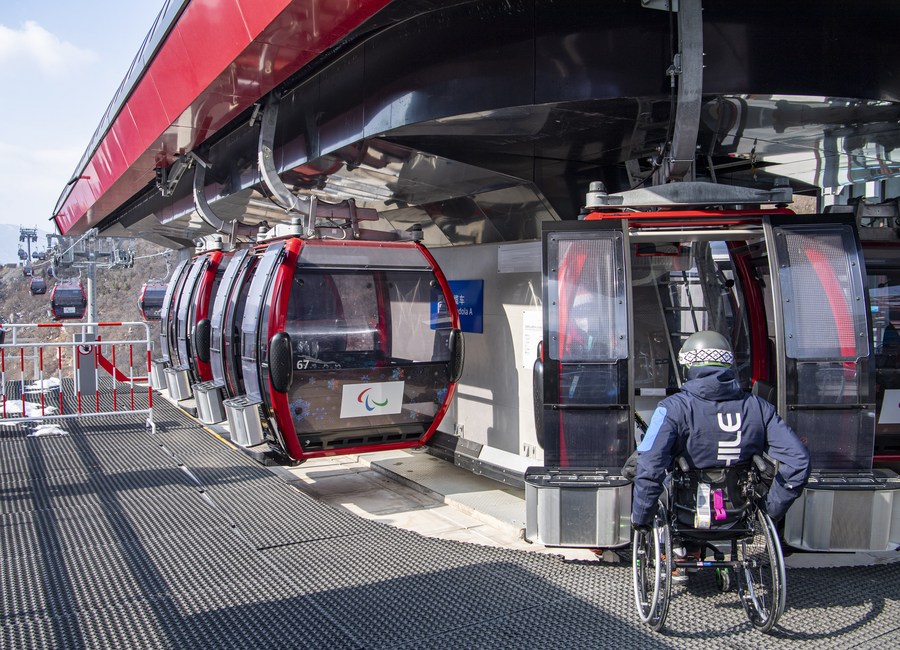 China should accelerate legislation on the construction of a barrier-free environment to allow all members of society, regardless of their physical conditions and ages, to have equal access to public facilities, some national legislators said.
Pilot projects established at the 2022 Beijing Winter Olympics and Paralympics sites, the Xiong'an New Area in Hebei province, and Beijing Daxing International Airport have set out optimized examples of barrier-free communication and social services.
However, construction of a general barrier-free environment is unbalanced and unsystematic, restricting the development and efficiency of such facilities, deputies to the National People's Congress said.
"The values pursued by the high-quality development of barrier-free environment construction feature inclusiveness, accessibility, fairness, sustainability and safety," said Chen Guomin, a member of the NPC Standing Committee from Shanghai.
There are a series of problems and some people are unaware that a barrier-free environment is beneficial to a wide range of people, said Chen, who is also a vice-chairman of the NPC's Foreign Affairs Committee.
"In addition to benefiting the disabled, such an environment is also essential for parents with young children and the elderly," he said. "It'll become more important as the growing aging population will still have the need to walk out alone, live alone, and receive social information and services."
A barrier-free environment refers to conditions that assist people with crossing streets, entering and exiting buildings and facilities, and riding public transportation independently and safely.
It also includes obtaining and exchanging public information and having access to social services.
Many articles in China's Regulations on Barrier-free Environment Construction, implemented in 2012, are not compulsory, difficult to put into operation, and not forward-looking, Chen said.
He said the suggested new law should stipulate that newly built, rebuilt and expanded residential buildings, residential neighborhoods, public venues, public transportation facilities, and urban and rural streets must meet construction standards for barrier-free facilities.
Barrier-free facilities should be planned, designed, constructed and delivered simultaneously with the main construction project, and newly built or expanded facilities should be connected with existing barrier-free facilities, Chen said.
"The law should also require governments at all levels to include barrier-free methods for receiving public information, especially about emergencies like natural disasters, accidents and public health incidents," he said.
Chen also said that sound-emitting devices should be installed at traffic signals on main streets and in commercial areas.
NPC deputy Fang Yan suggested the NPC initiate related research soon.
"We should promote the establishment of a collective awareness of a barrier-free environment in the whole of society through legislation and protecting the rights of the disabled, the elderly, pregnant women, the injured and others with needs," said Fang, who is also vice-chairwoman of the Shaanxi Provincial Lawyers Association.
Xing Huanping, executive director of the Mei'er Advocacy and Support Center for SMA-spinal muscular atrophy, a rare genetic disorder that affects muscle control-said that most young patients with rare diseases cannot go to kindergartens or primary and middle schools for reasons that include a lack of elevators and barrier-free restrooms.