Sinopec chief calls for policies to cut energy sector emissions
Share - WeChat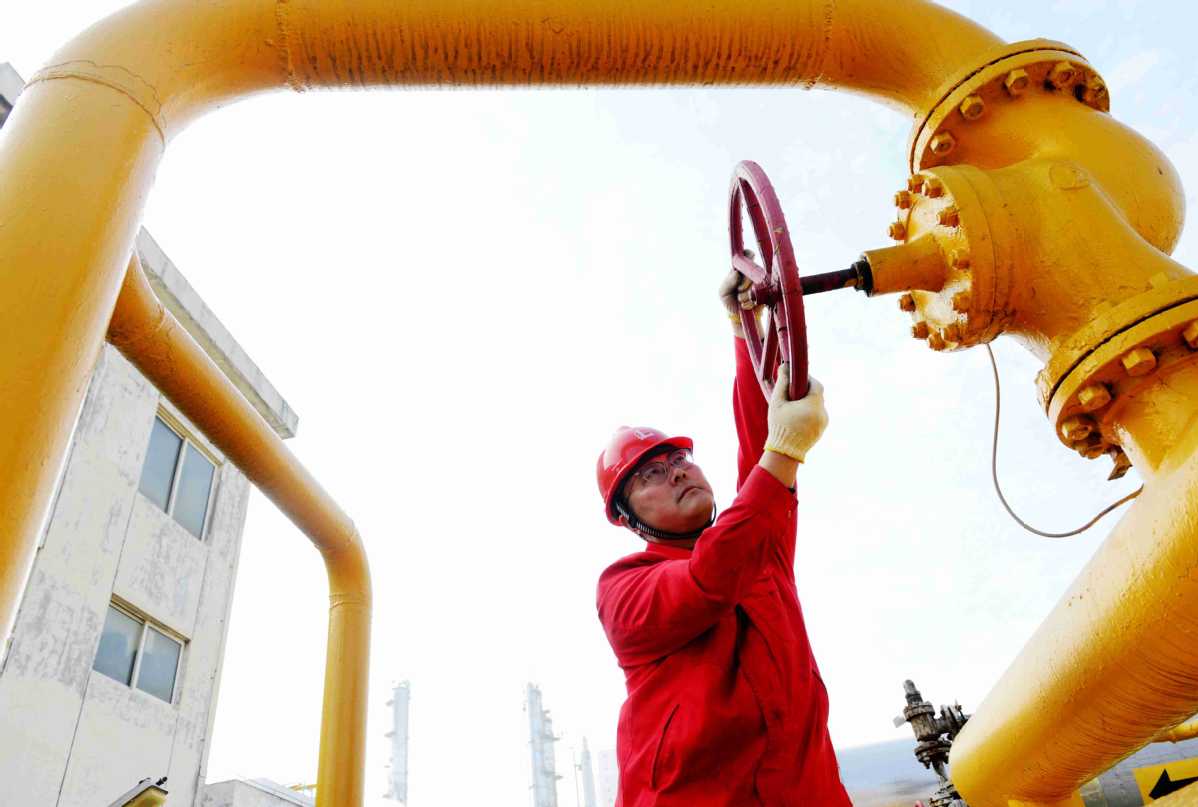 Carbon capture, utilization and storage key to nation's low-carbon transition
Industry insiders such as Ma Yongsheng, president of China Petroleum and Chemical Corp, or Sinopec, have called for more preferential policies to develop carbon capture, utilization and storage (CCUS) technology to reduce carbon dioxide emissions in the energy sector as China is going through its low-carbon transition.
China should strive to make core technological breakthroughs in CCUS while pushing forward industrial chain demonstration and commercial application of the technology to put the country on the path to carbon neutrality by 2060, said Ma from Sinopec, the world's top refiner by capacity.
He urged the country to step up the network layout and cluster infrastructure construction, while improving fiscal and tax incentive policies as well as relevant laws and regulations.
CCUS, a process that captures carbon dioxide emissions from sources like coal-fired power plants and either reuses or stores them so they will not enter the atmosphere, is expected to result in a 14 percent reduction in carbon emissions by 2050 and will likely have broad market prospects, the International Energy Agency said.
Ma said the country is currently at the demonstration stage of industrialization of CCUS and is at the overall level of international development.
However, the country's mastery of key technologies is still behind advanced international levels and the onshore storage potential also varies greatly in different regions while the cost is also relatively high, he said. An effective industrial scale economic utilization will substantially facilitate the country's green energy transition.
In addition to Ma, many other national legislators and political advisors also expressed the necessity to develop CCUS to facilitate the country's ambition to peak carbon emissions by 2030 and hit carbon neutrality by 2060.
Dong Qiang, former president of China State Shipbuilding Corp Ltd, suggested the country accelerate technological research and come up with pilot projects of CCUS technology.
Dong said CCUS is an important technological option to reduce carbon dioxide emissions in the energy sector and will be essential to achieving the goal of net-zero emissions. As the country's coal-fired plants, steel and cement enterprises are mostly located in coastal regions, the development of CCUS offshore will play a key role in cutting emissions, he said.
The industrialization development of offshore CCUS will also hasten a large number of new equipment requirements, including carbon dioxide capture devices, carbon dioxide storage tanks and tank cars, all of which have very broad market prospects, he added.
In 2020, CCUS projects worldwide were capturing and storing 40 million metric tons of carbon dioxide, which is 0.1 percent of global carbon emissions, the International Energy Agency said.
The agency predicts the technology will help cut carbon emissions by 1.6 billion tons, 4 billion tons and 7.6 billion tons by 2030, 2035 and 2050, respectively. A report by Royal Dutch Shell said China will need to scale up its CCUS capacity by more than 400-fold in the next four decades.
Luo Zuoxian, head of intelligence and research at the Sinopec Economics and Development Research Institute, echoed this by saying that CCUS, together with a combination of measures including the vigorous expansion of clean energy to replace fossil fuels, will effectively control carbon emissions.
The Chinese Academy of Engineering (CAE) predicts the country's primary energy consumption in 2060 will reach 5.57 billion tons of standard coal, with fossil energy consumption accounting for around 26.8 percent that will produce 2.71 billion tons of carbon dioxide emissions.
While carbon sink, including forests and grasslands, will offset around 1.6 to 1.9 billion tons, there is still a gap of 1 billion tons, it said.
China's leading tech companies have been making efforts to develop CCUS technology. That includes Tencent, which is rolling out a pilot CCUS project in China with Iceland's Carbfix that provides a natural and permanent storage solution by turning carbon dioxide into solid matter underground in less than two years. The project will also be the first of its kind in Asia.