Mainland medical workers to arrive in HK
Share - WeChat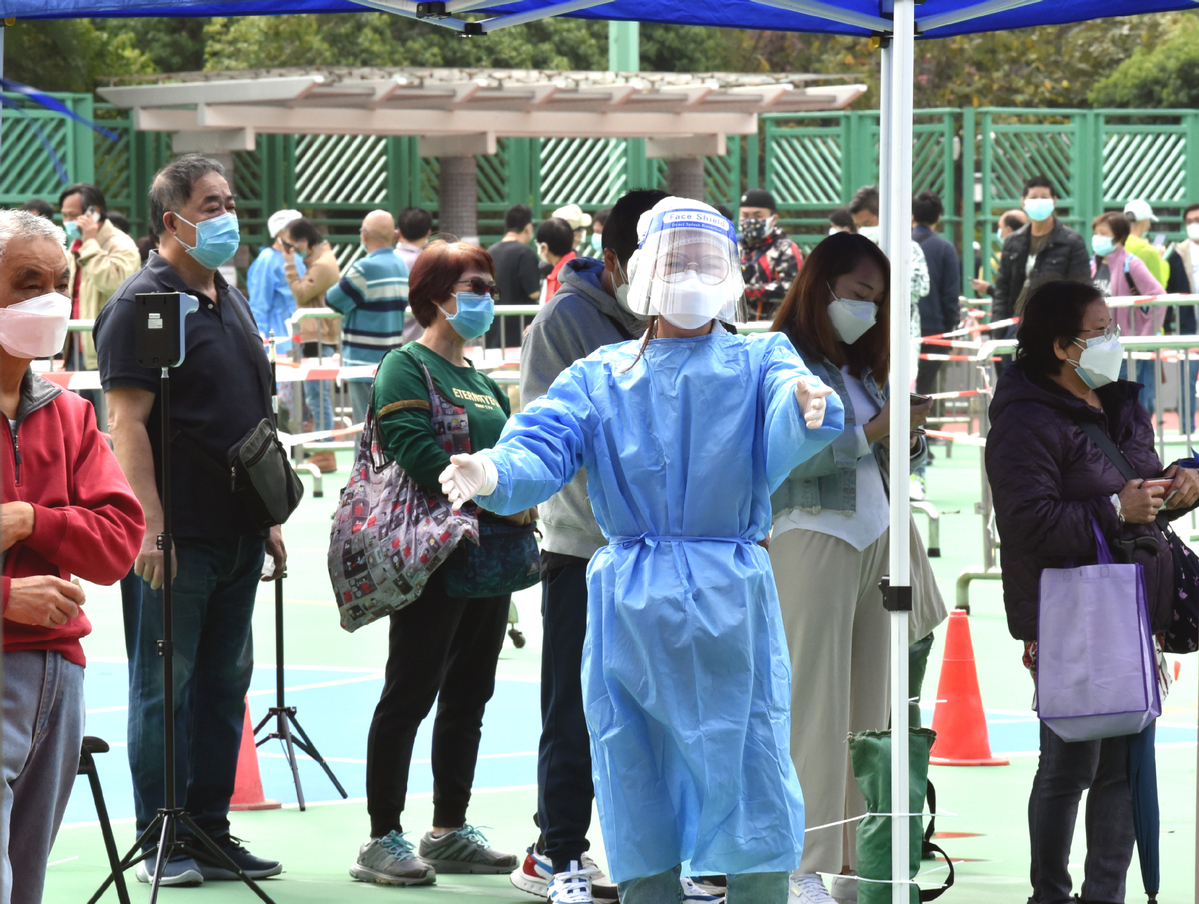 A delegation of 75 medical workers from the Chinese mainland will arrive in Hong Kong on Monday to help take care of COVID-patients at the city's already-strained public hospitals, Chief Executive Carrie Lam Cheng Yuet-ngor said.
Another batch of 300 doctors and nurses will come within this week, in a bid to help further strengthen the city's ability to reduce COVID-related deaths and severe cases.
Speaking to media at the daily pandemic press conference, Lam thanked the central government for its prompt response to the city's request for helping hands.
Lam said more medical workers from the mainland will come in batches to boost the city's capacity for treating COVID-patients.
As of Sunday, the city recorded 3,993 COVID-related deaths.
Chief Executive of the Hospital Authority (HA) Tony Ko Pat-sing said the mainland medical workers will work at the city's Asiaworld-Expo community treatment facility first. Currently, the facility is mainly for senior COVID patients with mild symptoms who are in need of extra care.
Ko said mainland medical workers, including doctors, nurses and support staff, will work side by side with their local peers at the facility.
A team of 16 mainland medical staff came to the city last week to help prepare for the roles of the mainland medical workers in the city's pandemic fight.
Expressing confidence in mainland medical staff, Ko said treatments for COVID patients are similar on the mainland and there wouldn't be many difficulties for them to adapt.
Mandarin input method was also added to the city's medical system to smooth the process for the mainland helpers, Ko said.
Lam also expressed her gratitude to the Shenzhen municipal government and Guangdong provincial government for their relentless support even as the neighboring city itself is embroiled in the pandemic.
Shenzhen on Monday will cease its public buses and rail lines after seeing a sudden surge in infections. Most businesses are advised to practice work-from-home arrangements.
But companies that provide daily necessities, including fresh foods, for the city will be exempted, to ensure supplies to Hong Kong, Lam said.
Starting Monday, to avoid spreading the virus, cross-border truck drivers from Hong Kong will hand over their trucks to mainland truck drivers at several newly set up stations along the border checkpoints, including Shenzhen Bay, Liantang, Huanggang and Wenjindu.
Though the government has no plans to further tighten its social distancing, Lam cautioned the public to stay alert, even though some may feel frustrated over the anti-pandemic measures.