Food security prioritized amid challenges
Share - WeChat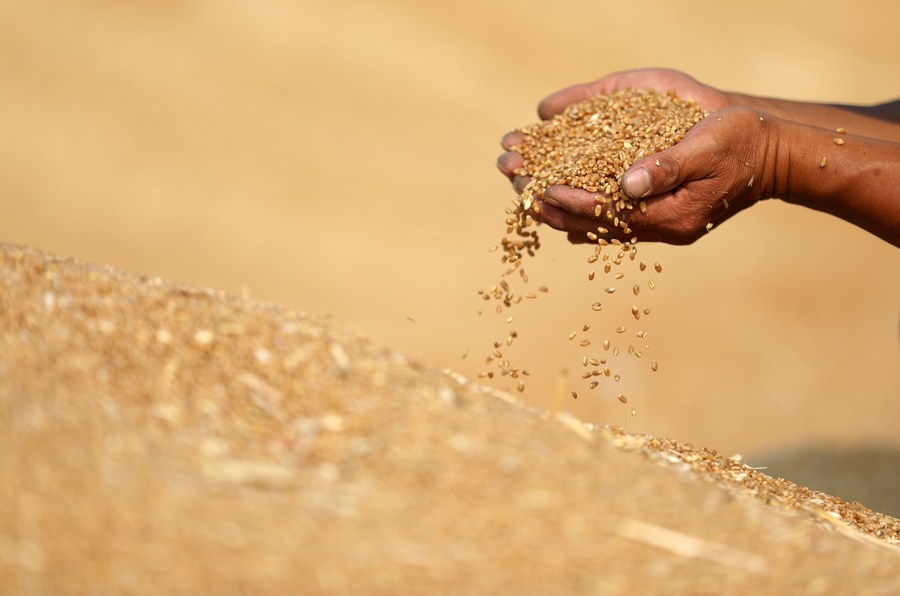 Safeguarding national food security and ensuring the supply of major agricultural products remain prime topics amid the ongoing annual two sessions as the nation's top leadership, legislators and political advisers all highlighted the issues.
China will secure grain harvests despite the poor grain growth as a result of flooding during the sowing season last fall, Tang Renjian, minister of agriculture and rural affairs, said in an interview on the sidelines of the fifth session of the 13th National People's Congress.
Tang said a third of the country's wheat-growing areas were planted about 15 days late due to flooding in five provinces, posing challenges to this year's harvest.
However, technical guidance to be provided will focus on three key growing periods of wheat in order to recover production.
The Chinese Academy of Agricultural Sciences announced last month that it would send a 200-member team to support field management of wheat, rapeseed and peanuts in 11 provinces. Team members arrived in wheat-producing counties in Henan and Jiangsu provinces earlier this month.
Stable planting areas and better soil conditions, thanks to recent snow and rainfall, have also helped alleviate potential losses, Tang said.
Though China's grain supply and demand remains tightly balanced, total output is abundant, with per capita food availability increasing by nine kilograms to 483 kg this year.
"Whatever changes take place globally, we are capable of ensuring that more than 1.4 billion Chinese people have enough food to eat. Our rice bowls will be held more firmly in our own hands, and will be filled with better, healthier food," Tang said.
Considering the profound and complex changes the world is experiencing, the supply of major agricultural products, grain in particular, has been prioritized in recent years.
Food security is among a country's most fundamental interests, President Xi Jinping said on Sunday while meeting national political advisers from the sectors of agriculture, welfare and social security.
Of all things, eating matters most, and food is the most basic necessity of the people, Xi said while attending the fifth session of the 13th National Committee of the Chinese People's Political Consultative Conference.
China should be well-prepared, remain vigilant on food security, and adhere to the principle of self-sufficiency based on domestic grain production, guaranteed capacity, moderate food imports and technological support, Xi emphasized.
Wan Jianmin, a CPPCC National Committee member from the agriculture sector and former vice-president of the CAAS, summarized the three requests President Xi underlined in seeds and planting. He said these are self-reliance in seed technology, independent control of germ plasm resources, and the accelerated industrialization of biological breeding.
"As a scientist in the seed industry, I deeply feel the responsibility. Last year, we participated in piloting the industrialization of biological breeding in Yunnan province and the Inner Mongolia autonomous region, which achieved brilliant results," Wan said at a symposium of political advisers from the agriculture sector after Xi's visit during the ongoing sessions.
Global impact
Major international events also have repercussions for China's food security, so the nation needs to take preemptive measures to counter such impacts.
Zhang Wenli, a researcher at the Ministry of Agriculture and Rural Affairs' rural economy research center, told China Daily that due to the crisis in Ukraine, global soybean and edible oil prices are expected to keep rising.
Ukraine and Russia are major wheat exporting countries. The global wheat price reached a 14-year record recently as the crisis in Ukraine intensified, resulting in the higher bread prices worldwide, Xinhua News Agency reported on Monday.
China needs to increase its self-sufficiency rate due to increasing uncertainties caused by the COVID-19 pandemic and trade frictions, Zhang said.
The country's grain output reached a record high of 685 million metric tons last year and is projected to exceed 650 million tons this year, according to the Government Work Report.
Boosting agricultural production is one of China's major tasks this year, Premier Li Keqiang said while delivering the report on Saturday.
"We will step up efforts to ensure the stable production and sufficient supply of grain and other important agricultural products," Li said, adding that the production of soybeans and other oil crops will be increased.
China will also raise the minimum purchasing price for rice and wheat. "The provision of agricultural supplies like chemical fertilizers will be ensured at stable prices, and agricultural supply subsidies to grain growers will continue to be provided," Li said.
To ensure the area of farmland remains above the red line of 120 million hectares, the country will prevent attempts to use farmland for nonagricultural purposes. Meanwhile, it will increase the area of high-quality farmland by 6.67 million hectares.
All parties must work together to ensure that the country's "rice bag" and "vegetable basket" are well-filled, and that there is a secure food supply for more than 1.4 billion people, Li said.
Chen Mengshan, a CPPCC National Committee member and the former Party secretary of the CAAS, called for the establishment of agricultural belts for national food security, with pilot areas in plains in North China, Northeast China and along the Yangtze River.
"The goal is to break bottlenecks in arable land and the seed industry, comprehensively increasing the grain capacity," Chen said on Monday.
He also proposed to strengthen farmland irrigation and water conservancy to ensure that high-quality farmland continues to produce benefits.
The country is expected to enhance its agricultural technology and develop new seed varieties with high yields and high resistance to poor environment conditions, Chen said.