Vice-premier stresses virus battle in SARs
Share - WeChat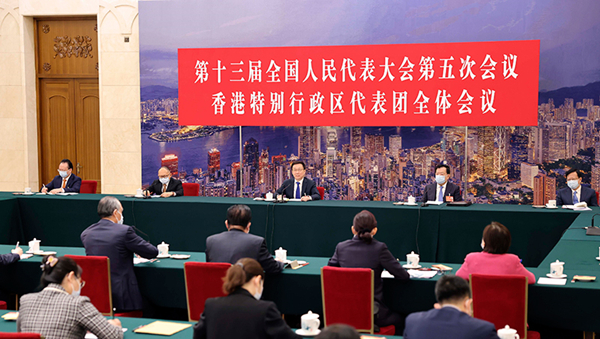 Central government ensures regions will have high degree of autonomy
Vice-Premier Han Zheng stressed on Monday the need for Hong Kong to make all-out efforts in fighting the COVID-19 pandemic, saying that central government departments and local authorities must provide support to it in this regard.
Speaking in panel discussions with the deputies from the delegations of the Hong Kong and Macao special administrative regions to the 13th National People's Congress, Han said the central government will remain steadfast in implementing "one country, two systems" and ensuring the people of Hong Kong govern Hong Kong, the people of Macao govern Macao, and both regions have a high degree of autonomy.
Han also called upon Macao to make sound efforts in its epidemic containment and in consolidating its outcomes fighting COVID-19.
The national legislators from the two SARs should continue to support the chief executives in their governance in accordance with the law and contribute further to the development of the nation and two regions, he said.
After meeting with Han, Hong Kong's national legislators expressed their gratitude for the care from the central government, pledging to unite all sectors in the community to fight COVID-19 and contribute to the city's long-term development.
NPC deputy Brave Chan Yung said Han was particularly concerned about the plight of children and the elderly in Hong Kong, adding that this fully demonstrates the central government's concern and understanding with regard to the pandemic in Hong Kong.
Chan said he was deeply moved by the central government's full backing for Hong Kong in the anti-pandemic fight.
With the central government's all-around support and the united efforts of people from all walks of life, Hong Kong is certain to win the war against the virus, he said.
David Wong Yau-kar, another NPC deputy, said the central government's quick response to requests for help and its full-range assistance have greatly protected the lives of Hong Kong residents.
He said he was pleased to see people from all sectors of the community proactively join the anti-pandemic fight.
To successfully contain the outbreak, Wong called for the full mobilization of resources and urged all sectors in Hong Kong to lend a helping hand.
NPC deputy Andrew Yao Cho-fai said Hong Kong should redouble its efforts in integrating into the nation's overall development and addressing the city's deep-seated livelihood problems.
With the nation's support, Yao said Hong Kong will definitely conquer the virus and refocus on development and livelihood issues.