Every effort, including private ones, counts in the pandemic war
Share - WeChat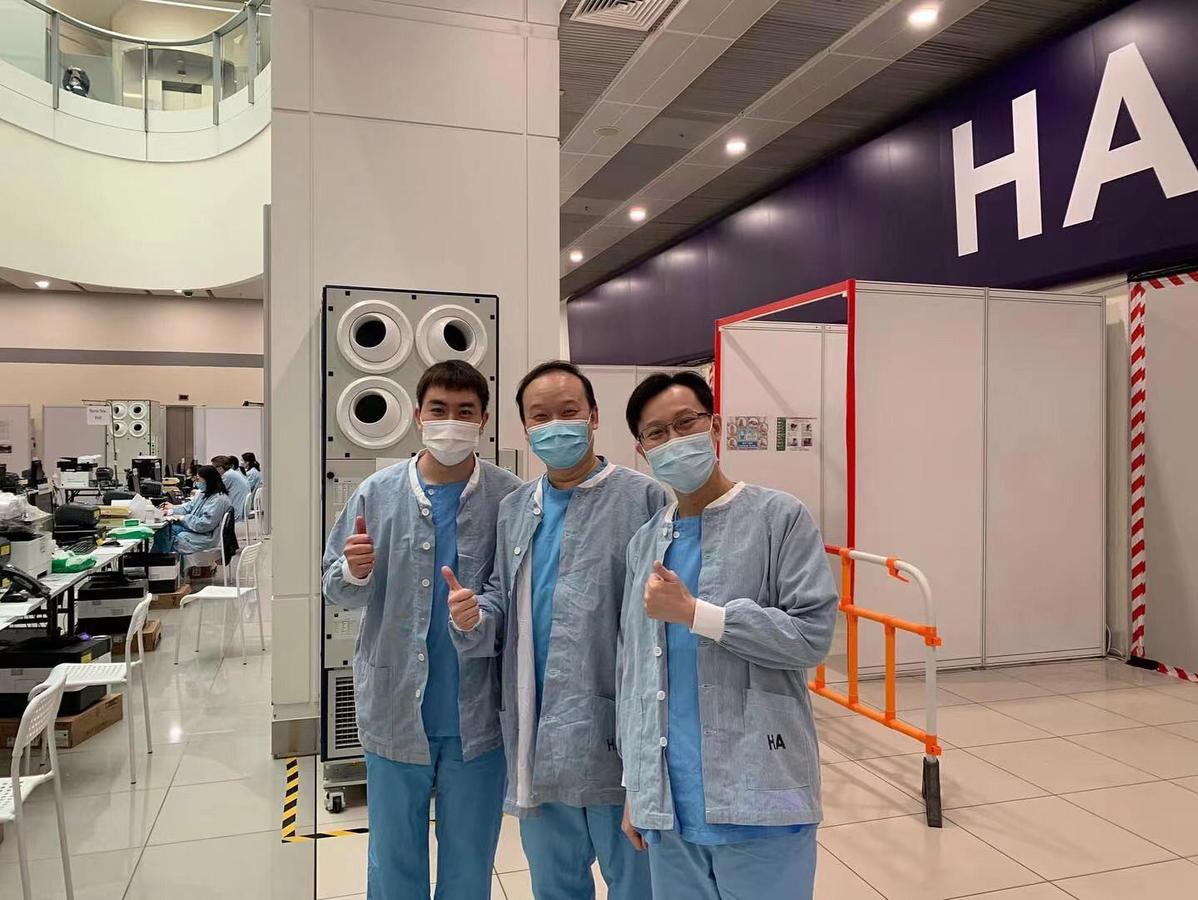 It was the day off for Hong Kong's private surgeon Kelvin Wong Kiu-fung. He put on his doctor's outfit and began his day by calling patients in the Hospital Authority Community Treatment Facility at AsiaWorld-Expo that has taken in about 1,000 COVID-19 patients in the city's worst-ever wave of pandemic outbreak.
Wong would check in with the patient's health condition for the day and the medical history. After that, he would also attend the routine meeting at 2 pm every day with infectious disease specialists, and offer advice on the treatment of individual cases.
The private doctor began his voluntary medical service in mid-January to help out at the treatment center. He has been working side by side with doctors and nurses from public hospitals, who have been overwhelmed by the surging of infections in the city.
Facing manpower shortage, a public doctor on-site needs to oversee an average of 20 to 30 patients, while other volunteer medical workers like Wong will mainly monitor the health conditions of patients through phone calls.
During the 8-hour voluntary work, Wong also needs to provide mental support as many patients suffer from stress owing to an income loss or homesickness.
Wong would stagger his voluntary work from his main job. His devotion has also won the heart of his patients. Many of them expressed understanding and support to him.
"I believe that many private doctors are willing to lend a helping hand, who the government can fully mobilize to relieve the burden of public hospitals," Wong said.
The government announced on Tuesday to carry out a universal testing scheme in March, in which all residents will need to undergo three COVID-tests and do rapid antigen tests in between the tests.
Agreeing with the arrangement, Wong said it avoid a full lockdown of the city. But the SAR government needs to require residents to stay at home as much as possible between the three tests to maximize the testing's results, he said.
He also suggested the government consider converting the closed public venues into anti-pandemic facilities.
In addition, Wong said the SAR government should provide necessary anti-pandemic training for government workers. If necessary, these people can be converted into available manpower in a short period of time and join the fight against the pandemic in the community.
Wong, who also provides vaccination consultation services for the elderly, said he has signed up for the government's outreach vaccination team, and hoped that he could contribute in this regard one day.
"Many of the elders failed to get COVID jabs because they couldn't get consultation from the public hospitals to see if their conditions are fit to take the jab," Wong said.