Shanghai bans food, drink and speakers on buses
Share - WeChat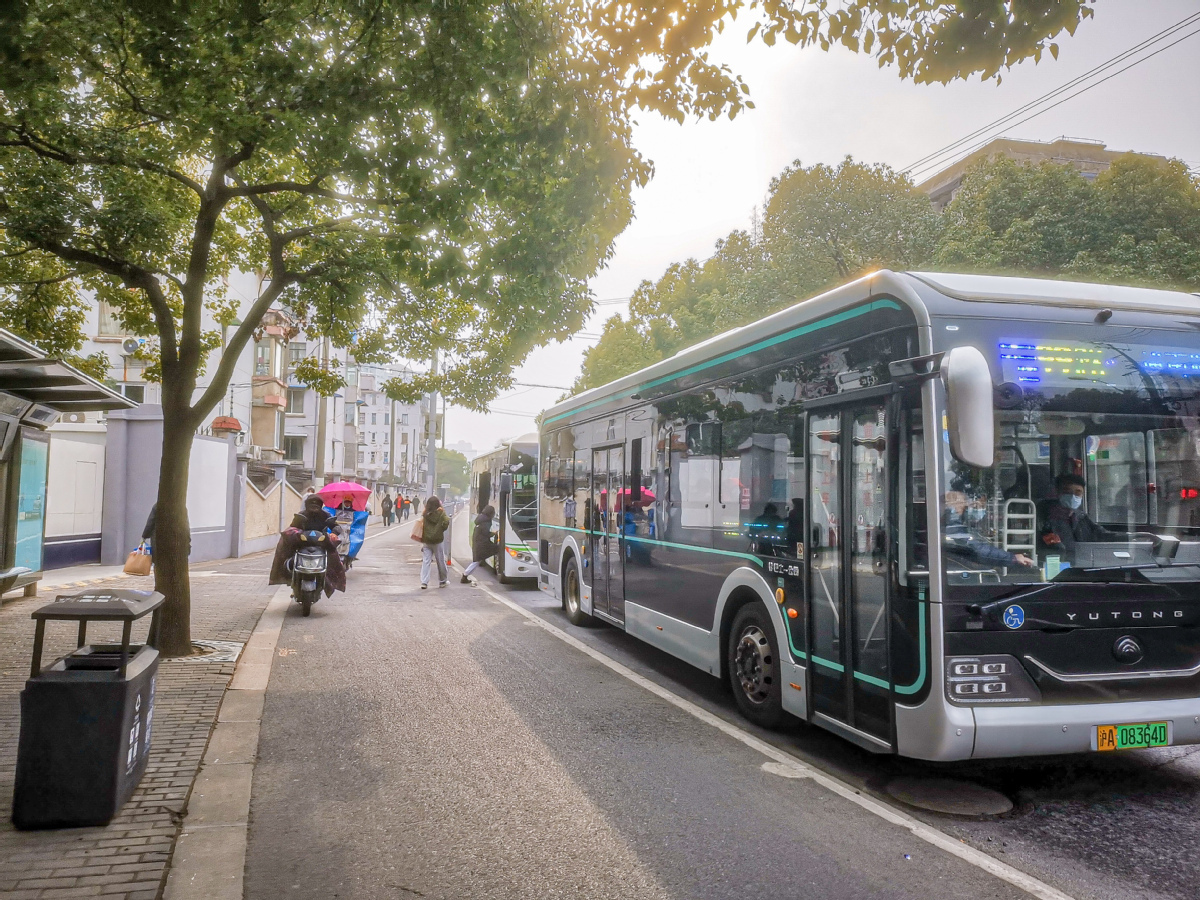 Passengers traveling on buses in Shanghai are not allowed to use loudspeakers or consume food or drink, according to a recent directive from the Shanghai Municipal Transportation Commission.
The restrictions, which took effect on Dec 28, aim to increase passenger comfort and reduce the risk of COVID-19 transmission, the commission announced recently.
Positive feedback was received after similar restrictions were introduced on Shanghai's subway system in late 2020, it added.
Shanghai became the first city in China to issue a local restriction on the use of loudspeakers and consumption of food and drink on its subway system on Dec 1, 2020. The move won support from commuters in Shanghai and netizens across the country concerned about passengers' frequent viewing of streaming services on their smartphones and infection hazards during the ongoing COVID-19 pandemic. Many have called for the nationwide adoption of such restrictions.
The extension of the restrictions to the city's buses has also won their approval.
"I have heard loud music played on buses by passengers several times," Shanghai resident Tian Yu said. "It disturbed other passengers as well as the bus drivers.
"The ban on snacks and drinks, especially strong-smelling foods, in enclosed environments like buses, trains and metros, will be a relief for all passengers. Under the circumstances of the COVID-19 pandemic, it avoids infection hazards caused by people frequently taking off face masks for consumption and reduces safety risks like choking when a bus is turning a corner."
On the Sina Weibo social media platform, many people said the restrictions will promote a clean, sound transportation environment on buses, make sure no one makes a mess by dropping or spilling anything, and will ensure loud music doesn't drown out announcements and make passengers miss their stops.
However, some netizens questioned how the rules will be enforced.
"Despite the restrictions, people sometimes play their videos out loud on metros with no immediate supervision from either staff members or passengers," one said in a comment posted online.
Others suggested more specific management measures should be included in the rules and publicized on buses.
"Details, including people in charge of the issue, contact numbers so that passengers can report behavior breaching the rules, and the kinds of drink and food prohibited on buses can be clarified, and all passengers can be informed through bus broadcasts," said Duan Yue, a Shanghai office worker.
"Also, some office workers have limited time for meals in the morning or evening and have to consume odor-free beverages or snacks for energy during their long commute time from home to workplaces. I wonder if it's possible to find a balance between meeting residents' needs and protecting the public transportation environment."
Other significant revisions in the regulation include a ban of portable electric bicycles and live animals, as well as rules that make riding convenient for elderly and disabled people. It also said the number of children under 1.3 meters tall able to travel free of charge when accompanied by an adult has been increased to two.