Xi's vision helps boost nation's winter sports
Share - WeChat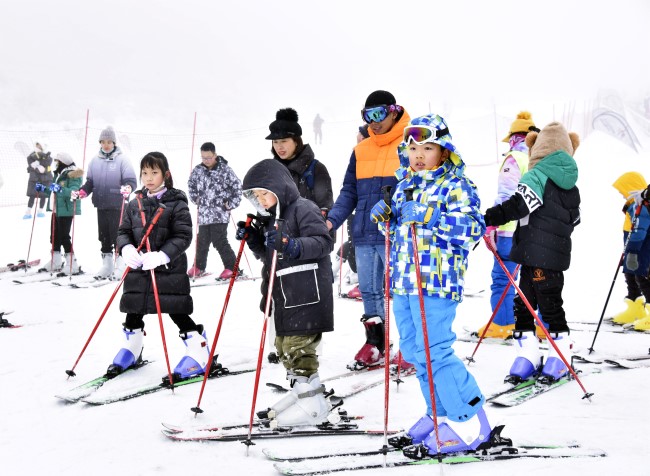 Millions of Chinese take to skating rinks, ski slopes as infrastructure improves
As the Beijing Winter Olympics get into full swing, millions of winter sports enthusiasts are being inspired to hit ice rinks and ski slopes across China.
The country's drive to get 300 million people involved in winter sports, an initiative set out by President Xi Jinping in the bidding stages for the global sports event, has bolstered the number of participants and resulted in a growing number of facilities. The boom has also spawned market opportunities that benefit domestic and foreign companies and workers.
Xi has championed fully exploiting the nation's ice and snow resources, saying on multiple occasions that "ice and snow are also as valuable as gold and silver".
"I have said lush mountains and lucid waters are invaluable assets, and so are ice and snow-covered land now. The Beijing 2022 Winter Olympic Games have driven the growth of the ice and snow sports industry as well as the ice and snow economy," Xi told Thomas Bach, president of the International Olympic Committee, last month in Beijing. Xi added that he pays more attention to the impetus the Games will give to China's future than the number of medals the country wins at the event.
That vision has already been vindicated. The number of ice and snow-related trips made by Chinese people reached 230 million in 2020-21.Income from ice and snow tourism, despite the COVID-19 pandemic, exceeded 390 billion yuan ($61.4 billion) last year, according to an official report released before the Games.
"What is unusual about the Beijing Winter Games is that hosting a mega event was combined with an economic plan to develop an entire winter sports industry, and link it with economic development in poor mountain areas, especially in the distant suburbs of Beijing," said Susan Brownell, a sports anthropologist at the University of Missouri-St. Louis, who specializes in China and the Olympics.
Brownell said China's winter sports infrastructure has received a huge boost. At the beginning of 2021, the country had 654 standard skating rinks and 803 indoor and outdoor ski resorts, up 317 percent and 41 percent respectively from 2015, according to official data.
The size of China's ice and snow sector increased from 270 billion yuan in 2015 to 600 billion yuan in 2020, according a report released by the China Tourism Academy last year.
About 346 million people, or almost a quarter of the Chinese population, had participated in ice and snow sports by October 2021, after Beijing's successful 2015 bid to host the Games, according to the National Bureau of Statistics.
China has transformed from a beginner to a "winter sports country", according to Bach. "The 300 million people who have now been made familiar with winter sport will in the end be the great legacy of these Olympic Winter Games," he said.