'Raptor doctor' sees dreams take flight
Share - WeChat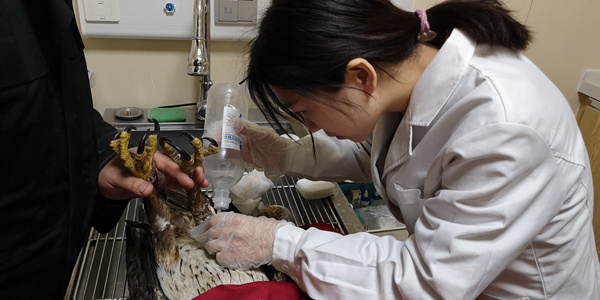 Li learned from TV animal documentaries he had watched that the wound would probably prevent the hawk from hunting and eating, leading to its starvation and death.
He took the little bird home.
With just a junior high school background and little medical knowledge, Li took the initiative to buy bird-related books and drugs with his pocket money because of a lack of advice from those around him.
The beginning of the treatment didn't go well. The hawk didn't take to the medicine and spat it out. Li then came up with the idea of feeding it beef stuffed with the drug. It worked.
Li's encounter with the hawk occurred right before that year's Spring Festival. He took the bird, in a cage, wherever he went, to his relatives or to gatherings with his friends.
"Keeping it in sight was more assuring," Li says.
He spent all the money his elders gave him as holiday gifts buying food and medicine for the bird, which got back on its feet in two months.
"I couldn't be more thrilled," Li says.
But to be on the safe side, he kept it for a third month before releasing it back to nature.
"As soon as the cage door slid open, it spread its wings and was airborne, very quickly," he says.
"I was glad that more than three months of work meant something, but kind of disappointed that it didn't at least take a look back at me."
The experience led to Li rescuing more birds and reaching out to more raptors, a group which covers falcons, eagles, buzzards and vultures.
They are in a minority among bird species in the country and have often been victims of environmental degradation and illegal wildlife trade. They are all under national protection.
Li's love for raptors grew stronger during his stay in Beijing in 2008.
He says he still remembers the magnificent scene as hawks and eagles hovered above the Great Wall.